PESHAWAR -- Sahib Singh, a Sikh resident of Peshawar, is serving iftar to fasting Muslims in his neighbourhood as a mark of reverence towards Islamic rituals.
Pakistanis from a variety of backgrounds are commending him for his service, which they call a strong sign of interfaith harmony in the country.
"I want to convey to my Muslim brethren that we [Sikhs] have full respect for their religious rituals," Singh told Pakistan Forward while distributing a sweet beverage in plastic bags to Muslims gathered outside his pharmacy in the Dabgari neighbourhood.
"To express sympathy over their daylong fasting in scorching heat, I serve them a chilled sweet drink and yogurt," he said.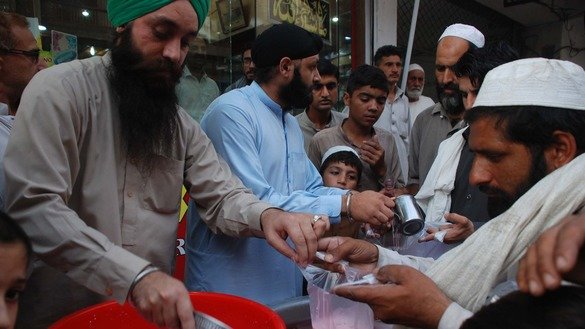 "Another reason for putting up a food stall outside my shop for fasting Muslims is to convey to the world community the true face of Pakistan -- where different faiths co-exist peacefully and lovingly," he said.
"Co-existence among different faiths is a centuries-old practice in this region and is inherited by us from our forefathers, who above their religious beliefs lived in love and peace with the people of their neighbourhoods," said Singh.
Bridging the gap between Muslims, minorities
The decade-long wave of militancy and religious extremism in Pakistan, perpetrated by a handful of terrorists, has created a gap between Muslims and minority communities, Singh said.
"To fill this gap and to bring [Pakistanis] back to their centuries-old way of peaceful coexistence, we have to respect each other's religious practices and extend love and sympathy to others," he said.
Singh said he is not alone in this practice, as many other Sikhs are arranging iftar for Muslims in various areas of Pakistan, including Hassan Abdal, Lahore and Karachi.
Members of the Hindu community in Peshawar are planning to replicate the practice of offering iftar to Muslims.
"Welcoming the positive gesture by Sahib Singh, the Hindu community has also decided to start the practice aimed at bringing different faiths closer together," said Haroon Sarab Dayal, a representative of the Hindu community and founding member of the Pakistan Council of World Religion.
In this regard, he told Pakistan Forward, Hindu community members are working to arrange a discussion with Maulana Tayyab Qureshi, imam of the Mohabbat Khan Mosque in Peshawar, after he returns from the Umrah pilgrimage in Saudi Arabia.
In Sindh Province, Hindus already are holding iftar events for Muslims, Sarab Dayal said.
"This is the true norm and spirit ... of the residents of this region -- that they reside together with mutual co-operation and religious tolerance," he said.
"This is a much-appreciated step taken by Sahib Singh to tell the world that members of all religions in Pakistan live together in peace and tolerance," said Humphrey Sarfaraz Peters, Bishop of Peshawar.
"This positive gesture gives us the message that humanity is more important than everything in life," he told Pakistan Forward.
"This is our centuries-old culture of brotherhood, and such practices will not only revive [that spirit] but preserve it for future generations," Peters said.
True teaching of Islam
"This is a very laudable step taken by Sikh community members, and Muslims should take a lesson of brotherhood from it," said Abdul Ghafoor, former director of the Sheikh Zahid Islamic Centre at the University of Peshawar.
Honouring holy rituals of others "should be adopted by members of all religions ... for promotion of interfaith harmony, peace and love and for the revival of the past glory of mutual coexistence," he told Pakistan Forward.
"Through such practices, the hatred sowed in our society by religious radicals can be repulsed and defeated," he said.
Humanity trumps all religions
Singh's gesture received wide acclaim on social media worldwide.
"Sikhs are distributing milk amongst people who [are] fasting in Peshawar. This is #Pakistan where people from all the religions live in peace," said Twitter user Ubaid Ali, a Pakistani living in the United Arab Emirates.
"Love and humanity exist, if we let people be and not pollute religion with hatred," wrote Harshleen Anand, a blogger from India.
Posting pictures of Singh and his colleagues distributing iftar food and drinks, Harshleen wrote, "Humanity is the biggest religion of them all, and these pictures of Pakistani Sikhs serving 'iftar' to their Muslim brethren is making this world a better place."
"Sahib Singh has extended a good message of sympathy and brotherhood towards fasting Muslims, and we Muslims should reciprocate with the same spirit and respect," said Hashim Ali, a Muslim resident of the Dabgari neighbourhood.
Muslims and Sikhs coexist peacefully in Dabgari, he said.
"This is the real image of Pakistan, where members of all religions live in peace and aspire to promote the sentiments of love and affection by extending sympathies towards each other," Ali told Pakistan Forward.