PESHAWAR -- Peshawar's Sikh community is continuing its practice of serving iftar food for Muslims during Ramadan, strengthening their bond of brotherhood and co-existence.
"We serve iftar as a mark of reverence for our fasting countrymen and also for expressing sympathy with them," said Jatindar Singh, the chairman of the Khyber Pakhtunkhwa (KP) chapter of the National Peace Council for Interfaith Harmony.
The objective is to promote peace, love and brotherhood by bringing members of different religions closer to each other, he told Pakistan Forward.
Sikh volunteers are serving iftar to about 450 Muslims daily in various areas of Peshawar and will continue to do so for the duration of Ramadan, which is expected to end June 14, Singh said.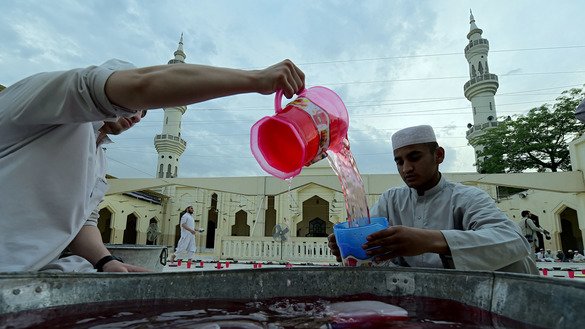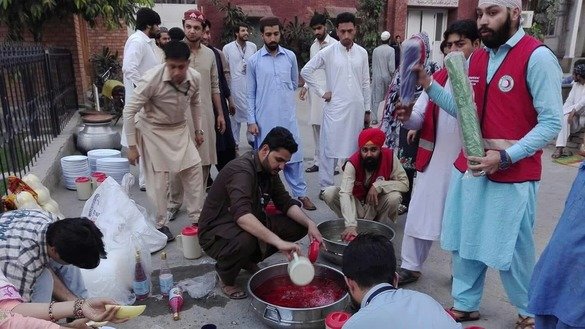 The positive response from around the globe encouraged the continuation of this practice with further vigour and spirit, he said.
"Because of a spate of militancy and extremism, Pakistan has the reputation of being a land of religious fundamentalists, but we have to show the world that Pakistanis believe in love, respect, honour and tolerance," Singh said.
Terrorist incidents and militants' resolve to sow sectarianism have created distance among different faiths in Pakistan, he said, adding that the distance must be removed by spreading love and respect for each other.
"This is not a new practice; our forefathers did the same to express brotherhood with Muslims in this region," he said.
Muslims, including members of the Peshawar-based Youth Umbrella non-profit, Pakistan Red Crescent and other organisations, are helping those Sikhs serve iftar, either in person or through donations, he added.
Promoting co-existence, interfaith harmony
"This is a very welcome practice and deserves strong commendation," Qibla Ayaz, chairman of the Pakistani Council of Islamic Ideology and former vice chancellor of the University of Peshawar, told Pakistan Forward.
All religions teach co-existence with other faiths, and this goal can be achieved only through organising such practices, he said.
"Without winning hearts, we cannot come closer to each other and cannot develop a society whose inhabitants enjoy equal rights and respect," he said.
"This gesture needs to be reciprocated by Muslims by arranging the same sort of practices at the holy occasions of Sikhs, Hindus and Christians," said Maqsood Ahmad Salafi, project manager at the Pakistan Council of World Religions.
The Sikhs' actions have promoted a message of interfaith harmony and witnesses are acknowledging it through words of praise for them, he told Pakistan Forward.
It is essential to bring Pakistanis closer together and to teach younger generations that differences of faith do not mandate hate for others, said Salafi, whose work includes de-radicalisation.
"This is a very good step and sends a message to the world that Pakistanis are religiously tolerant and living in mutual co-existence," said Haroon Sarab Dayal of Peshawar, a representative of the KP Hindu community and a founding member of the Pakistan Council of World Religions.
Hindus are planning to serve iftar to Muslims because of its sacred objective, he told Pakistan Forward, adding that such efforts to promote interfaith harmony are already under way in Sindh Province, which has a large Hindu population.
"In Peshawar, we are planning a grand iftar alongside the Sikhs for a couple of days," Sarab Dayal said.
"Christians are also appreciative of the step taken by Sikhs," said Augustin Jacob, president of the KP chapter of the Pakistan Minorities Unity Council.
Every gesture that sends a message of love and promotes tolerance is appreciated regardless of who is taking it, he told Pakistan Forward.
Christians arrange charities for deserving Muslims in Ramadan and provide free food in hospitals.
"For the sake of unity and spreading the message of peace and tolerance, such steps need to be taken publicly by all communities," he said.
Brotherhood and pride
Pakistani Muslims say they appreciate the gesture of goodwill from the Sikh and other minority communities.
Mardan District resident Nazir Ahmad said he found the sight of Sikhs serving food to fasting Muslims in the Bolton Block of Peshawar's Lady Reading Hospital to be a peculiar sight at first.
"What are these Sikhs doing here, and why are they serving meals and drinks to us?" Ahmad asked another confused onlooker.
Once the two were informed of the Sikhs' intentions, however, both exclaimed, "Humanity is the biggest religion!"
"Distribution of food for iftar by Sikhs is a matter of pride for a Pakistani Muslim," said Bilal Ahmad, a master's student at the University of Peshawar.
"We are sharing these pictures on social media with a sense of pride to show to the world that Pakistan is not the land of religious extremists but in fact a land of brotherhood and fraternity," he told Pakistan Forward.