PESHAWAR -- Pakistanis are standing in solidarity with the family of Mashal Khan, a 23-year-old journalism student at Abdul Wali Khan University in Mardan who was lynched by a violent mob on April 13 over allegations of blasphemy.
Thousands of people from all over the country and abroad are sending messages of love and respect to Mashal's family, and demanding the government administer exemplary punishment to the killers -- many of whom are visible in videos that went viral on social media in recent days.
Khyber Pakhtunkhwa (KP) police submitted a detailed report on the killing to the Supreme Court of Pakistan on Tuesday (April 18), two days after Chief Justice Saqib Nisar took notice on the case, local media reported.
Police have arrested 22 suspects believed to be involved in the incident, in which hundreds of students stripped, beat, shot and threw Mashal from the second floor of the university hostel where he was living, according to news reports.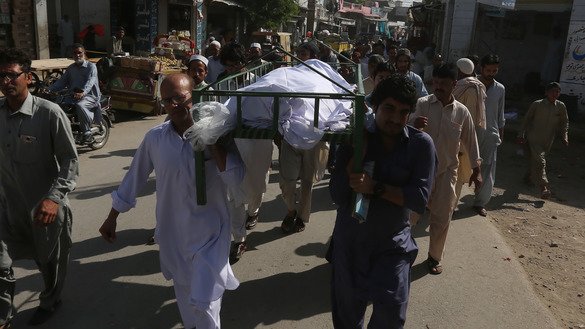 Mashal and Abdullah, another student who was severely beaten, were accused of "publishing blasphemous content online", local police said.
Police: No evidence of blasphemy
"Police have gone through the social media accounts, but nothing has been found that could establish that Mashal Khan has committed blasphemy," KP Inspector General of Police Salahuddin Khan Mehsud told reporters, adding that the Federal Investigation Agency has been asked to investigate.
Chief Minister Pervez Khattak also said no evidence had been found to suggest Mashal had committed blasphemy.
"The mobile phone record of the victim has been checked by the police but there was nothing against Islam," he told the KP Assembly on April 15.
"The government has already decided to conduct a judicial inquiry into this heinous crime," he said, adding that such brutality would not be tolerated.
Mardan District Police Chief Mian Saeed Ahmad said the entire force is making every effort to arrest all those involved in the case.
"Apart from the arrest of 22 accused including six university employees, four senior officials of the university have also been included in the investigation," Ahmad told Pakistan Forward.
'Conspiracy'
Wajahat, the prime suspect, in his official court statement said he was asked to come to the university chairman's office on April 13, where 15 to 20 people, including teachers, officials and students, had convened a meeting "to decide the case of Mashal Khan".
According to his statement, Wajahat said Mashal "often committed blasphemy", Pakistan Today reported.
Wajahat said he "personally heard" Mashal, as well as his friends Abdullah and Zubair, "talking against" Islam and the Prophet Muhammad (PBUH).
Expressing regret over the incidents that followed his testimony to university authorities, Wajahat said the university should not have called the meeting in the first place.
"Had I been aware of the conspiracy [against Mashal and his friends], I would not have come to the university," he said. "Had I not stated against them, the mob might have been dispersed."
"My role in the whole episode is that I gave a statement about the involvement of Mashal in blasphemy over which I am repentant, as it is the law of the land that needs to deal with issues like that, not individuals or university administration," he said.
Friend: We were innocent
Abdullah said he also had been called to the journalism department and asked to testify that Mashal had committed blasphemy and had "evil designs" against Islam, Dawn reported.
"But I refused, as I never heard any unparliamentary, scandalous as well as blasphemous words from Mashal's mouth," Abdullah said in his statement.
The accusations against Mashal and Abdullah's refusal to speak against him reportedly enraged students, and three teachers locked Abdullah in a bathroom, purportedly to protect him.
As the angry mob formed, they broke down the bathroom door and beat Abdullah until he was rescued by local police and some sympathising students.
At the same time, Mashal was in his room at the university hostel, where the mob attacked and murdered him.
Abdullah disclosed that he, Mashal and other friends had spoken against the university administration a couple of days before the incident over high fees, lack of facilities and misuse of authority.
"I want justice not only for me but for Mashal Khan as well as we were innocent," he said in his statement to police.
Justice for Mashal
Hundreds of people have visited Mashal's grave and his family's home in Zaida, Swabi District, to offer prayers and express their support.
"We have provided security to the family as large number of people are visiting to offer condolences," Swabi District Police Officer Sohaib Ashraf told Pakistan Forward.
People from across Pakistan also held rallies in Zaida and other cities to demand justice for Mashal.
"We visited the grave of Mashal Khan to offer condolences and later visited his house to express solidarity and support with the brave family," Neelam Gigyani, a leader of the Qaumi Watan Party who visited Zaida along with a number of female social workers, told Pakistan Forward.
Pakistani political leaders, who were at first reluctant to comment on the incident due to the sensitivity of the allegations, later started condemning it.
Pakistani Prime Minister Mian Muhammad Nawaz Sharif, former President Asif Ali Zardari, Awami National Party chief Asfandyar Wali Khan and a number of other political leaders condemned the lynching and promised efforts for justice.
Pakistan Tehreek-e-Insaf (PTI) leader Imran Khan said he had been in touch with the KP police chief regarding the "condemnable lynching of [the] student in Mardan".
"Law of the jungle can't prevail," he said on Twitter.
"We will take this as a lesson and make sure no one ever misuses the blasphemy law again to murder people again," Khan said in a press conference Tuesday (April 18).
Pakistan People's Party (PPP) Chairman Bilawal Bhutto Zardari expressed grave concern "over the cold-blooded murder of Mashal Khan" and demanded the immediate arrest of the culprits involved.
"No one should be killed on the basis of mere allegations," Maulana Samiul Haq, chief of the Jamiat Ulema-e-Islam (S) faction, told reporters April 15.
Pakistani Prime Minister Mian Muhammad Nawaz Sharif in March ordered officials to remove or block all "blasphemous" content posted on social media, and vowed tough action against those who post such material.