TASHKENT -- Uzbekistan and Pakistan have agreed to co-operate in a number of areas, including on fighting extremism and increasing trade volume, the two governments said.
The two countries will work together to end extremism, Pakistani President Mamnoon Hussain said in Islamabad December 23 while hosting Uzbekistani officials including Deputy Prime Minister Ulugbek Rozukulov.
The Pakistani people and military "have bravely faced the challenge of terrorism, and as a result this menace has been greatly overcome", Hussain said, according to a statement from the Pakistani government.
Pakistan and Uzbekistan are bound together in terms of faith, culture and geographical proximity, Hussain said according to the statement.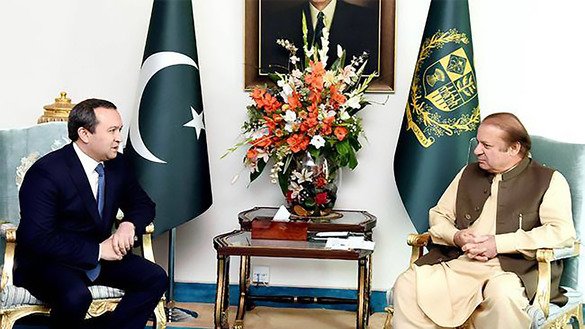 Details of their plans for further security co-operation were not available.
Common security concerns
Although the countries do not have a common border, they share a concern over terrorism and extremism.
The Islamic Movement of Uzbekistan (IMU), founded by Uzbek militants in the 1990s, operates in Afghanistan and Pakistan, although it has been greatly weakened in the past two years in both countries.
"North Waziristan for many years served as a refuge for IMU militants," Tashkent-based political scientist Umid Asatullayev told Caravanserai. "It was there that they planned their terror attacks and from there they made raids into Afghanistan."
IMU and Tehreek-e-Taliban Pakistan (TTP) militants, both allied with al-Qaeda, carried out a deadly joint attack on Jinnah International Airport in Karachi June 8, 2014.
In the week following the attack, the Pakistani military conducted a series of air strikes on militant hideouts in the tribal areas along the Afghan border, killing dozens of militants, including Uzbeks, Afghans and Pakistanis.
The campaign culminated June 15 in a massive aerial bombardment against eight foreign militant hideouts in North Waziristan, killing at least 105 insurgents, a majority of whom were Uzbeks, including those linked to the airport attack, local media reported.
A key Uzbek commander and mastermind of the attack, Abu Abdur Rehman Almani, was killed in the operation, according to military sources.
The same day, the Pakistani military launched Operation Zarb-e-Azb, a comprehensive counter-militancy operation in the tribal areas that is still on-going.
"The Pakistani armed forces and law enforcement eliminated [the IMU] in Pakistan during Operation Zarb-e-Azb," Asatullayev said.
Across the border in Afghanistan, the IMU also suffered near-obliteration in November 2015 due to infighting among militant groups.
The Afghan Taliban, incensed by its former ally's alignment with the rival "Islamic State of Iraq and the Levant" (ISIL), surrounded an IMU unit in Zabul Province and crushed it in battle. Then-IMU chief Usman Ghazi has not been heard from since that defeat, nor has the IMU been a factor in Afghanistan since.
Pakistan calls for more trade
Also of importance in interest to both countries is enhancement of trade relations.
At the December 23 talks with Rozukulov, Hussain emphasised Pakistan's desire for more co-operation with Uzbekistan in energy, human resources and other economic fields.
There is "tremendous trade potential" between Pakistan and Uzbekistan, Pakistani Commerce Minister Khurram Dastgir Khan told Rozukulov in Islamabad one day earlier.
"Pakistan and Uzbekistan must explore investment opportunities in agricultural, pharmaceutical, textile and sports goods," he said, according to a press statement.
The trade volume between the two countries for 2015-16 reached US $3.9 million, up from US $3 million in 2014-15, the statement said.
"That's a completely trivial figure for such big countries," Asatullayev said. "For comparison, in 2015 Uzbekistan and Afghanistan reached US $445.5 million in trade. Therefore, officials are trying to solve existing problems and create a business-friendly environment."
"Barriers and challenges are there, but we have to work together to remove the barriers and facilitate the trade," Khan said at the December 22 conference, adding that some of the issues hampering growth include a lack of direct cargo links and of safe and direct land routes and a multitude of legal barriers.
War-torn Afghanistan and mountainous Tajikistan lie between Uzbekistan and Pakistan.
Joint projects to boost co-operation
Rozukulov's talks with Pakistani leaders led to various efforts to stimulate trade between the two countries, which have a combined population of about 210 million.
During the visit, officials from Uzsanoatexport -- the Uzbekistani exporting corporation for engineering and chemical products -- and KASB Group -- a Pakistani firm -- signed an agreement to establish the Pak-Uzbek Trade House, according to The Express Tribune.
The institution is meant to ease the export of Uzbekistani cotton- and wheat-harvesting equipment to Pakistan, Podrobno.uz reported at the time.
However, delivering Uzbekistani farm equipment by road through Afghanistan will still compel the trade partners to deal with "red tape" at the Torkham border crossing between Afghanistan and Pakistan, The Express Tribune reported, noting that cargo requires as long as three weeks to obtain clearance at Torkham.
"Pakistan and Uzbekistan should focus on establishing direct railway and air links," Pakistani Railways Minister Khawaja Saad Rafique told Uzbekistani Ambassador to Pakistan Furkat Sidikov in mid-December.
One possibility, Rafique said, was building a railway from Karachi, Pakistan, to Jalalabad, Afghanistan, though no railway has ever existed on the Afghan territory west of Peshawar, Pakistan.
An Uzbekistani-built railway, though, already connects Uzbekistan to Mazar-i-Sharif, Afghanistan. Connecting Mazar-i-Sharif and Jalalabad by rail, if Afghan security permits it someday, would create the shortest railway between Central Asia and Southwest Asia.