WASHINGTON, DC -- The US military Thursday (June 20) released a graphic utilising satellite technology to pinpoint the exact flight path of the US drone and its position when an Iranian missile downed it, while the Iranians attempted to use a handmade drawing to prove otherwise.
"This was an unprovoked attack on a US surveillance asset that had not violated Iranian airspace at any time," US Central Command (CENTCOM) said in a statement that included the new graphic.
The drone was some 34km (21 miles) from the nearest point in Iran when it was shot down Thursday over the Strait of Hormuz by an Iranian surface-to-air missile, said Lt. Gen. Joseph Guastella, who commands US air forces in the region.
"Iranian reports that this aircraft was shot down over Iran are categorically false," Guastella said.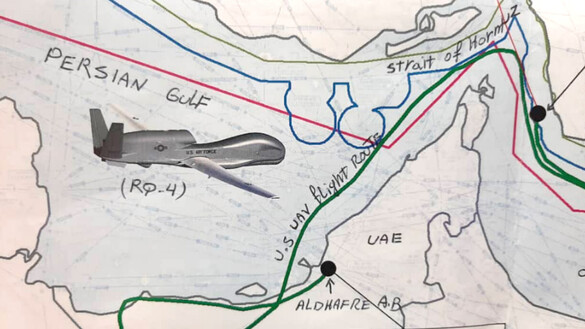 In contrast, Iranian Foreign Minister Mohammad Javad Zarif claimed Thursday that the drone "violated Iranian airspace" before being shot down.
The drone "was targeted at 04.05 at the co-ordinates (25°59'43"N 57°02'25"E) near Kouh-e Mobarak. We've retrieved sections of the US military drone in OUR territorial waters where it was shot down."
To support his claim, Zarif included a handmade drawing of the alleged flight path of the drone.
Suspension of flights over the Strait of Hormuz
Airlines including British Airways, Qantas and KLM said Friday (June 21) they were suspending flights over the Strait of Hormuz in line with a ban by US authorities.
The suspensions came after the US Federal Aviation Administration (FAA) issued a Notice to Airmen (NOTAM) "prohibiting US-registered aircraft from operating over the Persian Gulf and Gulf of Oman".
The NOTAM was in response to "heightened military activities and increased political tensions that might place commercial flights at risk", an FAA statement said.
Tanker attacks
The downing of the drone came after the US military Monday (June 17) released new photos it says incriminate the Iranian regime in an attack last week on tanker ships near the Strait of Hormuz.
The Japanese-owned Kokuka Courageous was carrying highly inflammable methanol through the Gulf of Oman on June 13 when it came under attack along with the Norwegian-operated Front Altair -- the second assault in a month in the strategic shipping lane.
Video footage shows an Iranian patrol boat removing an "unexploded limpet mine" from one of the vessels.