KARACHI -- Pakistani officials are reiterating that the "Islamic State of Iraq and the Levant" (ISIL) has no presence in Pakistan.
"There is no presence of the terrorist outfit ISIL on Pakistani territory," Prime Minister Mian Muhammad Nawaz Sharif said during a joint news conference in Sarajevo on December 21, with Denis Zvizdić, chairman of the Council of Ministers of Bosnia and Herzegovina.
Pakistani troops are taking decisive action against terrorists and have destroyed numerous safe havens formerly used by al-Qaeda and the Taliban, Nawaz Sharif said.
War not over
Interior Minister Chaudhry Nisar Ali Khan recently noted a sharp decline in terrorism nationwide, which he credited to Operation Zarb-e-Azb, an army counter-insurgency offensive launched in North Waziristan in June 2014.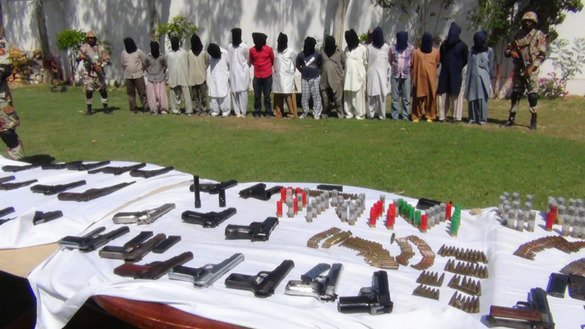 "As of now, no terrorist networks exist in Pakistan," he said in Landi Kotal, Khyber Agency, on December 21.
"Local militant outfits use the name of ISIL in terrorist activities," he said.
"People should know that the war against terrorism hasn't ended yet," he said. "We are committed to fight militancy and militants."
Co-operation among nations to reduce the risk of terrorism to civilians is of paramount importance, Maj. Gen. Shahzad Naeem Khan, general officer commanding of Malir Cantonment, Karachi, said.
"It is imperative to take the war against terrorism to its logical conclusion," he said, adding that terrorists will never succeed in their nefarious designs.
"Pakistan is the only country in recent history that has fought and defeated various terrorist organisations and come out of it as a stronger nation," he told Pakistan Forward.
"The Pakistani army is ... capable of responding to all kinds of threats," he said.
"The threat of terror is constantly evolving with extremist groups carrying out attacks in new and different ways to cause mass casualties," said Maj. Gen. Agha Masood Akram, director general of the Defence Export Promotion Organisation, a government agency that facilitates the export of Pakistani defence products and services.
"The challenges are ever present, the threat ever increasing and the need for quality intelligence more acute than ever before," he told Pakistan Forward.
Nonetheless, he said, "Pakistani forces are fully capable of fighting the militants."
Analysts back claims
Pakistani analysts back the claims that the ISIL threat is not in Pakistan.
"There isn't a visible threat of ISIL to Pakistan," Ayesha Siddiqa, a defence analyst and author based in Islamabad, told Pakistan Forward.
ISIL has not had much success so far in Pakistan, she said, because "there are sectarian differences among all the militant groups."
ISIL mainly attracts disheartened members of the Taliban, she said, adding that Afghanistan is more fertile recruiting territory for ISIL "because of widespread poverty and unemployment".
Pakistan's government can take various steps "to ensure that the ISIL mindset does not harm the stability of Pakistan", she said.
Among them, "the government should improve governance and ensure social justice so as to win people's support in the war against terrorism and extremism," she suggested.