Since its establishment in 2001, the Combined Maritime Forces (CMF) has worked to uphold the rules-based international order on the high seas, promote the free flow of commerce and counter threats from terrorism and piracy.
The 34-nation maritime coalition, headquartered in Bahrain, works to counter illicit non-state actors and promote security, stability and prosperity across approximately 3.2 million square miles of international waters.
These waters border 21 states and include some of the world's most important shipping lanes. They also include three critical choke points: the Strait of Hormuz, Bab al-Mandeb at the gate to the Red Sea and the Suez Canal.
CMF aims to establish, promote and protect freedom of navigation for all legitimate seafarers in the region's waters by countering terrorism, piracy and the smuggling of illicit drugs and weapons.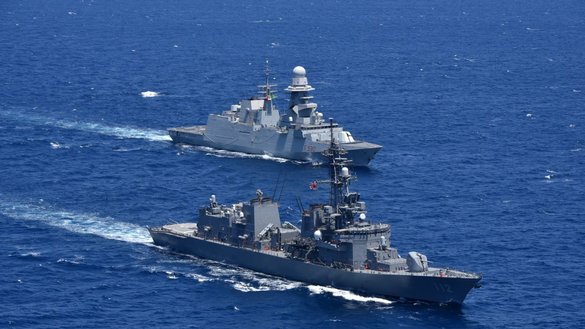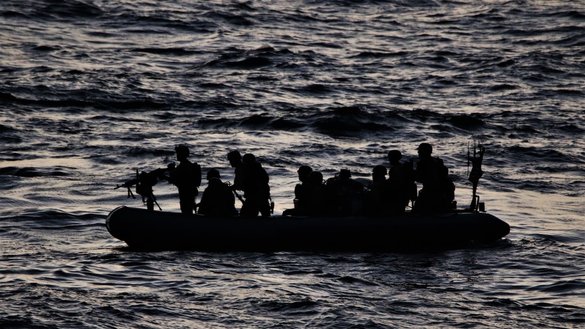 It does this by supporting the free flow of legitimate commerce, denying the use of the high seas by terrorist and illicit non-state actors and undertaking strategic engagement with regional partners and other key stakeholders in the region.
CMF began with 12 like-minded countries and has since expanded, with active support from the Gulf Co-operation Council (GCC) and growing involvement from Southeast Asian nations.
New lines of effort include disrupting human trafficking, and combatting illegal unregulated and unregistered fishing, according to a UK Maritime Trade Operations (UKMTO) briefing delivered in July 2020.
They also include improved co-ordination and information sharing.
"The global economy depends on freedom of navigation through international waters in order to ensure the expedient movement of goods across vast expanses of ocean," CMF said in a fact sheet explaining its mission.
"The navies of the world must work in co-operation and co-ordination with each other and with external agencies to ensure the area is secure."
'Coalition of the willing'
CMF is commanded from its headquarters in Bahrain.
Its membership includes 10 countries in the region: Bahrain, Kuwait, Qatar, Saudi Arabia, the United Arab Emirates, Iraq, Jordan, Türkiye and Yemen. Egypt, which joined in April 2021, became CMF's 34th member.
European members include the United Kingdom, Belgium, Denmark, France, Germany, Greece, Italy, the Netherlands, Norway, Portugal and Spain.
Other members include the United States, Canada, Brazil, Australia, New Zealand, Japan, Malaysia, Pakistan, the Philippines, Korea, Seychelles, Singapore and Thailand.
As "a coalition of the willing", CMF does not prescribe a specific level of participation, so member participation varies according to the ability to contribute assets and the availability of those assets at any given time.
CMF's main focus areas are counter-narcotics, counter-smuggling, suppression of piracy, encouragement of regional co-operation and engagement with regional and other partners to strengthen and improve overall security and stability.
CMF assets at sea also respond to environmental and humanitarian crises when they are asked to do so.
Combined task forces
CMF has five Combined Task Forces (CTFs): CTF 150 handles maritime security operations outside the Arabian Gulf, CTF 151 is a counter-piracy effort, CTF 152 focuses on maritime security in Gulf waters and CTF 153, Red Sea security.
A fifth task force, CTF 154, just came into being on May 22, and will focus on training partner navies and improving operational capabilities to enhance maritime security in the Middle East.
CTF 153 is currently under the command of the coalition's newest member, Egypt.
Former CMF commander Vice Adm. Samuel Paparo welcomed Egypt's CMF membership while visiting Alexandria in April 2021, thanking it for its increased co-operation and combined operations in the Red Sea.
"Egypt is an important partner in ensuring stability in the region, and we are honoured to welcome Egypt's partnership in our mission focused on making the region and world a safer place," Paparo said.
"With Egypt's entry into CMF, this co-operation and interoperability will only grow," he said.
Members of the maritime coalition continue to work and train together, with CMF hosting senior military leaders from 38 nations during a four-day maritime security conference in Bahrain held October 3 to 6.
Leaders from 40 navies and coast guards attended the annual conference to review progress over the previous year and discuss future partnership opportunities and initiatives.
"Gathering this number of senior officers together from different nations really demonstrates the international co-operation that lies at the heart of CMF," said UK Royal Navy Cmdr. Martin Heaney, lead planner for the conference.
"Real progress has been made," he said.