The increased presence of US and international forces in the Strait of Hormuz after a spate of unlawful Iranian seizures of oil tankers has brought a sense of reassurance to the region, military analysts said.
A fleet of high-speed Islamic Revolutionary Guard Corps Navy (IRGCN) craft on May 3 surrounded and seized the Panama-flagged, Greek-owned Niovi as it travelled from Dubai to Fujairah in the United Arab Emirates (UAE).
The vessel's seizure in the Strait of Hormuz came six days after a similar incident in Gulf waters, when helicopter-borne Iranian navy commandos abseiled onto the deck of a US-bound Marshall Islands-flagged tanker, Advantage Sweet.
On May 12, Iranian state media announced that Iran had seized a third tanker, the Panama-flagged Purity.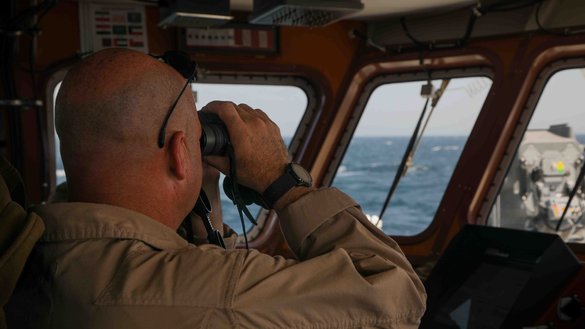 The US Department of Defence on May 12 announced it would bolster its defensive posture in the region to counter Iranian aggression.
"Iran's unwarranted, irresponsible and unlawful seizure and harassment of merchant vessels must stop," said Combined Maritime Forces (CMF) commander Vice Adm. Brad Cooper, who also heads the US Naval Forces Central Command (NAVCENT) and the US Navy's 5th Fleet.
The United States is "committed to protecting navigational rights in these critical waters", he added.
Military assets already in place, including aircraft and ships, will be used for "increased rotational patrols to enhance our presence specifically in and around the Strait of Hormuz", 5th Fleet spokesman Tim Hawkins said.
The increased surveillance will be conducted through the 11-nation International Maritime Security Construct (IMSC) and the eight-nation European Maritime Awareness in the Strait of Hormuz (EMASoH).
Joint forces from Bahrain, France, the United Kingdom and United States on May 14 conducted a multilateral patrol over the Strait of Hormuz, the US 5th Fleet said.
In response to heightened concerns about international shipping, the United States has prepared a fleet of 100 unmanned surface vehicles (USVs) that reportedly will be ready to operate within a few months.
Security partnerships
Reactions in the Gulf region to the US military reinforcements were "very positive at all levels", former Kuwaiti army officer Nasser Rashed told Al-Mashareq.
He noted that oil prices were not affected by Iran's latest vessel seizures, after the United States announced it would boost its military presence.
He also noted that countries of the region, including Saudi Arabia, the UAE and Kuwait, have strategic partnerships with the United States already.
"Iran has spewed misinformation about the reason why it carried out these hostile acts," Rashed said, referring to the recent tanker seizures.
It once again has demonstrated it cannot be trusted, he added, "despite the recent political developments and its attempt to seek rapprochement with the Gulf states".
Iranian affairs researcher Fathi al-Sayed of al-Sharq Centre for Regional and Strategic Studies noted that the incidents closely preceded the Arab League summit in Saudi Arabia.
"This confirms Iran's real intentions, based on its continued aggression against maritime traffic and its lack of respect for international covenants," he said.
Maritime security
The rapid US intervention contributed to a sense of safety in the region in the face of Iranian aggression, whether in the form of attacks against vessels or illicit smuggling of arms and drugs, al-Sayed said.
The Gulf states consider maritime security "a red line that cannot be crossed", al-Sayed said, adding that the United States' reinforcement of its military units is a signal of US determination to stop Iranian aggression.
"The close relationship with the United States is a safety valve [for the region] due to the enormous capabilities that the US naval vessels in the Gulf possess," he said.
By bolstering its presence in the region, the United States "meant to send a message to the Iranian side underscoring the magnitude of the US-Gulf partnership and the US commitment to the security and stability of the region", said Saudi military expert Mansour al-Shehri.
It was a message of reassurance to the region that the United States is "fully and completely committed to maintaining security against any danger, especially the persistent and growing Iranian threat", he told Al-Mashareq.
Creation of new task force
The US-led CMF, a multinational naval coalition, on Monday (May 22) established a new task force that will train partner navies and improve operational capabilities to enhance maritime security in the Middle East.
During a ceremony at US 5th Fleet headquarters in Bahrain, leaders commissioned Combined Task Force 154 (CTF 154) -- the 34-nation CMF's fifth task force.
CTF 154 will organise frequent training events that address maritime awareness, law, interdiction, rescue and assistance, as well as leadership development.
"Our navies are at their very best when we train, operate and work together," said CMF commander Cooper.
"Establishing CTF 154 demonstrates our deep commitment to strengthening and expanding partnerships through new training opportunities that will enhance regional maritime security," he said.
The new task force is commanded by a US Navy captain who will build and lead a multinational staff, CMF said in a statement.
Another nation will assume command as early as this autumn.
CTF 154's core staff will be augmented by CMF partners during key training opportunities such as the task force's inaugural event, Compass Rose, which will kick off this week in Bahrain.
More than 50 participants from Bahrain, Kuwait, Oman, Pakistan, Saudi Arabia, the United Kingdom and United States began arriving Sunday for the drill.