Iranian security forces last week announced they had padlocked a mall and several businesses across the country for allowing women who do not obey the state's compulsory head covering code to enter, shop or eat.
Iranian women have been expressing outrage towards the regime on an unprecedented scale over its head covering mandate, which has been in place since the Islamic Republic was founded.
Although the protests, the largest and most widespread in Iran since the 1979 Islamic Revolution, have diminished in recent months, they have had a strong and abiding effect on the women's mandated dress code.
Led by women and focused on women's personal freedoms, the protests were ignited by the September death of 22-year-old Mahsa Amini in "morality police" custody after her alleged failure to wear the "appropriate head covering".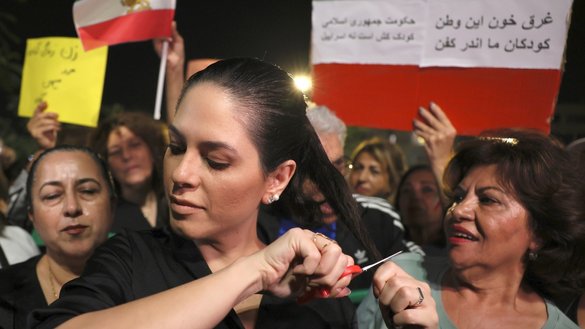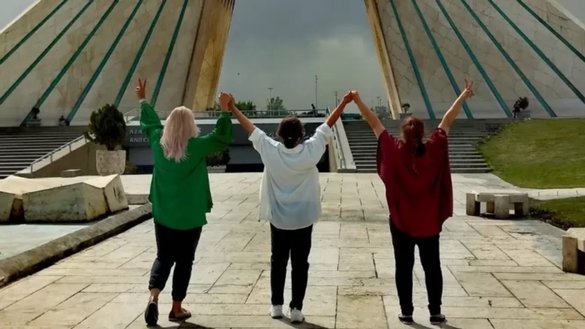 Thousands of women across the country participated in an uprising that has churned for months. In acts of defiance, women took off their headscarves and cut their hair on camera, posting the pictures and videos on social media.
Celebrities have been appearing in public, including in public ceremonies, without a headscarf.
Though some have been publicly chastised and threatened with the loss of their livelihoods, they have not been arrested, which has given many ordinary citizens the courage to follow suit.
Compulsory head coverings for women have been the Islamic Republic's mainstay tactic for repressing women and restricting their social presence, some say.
Women's defiance
The younger generation of Iranian women, not even born at the time of the Islamic Revolution, have proven braver and bolder than their mothers.
They have disobeyed the dress code, which has become even stricter under ultra-hardline president Ebrahim Raisi.
Videos of women fighting back when ordered to pull their scarf forward or screaming and resisting while being pushed into police vans for a "talking-to" by female morality police circulated on social media after the protests began.
The regime's morality police unsuccessfully attempted to "correct" women's coverage and enforce the state-mandated dress code but have all but given up on making efforts to change the way women are dressing these days.
Several women told Al-Mashareq that for months they have been disobeying the regime's mandate and no longer cover their hair when they leave home.
A 45-year-old nurse said she has become accustomed to leaving her house without covering her head, to the point that now she even forgets to carry her scarf in her handbag "just in case".
Most private entities do not enforce mandatory hair covering for women.
A 33 year-old accountant who no longer covers her hair in public said she feels "free", adding that "these days, I feel surprised if I see a woman wearing a scarf".
"Restricting women is one of the regime's pillars, and our victory has shaken that pillar," she told Al-Mashareq.
Regime in a bind
The overwhelming number of women who have refused to continue covering their hair has left the regime in a bind, and regime officials have all but confessed they are at an impasse.
Many have stressed that head coverings are part of the "law of the land" and cannot be ignored, but a show of force is missing from the country's streets.
Every year with the arrival of warm weather, the morality police traditionally have put pressure on women to cover up and "follow the protocol". This year, too, there are rumours that warmer days could mean stricter enforcement.
A 26-year-old dental hygienist said she is not intimidated by the rumours.
"The regime wants us afraid," she told Al-Mashareq. "We haven't given in to fear for months; we aren't about to start now."
In a few speeches since the start of the protests, Iranian leader Ali Khamenei has emphasised that head coverings are non-negotiable, although his tone was not as forceful as many observers expected.
On April 19, Iranian parliament (Majles) speaker Mohammad-Bagher Ghalibaf said authorities "must come up with a plan" to combat the defiance.
'No head covering, no service'
After its serial failed attempts to rein in what it describes as women's insubordination and lawlessness, the government has resorted to threats.
The Islamic Republic's mainstay for repressing citizens has been the Law Enforcement Forces (LEF), generally commanded by former or current officers of the Islamic Revolutionary Guard Corps (IRGC) or the IRGC-linked Basij.
During his tenure as Tehran's police chief, former Basij official Brig. Gen. Ahmad-Reza Radan was reviled for enforcing women's head coverings and for ordering male physicians to stop wearing ties, customary in Iranian hospitals.
Radan was removed from his position in 2014. In January, however, Khamenei removed then-overall LEF commander Hossein Ashtari and replaced him with Radan in a move seen as a desperate attempt to restore the mandate.
So far, the bulk of Radan's work has been ordering the closure of businesses that do not obey the mandate.
On April 25, the LEF announced the closure of several businesses and a major Tehran mall. The businesses include stores owned by celebrities.
Women take heart
A 74-year-old woman, who said she participated in the uprising against the Iranian monarchy in 1979 and has been regretting it since, said she is encouraged by the young women who bravely take off their head covering.
"Honestly, I almost feel embarrassed when I have my headscarf on," she told Al-Mashareq.
In the past few months, the LEF has repeatedly announced that a failure to follow the head covering mandate would mean the disruption of "services" at government offices and public places such as the subway.
But Tehran Metro CEO Masoud Dorosti on April 9 said he has not received a notice or memorandum about women's head coverings or about not allowing those without "appropriate coverings" to enter the subway.
Women may abide by the mandated dress code at government offices, but they unveil as soon as they leave the premises, many say.
"We may have to put our scarves back on but only for the brief minutes we are forced to," a 53-year-old fashion designer said.
"This may be a small win, but leaving the house without a headscarf makes me happy every day," she told Al-Mashareq. "We won't turn back now."