China's recent surge in defence spending, coupled with its increasingly aggressive actions in the Indo-Pacific region, has caused other countries to increase their own defence spending, contributing to a regional arms race and heightened tensions, analysts say.
According to the draft budget released by the National People's Congress, China's 2023 defence budget will reach 1.55 trillion CNY (about $224 billion).
This represents an increase of 7.2% from the previous year, the highest year-on-year increase in military spending since 2019, and far exceeds the government's goal of 5% GDP growth.
The spike means that despite facing many economic challenges, Chinese leader Xi Jinping still prioritises military spending over the economy.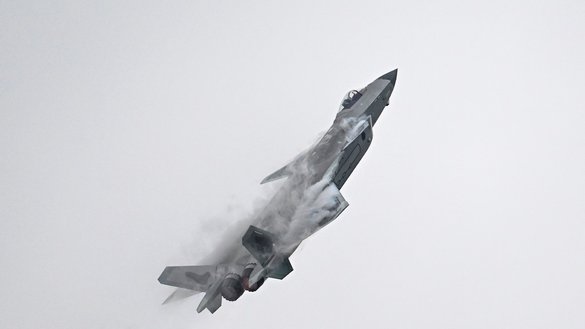 But Beijing is attempting to downplay its intentions of expanding military dominance, observers say, using its propaganda machine to deflect attention.
The relationship between China's stated military spending and its capabilities is not readily apparent, the Washington-based Centre for Strategic and International Studies (CSIS) said in 2022.
"Official figures do not account for a number of military-related outlays, including some military research and development, aspects of China's space programme, defence mobilisation funds, authorised sales of land or excess food produced by some units, recruitment bonuses for college students, and provincial military base operating costs," noted CSIS.
Chinese aggression
As China accelerates its military expansion and modernisation year after year, its Asian neighbours, the United States and its allies are closely watching and expressing concerns over its strategic intentions and military presence.
Remarkably, China has territorial disputes with 17 other countries, as The Week reported last year. It even has one with its ally North Korea.
China's military deployments aim at enhancing its threat in the Indo-Pacific region, especially to Taiwan, Japan and Southeast Asia, Yasuhiro Matsuda, a professor at the Institute for Advanced Studies on Asia at the University of Tokyo, told Voice of America on March 7.
China's repeated comparisons of itself to the United States highlight the second largest economy's ambition to dominate the world, he said.
On Monday (April 10), China declared it had completed three days of war games around Taiwan, capping a show of force that saw it simulate targeted strikes and practice a blockade of the self-ruled island.
Taiwan is a democratic self-governed island that Beijing claims.
Three Chinese warships sailed Friday in waters surrounding Taiwan, while a fighter jet and an anti-submarine helicopter also crossed the island's air defence identification zone (ADIZ).
Last August, China deployed warships, missiles and fighter jets around Taiwan for its largest show of force in years.
China sent 1,727 planes into Taiwan's ADIZ in 2022, according to an AFP database based on daily updates released by Taiwan's Ministry of National Defence.
That compares with about 960 incursions in 2021 and 380 in 2020.
Meanwhile, Beijing's claims to offshore resources across much of the South China Sea are widely denounced as unlawful.
"Beijing uses intimidation to undermine the sovereign rights of Southeast Asian coastal states in the South China Sea, bully them out of offshore resources, threaten them out of shipping lanes, assert unilateral dominion, and deprive fishermen of access to their livelihoods," the US State Department has said.
Japan is also subject to increasing Chinese incursions.
According to the Japanese Coast Guard, Chinese Coast Guard ships entered Japan's territorial waters near the Senkaku Islands (known as the Diaoyu Islands in China) in the East China Sea 34 times in 2021, Inquirer.net reported in February 2022.
On April 2, Chinese coast guard ships lingered in Japanese territorial waters near the Senkaku Islands for a record 80 hours and 36 minutes before the three vessels left the area, the Japanese said.
It is the longest period Chinese ships have intruded into the waters since the Japanese government put the islets under state control in 2012, according to Kyodo News in Japan.
In response, the Japanese government has doubled its defence budget for 2023 to 6.8 trillion JPY (about $51 billion), breaking decades of limits on such spending.
"Around Japan, there has been a clear change in the countries and regions seeking to unilaterally change the status quo by force, and Japan will take a wide range of measures from military to diplomatic to respond to such change," Prime Minister Fumio Kishida said.
Rationalising PLA's expansion
On the heavily monitored and censored social media sites in China, discussions of the People's Liberation Army (PLA)'s spending minimise its extent.
The Chinese government has been playing down the increase in defence spending and harping on what it terms as Western "provocation".
China Daily, an English-language newspaper owned by the Chinese Communist Party (CCP), responded to criticism of the country's increased military spending by saying that the budget should not be "misinterpreted".
The newspaper blasted Western countries for alleged double standards, saying that while they increase defence spending to counter potential threats, they accuse China of challenging US leadership in the Indo-Pacific region.
"The international community should approach China's defence budget with calm and rationality," it said.
But China's aggressive war games and its incursions into Taiwanese airspace and in territorial waters of neighbouring countries are unlikely to elicit "calm" reactions.