As Iranians usher in the Persian new year, Nowruz, on Monday (March 20) amid reignited protests and a sharp downturn in their personal purchasing power, many say they are disheartened by the state of the country.
The new year starts at the moment of the spring equinox, and should be a time of hope, with customs involving jumping over fire, dancing, poetry recitations and visiting elders, who buy gifts for younger members of the family.
But the Islamic Republic's economic and social policies have robbed many, including Hengameh, a veterinary technician, of their enjoyment this year.
Hengameh said she has never experienced economic hardship to this extent.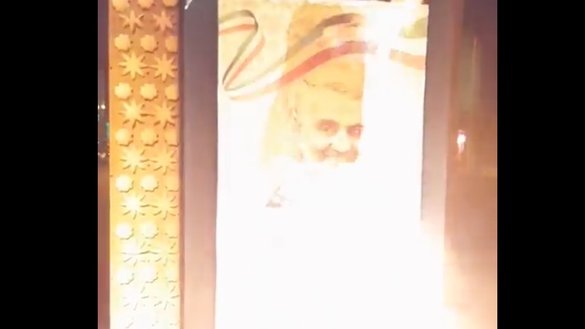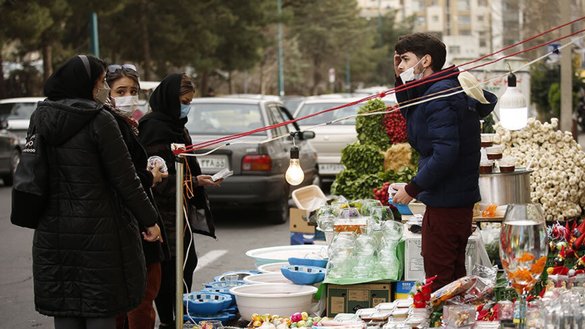 "Although both my husband and I work full time, we have been struggling this past year like never before," she told Al-Mashareq.
"I have debated what to buy for my 8-year-old daughter and have changed my mind several times, finally settling on cheaper items that were not even on her wish list," she said.
The most recent government estimate points to a 47.7% inflation rate for the 30-day period ending February 19, while the point-to-point inflation rate for the same period is estimated at 53.4%.
Groups of retired and active government employees and oil workers have sporadically protested their low pensions across the country over the past year.
Among them is 75-year-old Fariborz, a retired engineer, who says he and his wife, also retired, have decided to tell their grandchildren they cannot afford to buy them presents this Nowruz.
"It pains us to no end, and is very embarrassing," he said. "But we truly cannot afford the expense. Everything is so much more expensive than it was last year, and we struggled even last year."
Disappearing middle class
These woes are felt acutely among families who once considered themselves middle class -- a demographic that is rapidly disappearing in Iran, an Iran-based economist told Al-Mashareq, speaking on condition of anonymity.
Many middle class families can barely afford to pay the rent, he said. And buying new clothes and shoes, a Nowruz tradition, is a near-impossible feat for many this year, as they grapple with daily expenses.
"The constant struggle to make ends meet affects the public's mood and puts a damper on Nowruz celebrations, particularly as much of Nowruz involves spending," the economist said.
"You visit with family, relatives and friends in a 15-day holiday period, buy specific Nowruz goods, nuts and pastries, new clothes and shoes, get a new hairdo, all of which is not affordable for many Iranians these days," he said.
Travel has become a luxury for the Iranian middle class, too.
Although travel agencies constantly advertise deals they claim are "affordable", fewer people are drawn to travel this year out of budget concerns.
In past years, some families, particularly younger families, would spend their Nowruz holiday in Turkey or Dubai, with young people aiming to spend time at clubs and bars, which do not exist in Iran.
Some would travel to concerts held by Los Angeles-based Iranian singers.
This year, however, fewer people plan to travel, as the value of the rial against the dollar has drastically fallen in the past year and experienced a rapid drop in February.
The rial's rebound -- by some 18% as of mid-March, after the China-brokered Iran-Saudi deal -- has brought hope to some Iranians, but the prices of goods and services have remained high.
Protests at fire festival
Ahead of Nowruz, Iranians historically begin the process of ushering in the new year with a fire festival celebrating the year's last Wednesday (March 15 this year), which begins at sundown Tuesday and involves fire-jumping.
The Iranian regime has routinely attempted to quash the fire festival, to no avail.
This year, the festival was a focus of the ongoing protests that erupted six months ago after the death of young Iranian woman Mahsa Amini in custody of the "morality police".
Many protesters announced on social media that they would protest wherever they celebrate the fire festival and would continue protesting for three days.
Gathered for festivities on Tuesday, women chanted, "We will burn our scarves" as they torched their headscarves. Some wrote the slogan on walls.
Many sang and danced. Dancing is a traditional part of the festival but has been banned by the Islamic Republic.
Chanting slogans, some set fire to posters and pictures of Iranian leaders, including Qassem Soleimani, the late commander of the Islamic Revolutionary Guard Corps' Quds Force (IRGC-QF).
Images of Soleimani, as well as his statues, have been torched before on several occasions across Iran.
Only a day after the Iranian judiciary released 20,000 protesters arrested over the past months, the government announced police had detained "dozens of protesters" at fire festival celebrations.
The force and duration of the protests in Iran show the depth of the public's discontent and dissent, an Iran-based sociology professor told Al-Mashareq.
"There is absolutely nothing the regime can do about this, even if it detains more individuals," he said.