NAIROBI -- A Chinese-owned retail shop has become the latest flashpoint over an influx of cheap Chinese-made goods into Kenya that has threatened the livelihoods of small- and medium-sized businesses.
Thousands of Kenyan traders on February 28 took to the streets of Nairobi to protest the household goods store China Square, which opened its doors in the outskirts of the capital on January 29.
The store's prices for everyday Chinese-made goods are on average 50% cheaper than those brought in by local traders, Reuters reported.
Demonstrators marched to the office of the deputy president and to parliament to submit a petition against the Chinese retailers and to demand an end to what they called a "China invasion".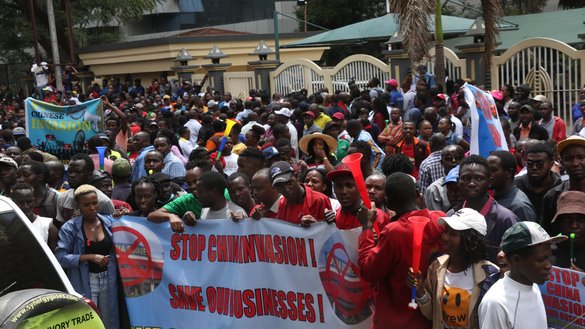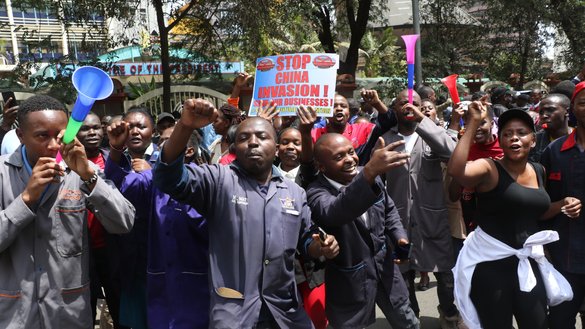 Kenyan Trade Cabinet Secretary Moses Kuria commented on the protests, suggesting that China Square's lease be bought out and handed over to local traders.
He also proposed having China Square's proprietor set up a factory in Kenya rather than a retail business.
The Square belongs to a Chinese trader, Lei Cheng, who has insisted that he has done nothing wrong.
"My business is legal and is centred on healthy competition. We have co-operated with all government directives of opening a business in Kenya, and we are here to break the monopoly," he told the BBC.
'Economic bullying'
The latest protests underline long-standing tensions between Kenyan traders and Chinese business owners, whom they accuse of importing cheap products that undercut local businesses.
"[China] is now taking its economic bullying practices too far. It has to be stopped," said Pius Mutembei, 43, owner of an electronics shop on Nairobi's Luthuli Avenue.
"It is only natural ... that Chinese retailers should not be allowed to ship in cheap goods from China and then retail them on Kenyan streets, shops and malls."
Allowing China to dump cheap or counterfeit goods in Kenya is an insult to local manufacturers and traders who will be disadvantaged when it comes to pricing and discounting, he added.
Mutembei lamented that he cannot match the prices of China Square.
He urged the Kenyan government not to allow the abuse of the free market because local traders will suffer and be forced to close their shops.
Mary Kiarie-Kariuki, 55, a mobile phone trader at Thika Road Mall, urged the Kenyan authorities to crack down not only on China Square but on all Chinese-affiliated businesses that are selling fake or defective products.
China Square on February 16 was accused of infringing on a registered trademark, prompting Kenya's Anti-Counterfeit Authority to seize alleged counterfeit goods worth 50 million KES ($387,567) for verification.
One of her long-time clients was recently duped at another store into buying a "Zony" radio, a knock-off of Sony, she said.
Protecting local businesses
Although the country is open to investors from all corners of the world, there should be a limit to what foreigners can do, said David Okelo, a floor manager at Star Trade Electronics in Kiambu County.
"If they opened up electronics manufacturing firms in our country, they would be much welcome," he said.
"They would create direct and indirect jobs, pay export taxes on special electronics components, and help expand the Kenyan economy, but fighting with small local traders selling similar stuff here is not acceptable," Okelo said.
Okelo supports the suggestion that the China Square lease be bought out and given to local traders.
"Why should we allow foreigners to be manufacturer, wholesaler, distributor and retailer at the same time? That's an abuse of a trading licence and Kenyan hospitality."
Joy Achieng, 39, a secondhand clothing seller in Gikomba and a member of the Nairobi Importers and Small Traders Association (NISTA), also wants the government to enact policies to protect small- and medium-sized businesses against Chinese competition.
She pointed to similar protests in 2019 that prompted government action against foreign small-scale traders in the secondhand clothing business in Gikomba, Kenya's largest open air market.
"We want similar action now by the government on all Chinese small-scale traders in Kenya," Achieng said.
She urged Kenya's Trade Ministry, revenue authority, anti-counterfeit and quality assurance agencies to "closely scrutinise the business operations of Chinese firms to tackle tax evasion and the importation of contraband and substandard goods, among other illegal activities".
Small businesses should be left to locals, she added.
"We can't have local women roasting fish on the Nairobi roadside for survival, and at the next corner, there is a Chinese trader competing with them selling cheap noodles."