ISLAMABAD -- A Chinese-state run company has embezzled more than 7 billion PKR ($26 million) from the Saindak Copper-Gold Mine project in Chaghi district, Balochistan, a lawmaker recently informed the provincial parliament.
The revelation ignited a debate about the lopsided agreements Islamabad has inked with Beijing.
Chinese companies are plundering the province's resources and have embezzled millions of dollars without any accountability, said Muhammad Arif Muhammad Hasni, a member of the provincial parliament elected from Chaghi district.
"The Balochistan government is not taking any action against Chinese companies because it fears that Beijing will be angered and this will affect Sino-Pak relations," Hasni said during a provincial assembly session last week.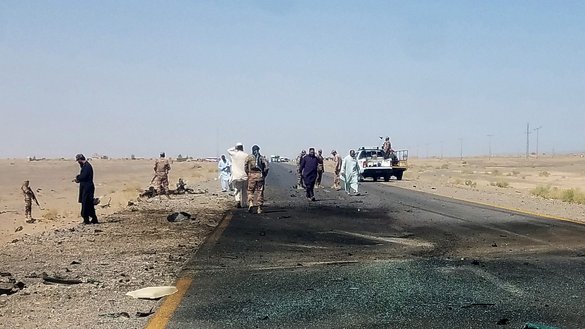 "The Pakistani government, assembly and the National Accountability Bureau (NAB) [Pakistan's anti-corruption agency] are considered complicit in China's corruption because they remain silent on the Chinese companies' looting of Balochistan's resources," he said.
Lopsided agreements
Hasni's allegations again highlight the lopsided financial agreements between China and Pakistan under the China-Pakistan Economic Corridor (CPEC), a Pakistani component of China's Belt and Road Initiative (BRI), also known as One Belt One Road (OBOR).
Loans and financial agreements between Islamabad and Beijing are major factors behind Pakistan's ongoing economic crisis, say government officials and economists.
In the Saindak area of Chaghi district, the Saindak Copper-Gold Mine project was leased in 2002 to the Metallurgical Corporation of China Ltd. (MCC), a subsidiary of the state-run China Metallurgical Group Corporation.
Last year, Islamabad extended the lease for another 15 years, when it expects the resources to be depleted.
"Chinese companies have extracted copper and gold deposits from Saindak mines without any local, national or international supervision," said Zaheer Baloch, a Quetta-based mining analyst.
Hasni's accusations about Chinese companies embezzling funds are not new, he said.
"Everyone in Balochistan has been criticising Islamabad's policy of allowing Chinese companies to loot resources without any accountability," Baloch said.
Inhumane labour practices
Residents in Saindak shared similar concerns and complained about inhumane labour practices of the MCC.
Over several days in February 2022, residents held a large protest, led by women, against the MCC for its inhumane acts against local employees and the closure of roads, schools and shops.
"The Chinese company has made the lives of local residents and employees miserable," said Zulekha, a housewife, who took part in that protest.
Her husband, a Saindak miner, was kept from going home for six months in the name of coronavirus pandemic-linked precautions.
Local residents could not even go to the Saindak hospital for treatment, she said.
Pakistani labour groups have long accused Chinese companies in Pakistan of violating the rights of workers and ignoring safety precautions at sites that are part of the BRI.
The exponential growth of Chinese influence in Balochistan -- with Chinese companies exploiting local resources without care or concern for the impact on locals -- has led to serious unrest.
Anger over growing Chinese influence in Balochistan has spurred Baloch and Sindhi militant organisations to ally with each other and to step up violence in the region targeting the CPEC sites.