KYIV -- As Russia's invasion of Ukraine enters its second year, military analysts are predicting a grueling fight that will ultimately end with a Ukrainian victory.
Fighting is expected to be fierce this spring and summer, military officials have said.
Despite an acute shortage of resources, Russia is now shifting away from a rapid invasion to a war of attrition.
"The Kremlin is suffering a strategic failure. That's why [Russian Defence Minister Sergei] Shoigu and [Chief of the General Staff Valery] Gerasimov presented Putin with the concept of the so-called global war," Mykola Malomuzh, a security analyst and director of Ukraine's Foreign Intelligence Service from 2005 to 2010, told Caravanserai.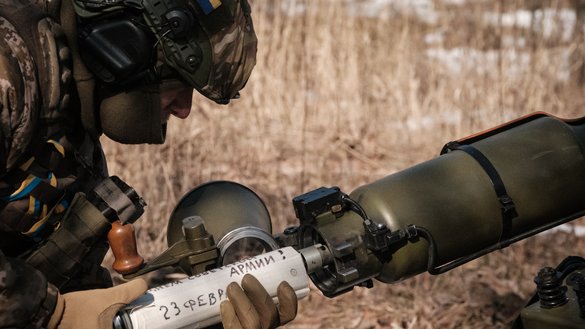 The concept, based on the spurious claim that Russia is fighting the entire West including NATO, involves drawing new forces and equipment to the front, according to Malomuzh.
"We're talking about 500,000 mobilised soldiers and creating new attack groups of tanks ... also, they're planning to repair old armoured personnel carriers and Grad, Uragan and Smerch self-propelled multiple rocket launchers," he said.
"They're also planning to get new missile systems ready. There aren't a lot of them, but they're still being produced in Russia," Malomuzh added.
Putin plans to use the personnel and equipment in two phases, according to Malomuzh.
The first involves an attempt to seize strategic provinces that the Kremlin views as its main priority, with Donbas, which includes Donetsk and Luhansk provinces, at the top of that list.
"We're now in the middle of the first phase. First, our challenge is to hold our ground in Donbas, Bakhmut, Svatove, Kreminna and of course in southern Ukraine in Zaporizhzhia province," Malomuzh said.
Donetsk, Luhansk and Zaporizhzhia provinces "are the three main places where the enemy is trying to drive us out and seize new frontiers", he said.
The second phase would be a full-scale offensive operation to gain ground in the south and east.
"I think they want to start the second phase in three or four months. Putin is relying on his trained recruits from the Russian backwater, who are provided with old, repaired equipment and tanks, and he's planning to embark on a more large-scale offensive operation in the south and east," Malomuzh said.
Another mobilisation
Russia would most likely have to carry out another mobilisation to do so.
Putin in September declared a partial mobilisation to draw up some 300,000 recruits.
"Without a mobilisation, Russia simply won't be able to keep the war going. The Kremlin needs to mobilise the population and either announce partial mobilisation 2.0 or openly admit that they're starting a full-fledged general mobilisation," said Alexander Kovalenko of Kyiv, a military analyst for the website InfoResist.
Russian commanders currently are able only to offset their losses, not build up forces, Kovalenko said.
"If we're talking about forming a strike group for an offensive operation, or expanding any offensive operations or manoeuvres, you need more resources for that," Kovalenko said.
"We need to start getting used to the fact that the war isn't going to end in 2023. It's very likely that it will continue in 2024. Everyone needs to be psychologically prepared for that," Kovalenko added.
"We also need to understand that any drawn-out conflict benefits the [Russians], which is adept at using information resources."
"The enemy could use a long war as propaganda with the aim of demoralising the population of [Ukraine] and making them doubt the capabilities of their own armed forces," Kovalenko said.
A Ukrainian counteroffensive
Ukrainian commanders thoroughly understand these threats, say observers of the war.
The Armed Forces of Ukraine are preparing a hard-hitting counteroffensive that is expected to be the primary development of the second year of the war, according to Kovalenko.
"Everything will happen incrementally and deliberately. There won't be any spontaneous operations -- Ukraine's General Staff is taking a balanced approach to everything."
"That's important for everyone to understand, including the population, since people often expect quick victories. This is a different situation," Kovalenko said.
"Of course, in this case everything depends greatly on our allies," said Malomuzh, the security analyst.
If Ukraine receives the most up-to-date equipment and arms from its partners within two or three months, it will be able to plan an offensive operation and liberate the east and south in the next three to six months, he said.
That would prevent Russia from having enough time to concentrate reserve forces that it has been training at home and in Belarus. The Kremlin needs at least four months to train its soldiers, he said.
"I think that on the whole, the outlook for Ukraine is positive since the potential of almost the whole world is now acting to support our country," Malomuzh said.