Russia has been using various types of lethal Iranian unmanned aerial vehicles (UAVs), known as drones, against Ukraine, newly released analysis confirms, in clear violation of United Nations (UN) Security Council legislation.
In a report released Tuesday (February 14), the US Defence Intelligence Agency said analysis confirms Russia's use of various types of Iranian drones against Ukraine.
The report provides a comparative visual analysis of publicly available images of drones used by Russia in its war in Ukraine and recently declassified images of Iranian UAVs used in attacks in the Middle East.
It covers the Shahed-136 one-way attack drone, renamed Geran-2 by the Russians; the Shahed-131 one-way attack drone (Geran-1); and the Mohajer-6 multi-role UAV.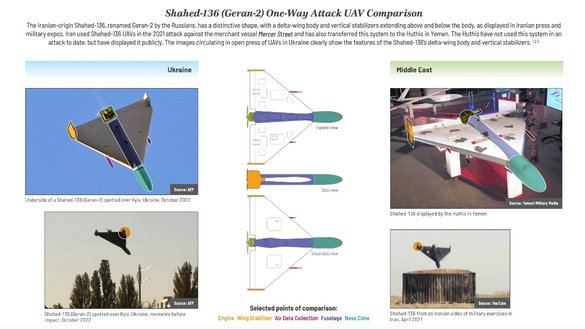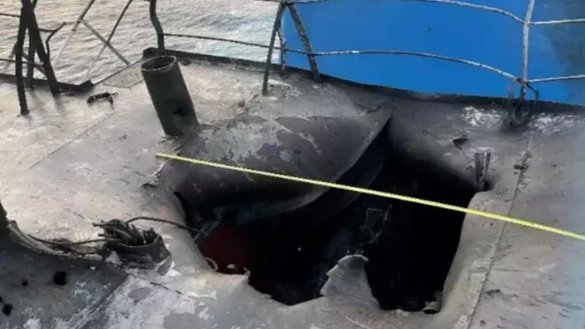 "Photos of UAV debris and components from Ukraine are consistent with systems showcased at military expos and other venues in the Middle East," the report said.
In mid-2022, evidence arose of "grave violations" of UN Security Council Resolution (UNSCR) 2231, Ambassador Robert Wood said during a December 19 Security Council briefing on the legislation.
"Ukraine reported evidence of Iranian-origin drones being used by Russia to attack civilian infrastructure," he told the council -- a report "supported by ample evidence from multiple public sources".
Additionally, he said, "Tehran has acknowledged transferring UAVs to Russia, including in public statements on November 5 by Iran's foreign minister".
He noted that UNSCR 2231 "prohibits all countries -- even permanent members of the UN Security Council -- from transferring these types of drones from Iran without advance Security Council approval".
"Russia's open violation of Resolution 2231 would be of serious concern under any circumstances," he said. "But we're exceptionally alarmed that Russia is using these drones to attack Ukraine's civilian infrastructure."
"What could be crueler than seeking to turn out the lights, cut off the heat, and shut down the water for millions of Ukrainian families?"
Since the summer of 2022, when Russia started using Iranian drones in Ukraine, Wood said, Ukraine and other countries have supplied the UN with additional information and analysis regarding this violation.
On December 14, he said, Russia resumed using Iranian drones procured in violation of UNSCR 2231, launching a swarm of such drones against Kyiv.
"Given Iran's increasing integration into Russia's defence sector, we fear additional violations in the future," Wood said. "Russia may even be tempted to further violate UNSCR 2231 by importing complete ballistic missiles from Iran."
Iranian drones in Middle East attacks
The same varieties of Iranian drones that have been used in Russia's attacks on Ukraine also have been used to carry out attacks in the Middle East.
A US investigation into a fatal attack on the Mercer Street tanker off the coast of Oman on July 29, 2021, produced conclusive evidence that the two UAVs used to target the vessel were produced in Iran.
The United Kingdom on Tuesday said it has presented evidence proving Iran has violated UN resolutions on the proliferation of weapons and linking the Islamic Revolutionary Guard Corps (IRGC) to the smuggling of weapon systems, Asharq al-Awsat and other outlets reported.
Weapons seized by HMS Montrose, presented to the UN as evidence, showed the IRGC is smuggling weapons in contravention of a UNSC resolution, Britain's Ministry of Defence said in a statement.
While on patrol in the Gulf in early 2022, HMS Montrose on two occasions seized advanced weaponry being smuggled from Iran towards Yemen aboard speedboats, the Ministry of Defence said.
The surface-to-air-missiles and engines for land attack cruise missiles "were presented to representatives of the UN who provide an assessment of the conflict in Yemen and Iranian nuclear activity", it said.
The United Kingdom also presented as evidence a commercial quadcopter drone designed for reconnaissance, whose records had been decrypted by the Ministry of Defence.
The decryption revealed the records of 22 test flights conducted at the IRGC Aerospace Force Headquarters and test facility in western Tehran.
"This evidence indicated a direct link between the Iranian state and the smuggling of missile systems being used by the Houthis to attack the Kingdom of Saudi Arabia and the United Arab Emirates," the statement said.
The threat of Iranian weapons is not limited to the Middle East, it said, noting that Iran has supplied attack drones to Russia in violation of UNSCR 2231.
EU proposes new sanctions on Russia
The European Union (EU)'s executive arm on Wednesday proposed new sanctions on Russia that would cut off goods worth €11 billion ($11.7 billion) and target Iran's drone producers over the war in Ukraine, AFP reported.
European Commission chief Ursula von der Leyen said she hoped the EU's 27 member states would agree to the new package as part of a joint battery of G7 sanctions on the one-year anniversary of the invasion on February 24.
"We are targeting many industrial goods that Russia needs, and that it cannot get through backfilling through third countries," she said.
On the list are "vital goods such as electronics, specialised vehicles, machine parts, spare parts for trucks and jet engines", von der Leyen said.
Export controls also are sought for 47 additional electronic components "that can be used in Russian weapons systems, including drones, missiles, helicopters".
The new sanctions will place further curbs on Iranian manufacturers that have supplied Russia with drones used to attack Ukraine's infrastructure.
Iran's IRGC has "been providing Russia with Shahed drones", von der Leyen said.
"Therefore, we are now adding seven Iranian entities to our dual use regime. They are now under a complete ban on selling sensitive items to Russia."
The EU has imposed nine waves of sanctions on Moscow since it launched its assault on Ukraine last February, targeting key Russian exports like oil in a bid to deprive Russian President Vladimir Putin's war chest of funds.
EU foreign affairs chief Josep Borrell said the new sanctions also would blacklist 100 more individuals and entities, including "those responsible for military activities for political decisions, propaganda and disinformation".
"We are targeting those involved in the human kidnappings, deportation and forced adoption of Ukrainian children to Russia and also those enabling the looting of Ukrainian resources," he said.