HERAT -- Abdul Hakim, 27, lies on a treatment bed with his legs wrapped in bandages in the burn ward of the Herat Regional Hospital, suffering from the effects of frostbite.
Hakim along with a group of 10 other young men on January 10 attempted to illegally cross into Iran from Herat.
The group entered Iranian territory at night via the Kohsan district of Herat but got stranded on a mountain by a severe snowstorm.
They were trapped for six days and six nights, and were eventually forced to return across the border to Afghanistan to seek medical attention.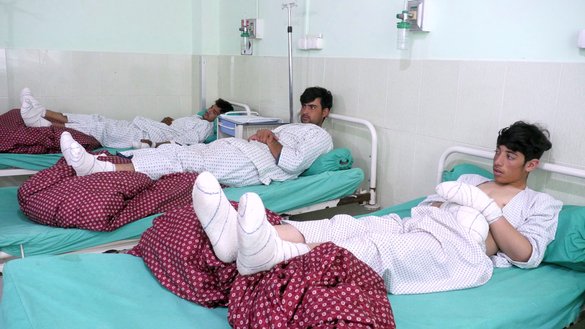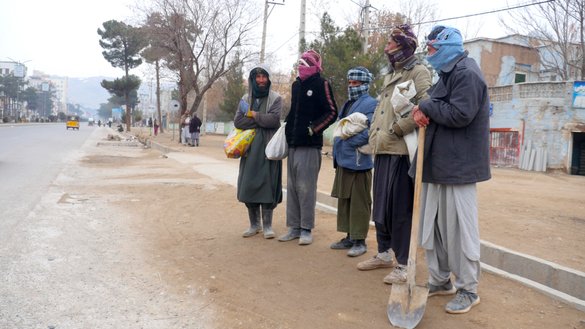 Hakim's 10 companions also suffered serious frostbite, badly affecting their hands and legs.
Poverty and unemployment forced him to embark on this risky journey, Hakim said.
"To find food for my kids and wife, I had to go to Iran," he said. "We don't even have one piece of bread at home to feed my children. I have three kids and can't feed them."
"I was well aware of the cold weather and risks associated with illegal routes, but I had no other option," he added.
Work opportunities are scarce in Afghanistan and many youth embark on dangerous journeys to neighbouring countries such as Iran for work.
Unprecedented cold has made life even more difficult for millions of Afghans who were already suffering from hunger and an economic crisis that has engulfed the country for nearly a year and a half.
A cold wave on January 10 hit more than 20 provinces of Afghanistan, with temperatures dropping as low -33 degrees Celsius.
Some 78 people and 70,000 livestock have died from cold, according to authorities.
Cold weather and poverty
Shivering from the cold and holding his hands close to his mouth to warm them, Abdul Ghafoor, 51, sits on a roadside in Herat city waiting for work.
Despite waiting all day every day, Ghafoor has returned home empty handed for two weeks.
Ghafoor, the breadwinner of a family of four, said he cannot warm his house in the cold weather and cannot sleep properly at night from the cold.
"Life has become really difficult in this cold weather. I leave home every day in search of work but return empty handed and hungry," he said. "There is no work. People who had money and were building houses have left the country."
"Like me, hundreds of other workers also leave their homes in search of work but return home at night disappointed," he added.
Khalil Ahmad, 65, who transports goods using his cart in Herat city, has not been able to find work due to the snow and cold weather.
His daily income has dropped to 50 AFN (56 US cents).
That is not enough to provide for his family of three, said Ahmad, adding that sometimes he is forced to beg for money.
"I wait on the side of the street the whole day, but there is no work," he said. "Some days, I earn 20-50 AFN (22 to 56 US cents), but most days I can't earn even a single afghani. I have to beg to buy bread for my family."
"Although the difficulties of life forced me to start begging, most people do not have money to help me," Khalil added.
Helping the poor
International and domestic NGOs are trying their best to help those in need.
Habibyar, an Afghan welfare foundation, on January 17 distributed flour, oil and rice to more than 2,000 poor families in Herat.
Nasima, 46, a mother of five and the breadwinner of her family, was one of the beneficiaries of the assistance.
The assistance means that she and her children will not go hungry for a month.
"My life has become very difficult since the weather has gotten cold," she said.
"During the night, we sleep under one blanket to ... warm ourselves," Nasima added. "But the weather is so cold that we can't sleep properly, and many evenings we even forget to eat dinner."
Mohammad Yusuf, 57, received 50kg of flour, 25kg of rice, and 10 litres of oil, which is enough to feed his family of four for one month.
"I do not have a working son, and I have to earn for my family, but there is no work and I rely on others in this old age," he added.
He and his wife and two daughters live in a mud house in the western part of Herat city.
They have no way to warm their house and the cold weather has made their lives very difficult, Yusuf said.