Pakistani authorities, at the behest of Beijing according to locals, are cracking down on a months-long protest in Gwadar, the Indian Ocean port once considered the "crown jewel" project of the China-Pakistan Economic Corridor (CPEC).
The port city on the southwestern coast of Balochistan is expected to be a major part of the CPEC, a Pakistani component of China's Belt and Road Initiative (BRI), also known as One Belt One Road (OBOR).
Pakistan's law enforcement agencies began arresting dozens of protesters starting December 26, Maulana Hidayatur Rehman, a local Jamaat-e-Islami Pakistan leader who founded the "Give Gwadar its rights" campaign, said in a video message.
Authorities also began enforcing an emergency law that prohibits gatherings of five or more people and have restricted internet service for several days, according to local journalists.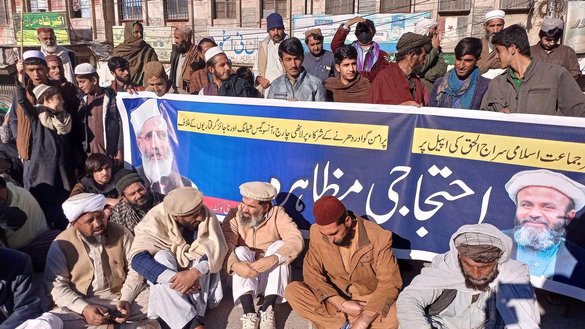 The measures came after Rehman on December 21 warned Chinese nationals living in Gwadar to leave the port city.
Under the banner of the "Give Gwadar its rights" campaign, protesters have demanded an end to illegal deep-sea fishing by local and Chinese trawlers and the harassment of locals at security checkpoints leading to projects part of the CPEC.
They have also demanded an end to water and electricity shortages.
As part of the campaign, from October 27 through December 25, thousands of residents blocked the entrance and the expressway leading to Gwadar port.
"We don't have water, power, or education. We don't want such a CPEC," Rehman told the 4th Asma Jahangir Conference in Lahore on October 22.
Instead of providing teachers and schools to Gwadar residents, the CPEC has led to military checkpoints and military personnel who guard Chinese nationals and their interests, Rehman said at the time.
A similar month-long protest took place starting in November 2021.
Crackdown condemned
Rights bodies and political parties have raised concerns over the mass arrests and the emergency measures.
Jamaat-e-Islami organised protests across the country to condemn the use of force against the rights campaign in Gwadar.
"People have the right to express discontent peacefully and the state has an obligation to facilitate this right," Amnesty International (AI) said December 30 on Twitter.
Putting a "blanket ban on all forms of public gatherings amounts to repression of the right to protest and sends a chilling message that there is no room for dissent," it added in a follow up Tweet.
Is response to the internet shutdown in Gwadar, AI tweeted January 3 that: "Such disruptions are neither necessary nor proportionate, and inhibits [sic] the ability of the people of Gwadar to communicate, access information, seek safety and work.
The Human Rights Commission of Pakistan (HRCP), a national-level independent rights body, also urged the government to negotiate with the protesters and give their demands a fair hearing.
"Their legitimate grievances -- which are not new -- centre on demands that any citizen of Pakistan has a right to make: the right to security of person, freedom of movement and peaceful assembly, access to clean water, education and healthcare, an end to enforced disappearances, and greater economic opportunities and livelihoods," the HRCP said in a statement on January 2.
BRI spurs militancy
The crackdown stems from Chinese pressure on Islamabad to suppress the Rehman-led rights campaign, say locals.
"Instead of making Gwadar a hub of business and trade and [creating] development projects for the residents, China has been forcing Pakistani authorities to make the port city a security zone and to limit residents' movements," said Ashraf Ali, a student in Gwadar.
Using force against the Rehman-led campaign at the behest of Beijing will further fuel ethnic militancy in Balochistan, he said.
The exponential growth of Chinese influence in Pakistan, particularly in Balochistan and Sindh provinces -- with Chinese companies exploiting local resources without care or concern for the impact on locals -- has led to serious unrest in the province.
BRI-related companies and projects have also created resentment by implementing zero-tolerance COVID-19 measures on their Pakistani workers, including forced lockdowns and separation from their families.
They have also been accused of paying Chinese nationals more than Pakistani workers.
Anger over growing Chinese influence in Balochistan has spurred Baloch and Sindhi militant organisations to ally with each other, fuelling concern that the combined group will step up violent activities in the region.
On September 28, a gunman killed a man and wounded two others of Chinese origin in an attack in Karachi, police said.
In late April, the Balochistan Liberation Army (BLA), a component of the Baloch Raji Aajoi Saangar (BRAS), claimed responsibility for killing four people, including three Chinese teachers, in a suicide attack inside a state-run university in Karachi.
BLA militants in February staged twin assaults on army posts in Noshki and Panjgur districts, Balochistan.