KYIV -- Before Russia's invasion of Ukraine and its mounting failures as the war drags on, its Arab allies perceived Moscow as a force to be reckoned with.
But now the tide is turning, and Russia's reputation is taking a hit, analysts say.
The successive military defeats Russia has suffered while taking on a much smaller adversary, Ukraine, are a continuation of its disappointments in Syria, where Russian President Vladimir Putin failed to achieve dominance, they say.
It is now obvious that Russia, which aspires to be a military power, is unable to adequately plan and predict the real outcome of its actions.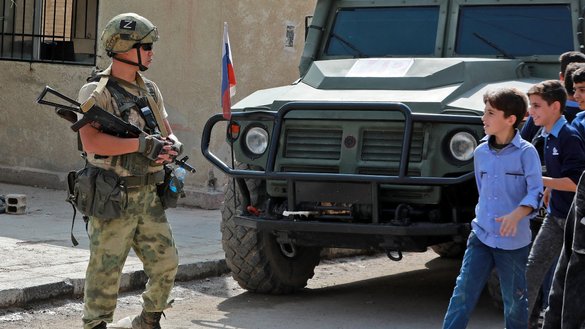 "Russia does strategic planning. That's a fact. But to put it mildly, it [the planning] is not up to par," said Dmytro Levus, a Kyiv political scientist and analyst with United Ukraine.
With its support for the regime of Syrian leader Bashar al-Assad, the Kremlin destabilised the region but did not achieve its strategic goals, vastly overestimating its capabilities.
Russia's bet on the al-Assad regime "proved to be correct, because it survived", Levus said. "But globally, the Russians were unable to gain a foothold in Syria."
"They were unable to monopolise influence, which they really wanted to do," he added. "Turkey and the United States intervened. That was the main miscalculation."
Russian overconfidence
Last spring, after the combat-readiest Russian units suffered defeat outside Kyiv, the Kremlin began to withdraw its force in Syria for redeployment to Ukraine.
It also began recruiting new Wagner Group mercenaries to fight in Ukraine, and redeploying existing fighters from Syria, Central African Republic (CAR) and other hotspots where the group has a presence.
This move further weakened Russia's position in the Middle East.
"They don't have enough troops, money and vehicles, and they've started withdrawing their units [abroad]," said Russian Academy of Sciences Centre for Middle Eastern Studies deputy director Sergei Danilov.
"The private military company (PMC) Wagner Group, their cutthroats from Africa, are also being recalled," he said. "They are now fighting near Bakhmut."
"If not for the aggression against Ukraine and Ukraine's unexpected resistance, the Russians would not have left Syria," Danilov said.
"And look at what has happened: before Ukraine, the establishment in Arab countries perceived Russia as a country to be reckoned with, but now the opposite is taking place."
Russia's overconfidence is one of the main reasons for its failures, say analysts.
"Even casual interactions with Russian diplomats or experts" make clear their high opinion of their own knowledge and training, said Levus.
But this self-importance, "as well as faith in the exceptionalism of the Russian world, creates a certain kind of blindness", he said. "Especially when it comes to strategic planning. And even more so when it comes to the Ukrainian issue."
Two different battles
"The Syrian and Ukrainian conflicts are largely linked," said Maksym Palamarchuk, director of the Centre for Foreign Policy Studies at Ukraine's National Institute for Strategic Studies.
"One of the factors that influenced the decision to annex Crimea [in 2014] was that without possessing Crimea, Russia could not supply its force in Syria," he explained.
"But most importantly, from the Russians' perspective, Syria was the operation that made their leaders more adventurous. They hoped that using the armed forces would yield positive results," said Palamarchuk.
Gen. Sergei Surovikin, who is leading the Kremlin's Ukraine offensive, miscalculated, thinking that what worked in Syria would work in Ukraine, analysts say.
"Surovikin thought that because terror from the air worked in Syria, when they destroyed humanitarian infrastructure and critical infrastructure and actually chased the public with bombs and forced it into talks about capitulation, then it ought to work in Ukraine as well," said Levus.
"But it does not work for one simple reason: the conditions are different."
"First, the strong Ukrainian air defence and missile defence. And again, Ukraine's readiness to resist, which the Russians aren't accounting for at all, considering Ukraine to be a non-state," he said.
"And, ultimately, at some point, really effective Western assistance in strengthening air defence," he said, noting that in light of these realities, Russia should have reassessed its capabilities.
'The Russian way of war'
All the Kremlin can count on now is the status of a war criminal.
International reports have recorded crimes against civilians committed by Russian forces in Syria, and Ukrainian officials are now collecting evidence of the same.
An Independent International Commission of Inquiry on the Syrian Arab Republic report describes "double tap" air strikes by Russian aircraft, for example, when rescuers responding to an initial attack are hit by a second strike.
Before its invasion of Ukraine, Russia managed to get away with such violations of the rules of war.
"Terror and disregard for the laws and customs of war -- this is the Russian way of war. A way of waging war that hasn't changed for a very long time," said Palamarchuk.
"But there hasn't been punishment," he said. "No one was punished for Syria, for war crimes in Moldova in '92. No one was punished in Georgia either in '92 and '93, and then in Georgia again in 2008."
"Of course, none of this could contribute to the formation of a normal ethical code in the Russian army," he said. "They are familiar with terror against civilians."
"Now Russia will be punished for every crime," said Danilov. "This is unequivocal. Things have gone so far that they will not end just like that."
Russia's former allies in the Middle East now want to disassociate themselves as much as possible from a country committing widespread war crimes. Nobody is talking about the "superpower" status the Kremlin wanted so much to achieve.
"People in Arab countries understand that the war between Russia and Ukraine is the key conflict of our time," Danilov said.
"This is an event that can affect the global security structure, and it is essential to understand what is happening and to participate."