KYIV -- The retreat of Russian forces from the Ukrainian city of Kherson represents a strategic loss for the Russian military and paves the way for future Ukrainian offensives, say observers.
Russia said on November 18 it was strengthening positions on the Crimean peninsula, illegally annexed from Ukraine in 2014, as Kyiv's forces reclaim territory in the neighbouring Kherson region, including the capital of the same name.
Crimea was used as a launching pad in February for what the Kremlin calls its "special military operation" in Ukraine.
Fortification work was being carried out even though the military and law enforcement were already taking measures, said the Moscow-appointed governor of the region, Sergei Aksyonov.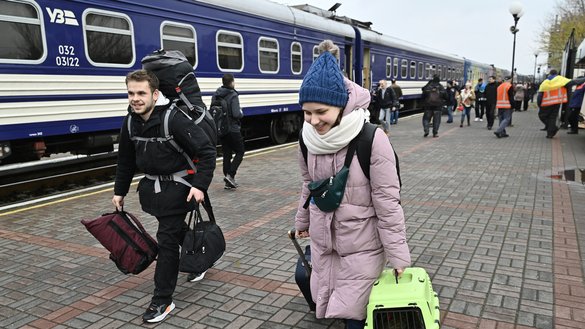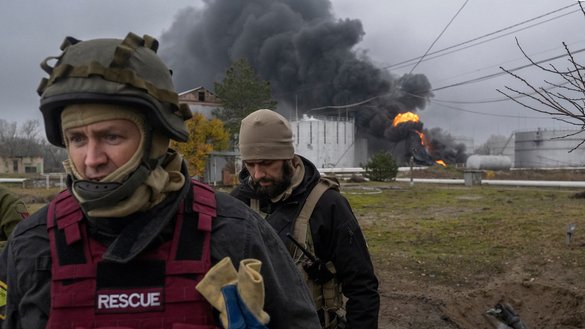 Russian forces were building new trench systems near the border of Crimea as well as near the Siversky-Donets river between Donetsk and Luhansk, British intelligence confirmed.
"Some of these locations are up to 60 km behind the current front line, suggesting that Russian planners are making preparations in case of further major Ukrainian breakthroughs," the UK Ministry of Defence said on Twitter on Friday.
The latest development came as Ukrainian forces in recent months have been pushing a counter-offensive in the south of the country and earlier this month reclaimed Kherson, the capital of the Ukrainian region bordering Crimea.
Russia claimed to have also annexed that region along with three more in September, vowing to defend them with all available military means.
A major defeat
"If you look purely from a military perspective, then the liberation of Kherson gives Ukraine access to the Dnipro," Serhiy Kuzan, Kyiv-based military analyst and director of the Ukrainian Centre for Security and Co-operation, told Caravanserai.
"This means that we are taking positions where we can shell the crossings that lead from Crimea to the mainland ... Now we control their logistics routes right up to the sea. We can reach them, and this is very important," he said.
Russian forward airfields that could be used to hit Ukrainian cities are also now within striking distance, he added.
The fact that Russian troops have been forced to retreat farther and farther from the Dnipro to escape the Ukrainian army is also key, according to Kuzan.
"Now they must perform manoeuvres, spread out their storage facilities and military vehicles, hide, and camouflage. They are not free to act as they used to," he said.
"This slows down the pace of supplies of provisions and weapons for the soldiers. Of course, this doesn't mean that no one will attack, but it does mean that they will be forced to hide."
He described the liberation of Kherson as "Ukraine's greatest military achievement and Russia's biggest failure" so far.
The Russians' retreat from Kherson is "more than just a lost battle", said Oleksandr Solontai of Kyiv, director of practical policy programmes at the Institute of Political Education.
"The liberation of Kherson means the failure of Russia's strategic plans to capture Odesa and connect with Transnistria [a separatist region in Moldova occupied by Russian troops]," he said.
"Their dream was that the troops that crossed the right bank of the Dnipro would break through to Transnistria and cut off all of Ukraine's access to the sea."
"All that is in the past now, and it is a serious blow for [Russian President Vladimir] Putin," said Solontai.
The psychological blow of losing Kherson is also immense, according to Solontai.
"They are realising that they can be beaten, which can be hard," he said, pointing out that Russian media and officials often refer to the "difficult situation at the front" amid losses.
While Russian forces have previously lost much larger swathes of territory, the expulsion from Kherson marks the first time that Russians have considered that they may lose the war, said Solontai.
'A colossal mistake'
The retreat from Kherson and the failure to achieve the original plans are politically dangerous for the Putin regime, say analysts.
"This affects public sentiment, but most importantly, it affects the mood of the elites. Initially, they relied on the premise that Putin is strong. Putin is so 'macho' that no Russian politician dared to stand up to him," said Ihor Petrenko, a political scientist at the International Centre for Policy Studies in Kyiv.
"Everyone assumed that the West would turn a blind eye to many things, but this did not happen. There is no victory, the mobilisation failed and even missile terrorism is not working on Ukraine," he said.
"Putin made a colossal mistake when he decided to annex territories that he cannot hold," Petrenko added.
The retreat from Kherson "is not seen as a simple withdrawal from occupied territory, but as the loss of a constituent entity of Russia", said Petrenko.
"This is a very serious precedent for Crimea, because they previously made it part of Russia ... Now it turns out if you can surrender Kherson, then you can surrender Crimea."
"Kherson showed Russian elites that Putin may be a lame horse that won't get you far. And it's important to jump off of the horse in time," said Petrenko.