A Pakistani court earlier this month authorised the freezing of bank accounts of Chinese companies and individuals involved in fraud.
An accountability court in Karachi on November 2 approved a March request from the National Accountability Bureau (NAB), the nation's anti-corruption agency, freezing nine bank accounts of two Chinese companies and four individuals.
The companies and suspects allegedly cheated the public out of 1.1 billion PKR (about $5 million) through fraudulent investment schemes, including online Ponzi, pyramid and multi-level marketing schemes, among others, according to court documents.
The NAB investigation was carried out based on a complaint registered by the Securities & Exchange Commission of Pakistan (SECP).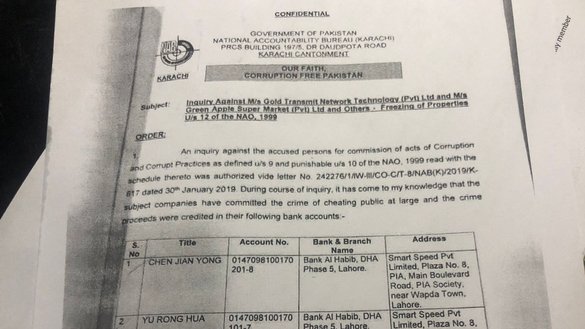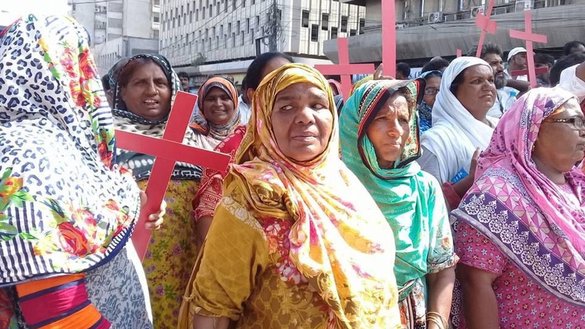 The Chinese companies convinced victims to register and deposit money in the bank accounts or in cash at their offices by offering lucrative incentives, said the documents.
Once the money was received, the companies provided an ID number to victims that they purportedly could use to manage the funds.
The companies claimed to give virtual points to customers against each rupee deposited, and that these points would increase or decrease as per the changes in the investments.
Chinese fraud
The modus operandi of the suspects is among the various tactics Chinese criminals have used to defraud Pakistanis, say observers.
Chinese fraudsters have used "websites ending with .cn, China's official domain name that is managed through a branch of China's Ministry of Industry and Information," said a NAB official in Karachi who requested anonymity because he is not authorised to speak to the media.
They have also invoked the China-Pakistan Economic Corridor (CPEC), a Pakistani component of China's Belt and Road Initiative (BRI), also known as One Belt One Road (OBOR), to swindle Pakistanis, he said.
Chinese criminal gangs use the WeChat messaging app and e-mails to dupe unsuspecting Pakistanis -- traders and students in particular -- and defraud them of millions of rupees, a police official said on the condition of anonymity.
"It is now important to educate the public on digital literacy so they can be aware of the different dimensions of cyber-crimes, including fraudulent activities," he said.
Given the rise in such criminal activities, the Pakistani government should show vigilance when issuing visas to Chinese citizens, he added.
Bride trafficking, ATM skimming
In the recent past, various scandals have thrust Chinese criminal syndicates into the limelight.
But most of their crimes have not been highlighted in the media because of pressure from government officials fearful of hurting Islamabad's lucrative relationship with Beijing.
Since 2018, Pakistan has been cracking down on Chinese gangs involved in the human trafficking of young girls. Such gangs prey on impoverished women and their families -- often members of the Christian community -- with false promises of a more prosperous life across the border.
Attention to "bride trafficking" surged after ARY News in April 2019 ran an investigative report in which it aired images of several Chinese men with Pakistani women -- including two teenage girls -- at an illegal matchmaking centre in Lahore.
At least 629 girls and women from across Pakistan were sold as brides to Chinese men and taken to China, according to an Associated Press investigation in December 2019.
Police also arrested a number of Chinese nationals for their involvement in ATM skimming in 2018 and recovered millions of rupees and hundreds of ATM cards from their possession.
While the Chinese network involved in the scheme was broken, authorities cautioned at the time that Pakistani criminals, whom the Chinese gangs trained, were running similar ATM skimming rackets.