KYIV -- Despite their attacks on civilian infrastructure, Russian forces are at a severe disadvantage as Ukraine and Russia prepare to wage war in the approaching winter, say analysts.
Russia has pivoted to systematically attacking Ukrainian energy facilities after setbacks on the battlefield, where the Russian army is facing pushbacks on the eastern and the southern fronts.
Russia invaded its neighbour February 24.
Water and power supplies were fully restored in Kyiv on Tuesday (November 1) a day after Russian missile strikes.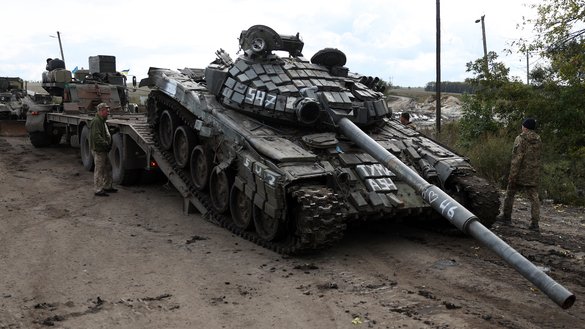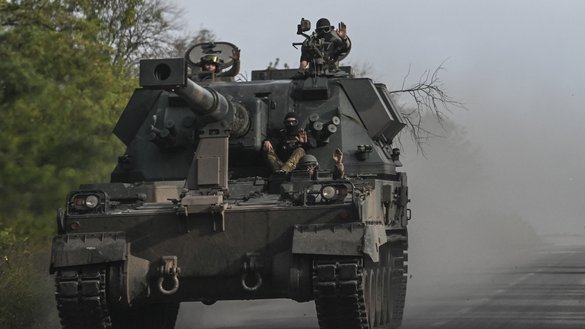 Following the strikes, aerial views showed Kyiv plunged in darkness overnight, with the only lights coming from cars on the road.
In a town near Kyiv on Monday, the powerful explosions had woken up Mila Ryabova, 39.
Ryabova told AFP that she and her family were "worrying and talking about opportunities to move abroad, because there is a cold winter ahead. We may not have electricity, heat supply".
Monday's shelling left 80% of the capital's consumers without water and 350,000 homes without electricity.
On Tuesday, Kyiv mayor Vitali Klitschko said water and electricity supplies had been "fully restored" in the capital.
"Putin is playing desperately for time -- hoping the political clock and the onset of winter in Europe will sap the will and energies of the Western powers that have all but eviscerated his military-industrial machine and destroyed the armed might of Russia," David A. Andelman, a CNN contributor, wrote in a column published on the CNN website on October 26.
"Both sides -- Russia and Ukraine with its western backers -- are doing their best to turn the screws ahead of a winter which could ultimately decide who will win the most titanic clashes of forces in Europe since the Second World War," he added.
Winter is coming
Putin's desperation likely stems from a dismal winter outlook for Russian forces in Ukraine, say observers.
Ukraine has an advantage because it "preserved the skeleton of an army", Serhii Kuzan of Kyiv, chairman of the Ukrainian Security and Co-operation Centre, told Caravanserai, referring to Russian-Ukrainian combat since 2014.
"We have eight years' experience. We know how to fight under all sorts of conditions because we've been holding the front line since 2014 ... We know what it takes to stand our ground in the winter," he said.
"But Russia's regular personnel who had the skills and went through field training under winter conditions were wiped out at the beginning of the war," said Kuzan.
"Now 70% or even 90% [of Russian troops] ... aren't prepared for war at all, and then on top of that, winter is coming. If they have pea coats, they're doing well -- they're an army of paupers," he said.
Russian soldiers unprepared to deal with the cold will likely attempt to take refuge in occupied villages and Ukrainians' houses or cut down trees for fuel, said Volodymyr Molchanov, a Ukrainian political analyst from Kyiv, told Caravanserai.
That still will not be enough, however, said Molchanov.
"I strongly believe that the winter will weaken the Russian army no matter how much it tries to burn firewood to keep warm," he said.
Chopping wood takes time and effort, and some areas on the front -- such as Kherson -- practically have no forest vegetation left, according to Molchanov.
The Russian army is deficient at feeding its troops, Molchanov added.
The lack of food and the cold mean Russian troops will be susceptible to illness, according to Mykhailo Zhirokhov of Kyiv, a military analyst and historian with a focus on conflicts in the post-Soviet space.
"From looking at our experience, I know that many Russian soldiers will suffer from illnesses. We went through all of that back in 2014," he told Caravanserai.
"Many soldiers will be knocked out of combat -- they'll be sent to hospitals. The Russians don't understand all the horror that awaits them," he said.
As winter approaches, Russian forces are likely to encounter worsening fuel shortages and malfunctioning equipment -- namely, the Iranian Shahed-136 drones that have been used in recent attacks, Zhirokhov added.
"The problem is that these drones were developed for use in the Persian Gulf. Temperatures are above zero [Celsius] there. What will happen when there's ice out and it's 10 below zero?"
"It's entirely possible that their hardware isn't protected. The fuel might freeze, and then a part will fall out on the way," Zhirokhov said.
Help from allies
In winter "things will be hard for everyone all around, including the Ukrainians", said Zhirokhov.
"But for Russia, winter is catastrophic," he said.
That is at least in part because Ukrainian forces have support from Western allies who are already supplying winter gear to its soldiers.
"Of course [the Ukrainian forces] have huge demand for winter uniforms since the mobilisation hasn't stopped, and the army is constantly growing," Ivan Kirichevsky of Kyiv, a military analyst at Defence Express, a consulting firm, told Caravanserai.
"We're already getting help. I know that in addition to winter uniforms, it looks like tents made especially for winter will be delivered, along with other things fighters need to be comfortable in cold weather," Kirichevsky told Caravanserai.
"We shouldn't rule out that our army might carry out counteroffensives in the winter ... the soldiers need to be at the ready, but that hinges on how comfortable their conditions are," Kirichevsky told Caravanserai.