HERAT -- Iran's security forces have elevated pressure on Afghan refugees residing in Iran, recent deportees and observers report.
The deportation of Afghan refugees from Iran has increased by 25% in the past month, with 2,000 deported refugees entering Afghanistan from Iran daily through the Islam Qala crossing, up from 1,500, according to reports from Herat.
While normally most of the deportees are unmarried men, now observers are seeing a spike in the number of children and women being deported, with some having noticeable signs of torture on their bodies upon reentry to Afghanistan.
Torture and extortion
Afghans recently expelled from Iran recount stories of the continued killing, torture and extortion of Afghan refugees by Iranian security forces.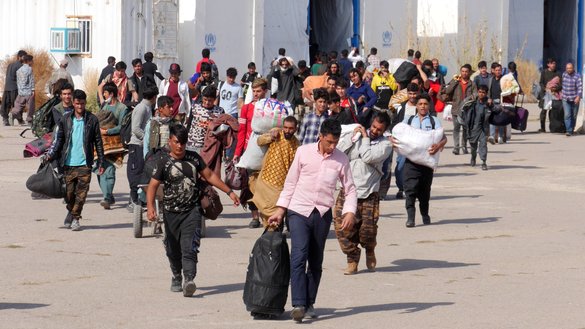 Iranian security forces are currently overwhelmed, said Ahmad Mohammadi, 22, a resident of Jawzjan province, on October 18 as he entered Afghanistan via Islam Qala. "They arrest Afghan refugees in their workplaces or homes and imprison them."
"Police arrested me in an orchard where I was working in southern Tehran," he said, adding, "The Iranian forces did not allow me to speak and defend myself."
Abdul Waris Khalid, 25, a resident of Faryab province, said Iranian police arrested him on his way home from work and imprisoned him for five days before abruptly deporting him.
"Police tortured and beat me frequently in prison," he said on Monday (October 24) at the United Nations (UN) refugee camp in Herat city. "They threatened me to confess ... But I told them that I was just a daily labourer."
Iran's beleaguered security forces are taking "out their frustration and anger on Afghans. Iranian police discriminatorily arrest and deport Afghan refugees wherever they spot them," he said.
Khalid said Afghan refugees cannot leave their homes and go about their daily lives and work because of the threat from Iranian police.
The life of Afghans in Iran has become very miserable due to the pressure of Iran's security forces, said Atiqullah Khairkhah, 34, a resident of Kabul who spoke from the UN refugee camp in Herat on October 24.
"Iranian police continue to raid Afghan refugee homes and workplaces at night and arrest them while they are asleep or at work," he said. "They do not even allow us to take our clothes. They send us to prison in our pyjamas or work clothes."
He said Iranian security forces have also ordered employers not to employ Afghans.
No one spared
Mohammad Nasser Nazari, 29, a resident of Baghlan province, who has a broken leg and needs a cane to walk, said he was involved in a car crash in Bandar Abbas last month that was caused by Iranian police.
"We were eight Afghans in the car. Police shot the tire, and our car overturned. Four of my fellow passengers died on the spot, and four of us were injured, including myself," he said from the UN refugee camp in Herat city.
"I was under treatment in a hospital in Bandar Abbas for almost a month," he said. "I paid all the expenses out of pocket. My family had to send 50 million tomans [$1,562] from Afghanistan, and only then Iranian doctors agreed to treat me."
Nazari said he does not know the condition of the other three Afghans injured in the shootout, adding that their condition was very serious at the time.
Abdul Ghafoor Ranjbar, 53, a resident of Faryab province, said he had gone to Iran a month ago but was arrested at this workplace and severely tortured by Iranian police.
"Iranian forces arrested us at 7pm and made us sleep on the stone floor until 6am the next day," he recalled. "There were 41 of us. An Iranian soldier kicked us in the back as he was counting us. He was calling us 'dirt'."
Iranian soldiers also extort money from all Afghan refugees under various pretexts, said Ranjbar.
"Iranian security forces do whatever cruelty they can to Afghan refugees," he said. "They do not spare anyone, not even women or children."