KARACHI -- Nobel Peace laureate Malala Yousafzai on Wednesday (October 12) met with victims of Pakistan's devastating monsoon floods, in only the second visit to her home country since being shot by the Pakistani Taliban a decade ago.
Catastrophic flooding this summer put one-third of Pakistan under water, displaced eight million people and caused at least an estimated $28 billion in damage.
Yousafzai visited camps in rural Sindh province where she met families who have fled their submerged villages.
"The scale of the destruction is astounding and the psychosocial and economic impact on the lives of people, especially women and girls cannot be overstated," Yousafzai said in a statement released by her organisation, the Malala Fund.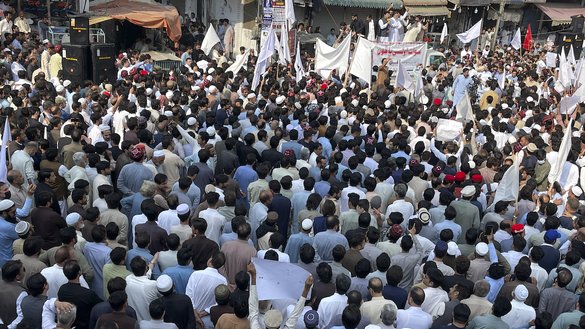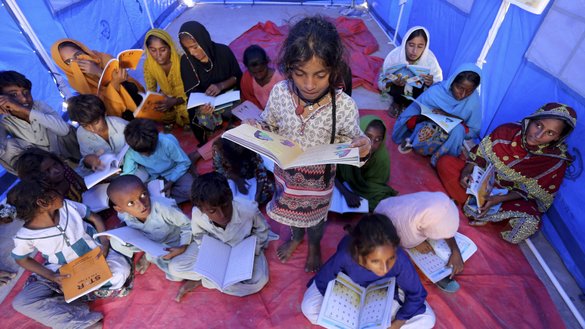 "World leaders must step up, accelerate their response plans and mobilise funds needed to help Pakistan rebuild and support impacted populations."
The Malala Fund has committed up to $700,000 to organisations in Pakistan.
More than three million children have had their education disrupted while thousands of schools have been damaged.
Authorities are also battling a health crisis of malaria, dengue and malnutrition that has broken out among flood victims living in thousands of makeshift camps across the country.
Yousafzai was just 15 years old when Tehreek-e-Taliban Pakistan (TTP) shot her in the head over her campaign for girls' education.
On Tuesday, two days after the 10th anniversary of the attack, she landed in Karachi.
Her visit aims "to help keep international attention focused on the impact of floods in Pakistan and reinforce the need for critical humanitarian aid", the Malala Fund said in a statement.
A flood relief plan scaled by the Pakistani government and United Nations in August called for an immediate $160 million in international funding, and aid has been arriving from the United States, United Arab Emirates, Turkey and other partners.
Students, teachers protest violence
Yousafzai grew up in the town of Mingora in the deeply conservative Swat Valley, close to the border with Afghanistan.
The TTP waged a years-long insurgency there that ended with a major military crackdown in 2014.
But there has been a resurgence in unrest over the past year.
The TTP has claimed dozens of attacks in recent weeks, mostly against security forces and anti-Taliban elders.
"We are tired and can no longer carry dead bodies," said Muhammad Ali Shah, the former mayor of Swat.
"It is the responsibility of the state to protect its citizens and provide them with security, but the government's silence on all these incidents is criminal."
On Tuesday, more than 5,000 people blocked a main road through Mingora, sparked by the latest attack on a school bus on Monday, in which an unknown assailant on a motorcycle killed the driver and wounded a 10 or 11-year-old boy.
The crowd chanted, "We demand peace on our soil", Voice of America (VOA) reported. Protesters held placards that read, "We cannot let the hard earned peace be destroyed", and "Act now against the attackers before it becomes too late".
The TTP have denied responsibility and the police said they are investigating the motive.
Students and teachers walked out of schools -- including the school attended by Yousafzai that her father established -- to call for peace.
"People are angry and they are protesting. Students from all the private schools came out to protest," Ahmad Shah, principal of a private school told AFP.
"Our protest will continue until the arrest of the killers, we will not rise from here until the top government officials assure us of justice and an end to militancy," said Amjad Ali, a 36 year-old physician.
After a 40-hour sit-in, demonstrators agreed to disperse following negotiations with government officials that resulted in assurances that victims' families would receive financial compensation and that authorities would make all possible efforts to arrest the shooter and restore peace in the area, VOA reported.