ISLAMABAD -- The massive floods that have devastated Pakistan in recent weeks reveal the limitations of China's "all-weather" friendship with the nation.
Heavy monsoon rains that started in mid-June and resulting floods have left more than 1,500 dead and affected around 33 million people, Pakistan's National Disaster Management Agency said in its latest update Monday (September 19).
Homes, roads, railways, crops, livestock and livelihoods have been washed away.
Pakistani officials say it will cost at least $30 billion to rebuild and repair damaged infrastructure -- an impossible sum for the deeply indebted nation -- but the priority, for now, is food and shelter for millions made homeless.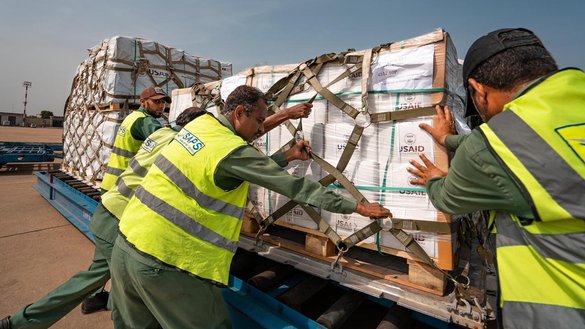 Pakistan, which already has been grappling with an ongoing economic crisis, has sought help from the international community.
A flood relief plan scaled by the Pakistani government and United Nations in August called for an immediate $160 million in international funding.
Even though it claims to be an "all-weather friend", Beijing has provided relief supplies worth only about 400 million CNY (roughly $57 million) to Pakistan after the floods, the Chinese-government-run Global Times reported Monday.
"Beijing's financial assistance was just a joke," said a senior official in the Finance Ministry in Islamabad.
The offer by "Beijing pales in comparison to the millions of dollars provided by Washington to Islamabad when the country was hit by devastating floods in 2010," said the official, who requested anonymity because he is not authorised to speak to the media.
The United States provided hundreds of millions of dollars in assistance after Pakistan was hit by devastating floods in 2010 that killed more than 1,700 people and affected 20 million.
"Pakistanis who've been led to believe that China is an all-weather friend should compare what China has so far done for Pakistan in flood aid with what the US alone is doing," Farhan Jeffery, deputy director of the UK-based Islamic Theology of Counter Terrorism think-tank, tweeted on September 11.
"And then compare the Chinese efforts with what the entire West is doing. See the difference?" he said.
"The US alone is doing more for Pakistan right now than China, Russia, Iran combined."
Low quality tents
China's relief supplies have also come under fire for their poor quality.
Beijing sent some 4,000 tents to Pakistan for survivors displaced by flooding.
"First, sending a mere 4,000 tents to a country where millions of people have lost their homes due to the flood is nothing but a joke to the nation," said Abdul Jabbar, a government official deputed in the flood rehabilitation programme in Sukkur division, Sindh province.
"Second, most of the tents are of low quality and affected people are now refusing to take them from us," he said.
In most areas, people are still using the tents provided to them by the US Agency for International Development (USAID) and other Western aid organisations during after 2010 floods.
"The American tents are long lasting, and they are usable even after 12 years, but Chinese tents were torn in a week," said Jamil Khaskheli, who is living in a tent near his village in the Shahdadkot area of Sindh.
"Everyone knows the low quality of the Chinese products; therefore, no one is interested in Chinese tents," he said.
Years of steady aid
The United States, whose ties with Islamabad have been strained in recent years, has provided almost as much aid as China, an alleged close ally.
The United States has provided $53.1 million this year alone to support disaster resilience and flood response in Pakistan, White House spokeswoman Karine Jean-Pierre said in a statement last Thursday.
Additionally, US Central Command (CENTCOM) is airlifting 41,200 kitchen sets, 1,500 rolls of plastic sheeting, 35,000 plastic tarps and 8,700 shelter fixing kits to help more than 300,000 people with shelter and household needs, she said.
USAID has deployed a disaster assistance response team to lead the US government's continuing humanitarian response efforts in Pakistan and has deployed technical experts from the US Centres for Disease Control and Prevention to assist with the public health impacts of the flood, she added.
"Since [the] 2010 floods, the United States has supported preparedness, resilience and disaster risk reduction efforts in Pakistan, improving the ability of communities to withstand and respond to disasters like this one," Jean-Pierre said.
Since 2009, the US government has committed more than $5 billion in civilian assistance to Pakistan and more than $1 billion in emergency humanitarian response, according to the US Embassy in Pakistan.