China, after gaining mastery of its domestic information environment through media censorship and repression of the internet, is turning its attention to controlling the media landscape in foreign countries as well, research shows.
Beijing relies on a combination of "wolf warrior" diplomats, state owned and private media outlets, and social media influencers to manipulate the global narrative on topics sensitive to the People's Republic of China (PRC).
"PRC messaging tactics seek to drown out critical narratives by both flooding the international information environment to limit access to content that contradicts Beijing's official line, and by creating an artificial appearance of support for PRC policies," the US State Department said in a report published August 24.
The report focused on China's efforts to manipulate global public opinion on Xinjiang, where Beijing is accused of genocide and crimes against humanity against predominantly Muslim Uighurs and members of other ethnic and religious minority groups.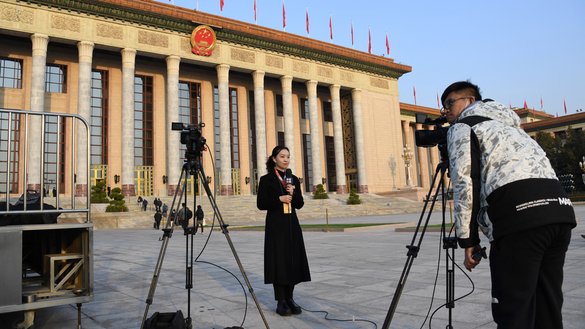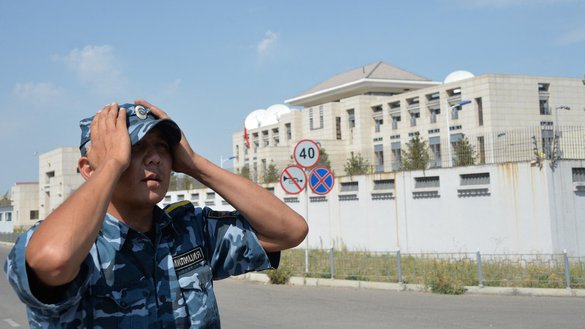 Beijing is accused of detaining more than one million Uighurs and other mostly Muslim, Turkic-speaking people, in the far-western region as part of a years-long crackdown that the United States, other governments and human rights activists have labelled a "genocide".
The goal of China's information influence campaign in general is to suppress narratives critical to Chinese interests and to amplify Beijing's preferred narratives.
Per the report, Beijing is using more than 200 third country social media influencers to reach international audiences in at least 38 languages -- including English, Spanish, French, Arabic and Russian -- and an average reach of 309,000 followers.
The PRC's Cyberspace Affairs Commission and Central Propaganda Department directly employ about 2 million Chinese nationals and another 20 million part-time "network civilian volunteers" to target China's domestic audiences and Chinese-speaking diaspora communities.
The Chinese government also uses its vast network of diplomats and diplomatic social media accounts around the world.
A majority of the diplomatic social media messaging focuses on highlighting good relations with other countries.
Other actors, dubbed "wolf warrior" diplomats, take a more aggressive approach to deny, "disprove" and deflect narratives that run counter to PRC official messaging.
"Trolls take the lead on attacking, stirring controversies, insulting and harassing netizens to poison the information environment and distract from narratives critical of the PRC," the State Department report said.
Aside from Beijing's campaign to shape the narrative on Xinjiang, the PRC's campaigns also aim to squash pro-democracy movements in Hong Kong and Taiwan, spread disinformation on Russia's invasion of Ukraine and promote conspiracy theories on other issues of global importance.
Controlling the narrative on China is a strategic priority for Beijing as it seeks to build up its political, military and economic influence through its Belt and Road Initiative (BRI) infrastructure project, also know as One Belt, One Road (OBOR).
Penetrating the Middle East
The Chinese model has found an audience in some environments, according to Nadia Helmy, a political scientist at Beni-Suef University in Egypt who specialises in Chinese politics.
In the Middle East, for example, Chinese Arabic-speaking journalists, media figures and activists have demonstrated "remarkable activity" on social media, particularly Twitter, to promote Beijing's official point of view on a number of topics.
"What is remarkable here, is the success of these Chinese methods in attracting Arabs, despite the delay in their presence on Arab media to clarify China's policies," she wrote July 18 for the Modern Diplomacy website.
"China has succeeded in building a vast digital infrastructure that allows it to control and monitor all social platforms, and to display the official views of the Chinese state and its ruling Communist Party," Helmy said.
With more than 300 Chinese diplomats around the world and each of them has an account on the top western social media platforms, totalling more than 500 accounts of Facebook and Twitter, she said.
"The task of these accounts is to retweet, publish or like their posts by themselves or through other followers, which ultimately leads to the dissemination and expression of China's viewpoint globally on all issues."
"China is working to create a counter force, to confront everything that is written about it globally from a point of view contrary to Beijing," Helmy said.
Inroads in Central Asia
Beijing's media presence in Central Asia provides another example.
Kyrgyzstan offers a case study on China's efforts to push into the Central Asian sphere, according to a report published August 25 by the Organisation for Security and Co-operation in Europe (OSCE) Academy in Bishkek.
By heavily investing in Kyrgyzstan's impoverished media sector, expanding its state-run outlets and building partnerships with local companies, China hopes to shape the information landscape in the region, the report said.
Beijing "recognises the need to control the information environment in foreign countries", it added.
"Money talks, and that's a problem because [Kyrgyzstan's] media sector is very underfunded," Niva Yau, senior researcher at the OSCE Academy and the author of the report, told Radio Free Europe/Radio Liberty (RFE/RL) for an August 27 article.
"[China] has lots of money to invest and spend," she said.
The Chinese strategy has three main elements: inserting content within Kyrgyz media, building up the local presence of PRC media and pursuing engagement on social media, the OSCE study found.
The Chinese embassy in Bishkek cultivates Kyrgyz co-operation by arranging free reporting trips and offering funding and other incentives so that local journalists publish favourable stories and withhold negative ones, RFE/RL reported.
Clumsy efforts
Admittedly, China has stumbled at times in trying to suborn foreign media.
"There is lots of clumsiness to observe on the Chinese side, but it is still growing and also adapting, especially on social media," Yau said.
"[China] is quite immature when it comes to global media," she said. "They just copy and paste that model [from home] when they go overseas and in many cases refuse to listen to the local people that work for them."
And Kyrgyz employees often join the Chinese cause for money rather than out of conviction.
"For many people, their heart's not in it. It's something pragmatic because there's no other option," said Yau.
That said, the consequences could be dire if Beijing goes unchallenged, the OSCE warned.
"Left undealt with, catering to Chinese interest can potentially turn the Kyrgyz media sector into a tool of influence over official state positions on critical issues," it said.