WASHINGTON -- The US government is ramping up aid to Pakistan amid the country's worst floods in history.
Almost a third of Pakistan is under water -- an area the size of the United Kingdom -- following months of record monsoon rains that have killed 1,300 people and washed away homes, businesses, roads and bridges.
The US Agency for International Development (USAID) has deployed a team of disaster specialists in support of Pakistan's flood response efforts, the agency announced Friday (September 2).
The elite Disaster Assistance Response Team (DART) "is assessing the damage, identifying priority needs, and co-ordinating closely with the Government of Pakistan and with humanitarian partners to ensure effective and efficient delivery of assistance", said the agency.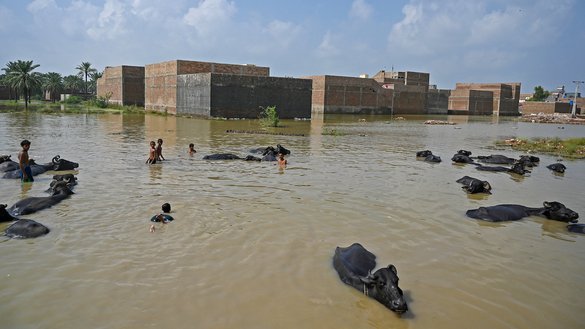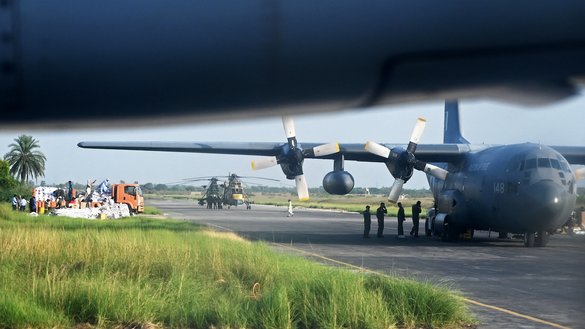 This builds on an additional $30 million in humanitarian assistance from the United States announced earlier last week to help the people of Pakistan affected by devastating monsoon rains since June.
"With these funds, USAID partners are prioritising urgently needed support for food, nutrition, multi-purpose cash, safe water, improved sanitation and hygiene, and shelter assistance," the statement said.
"In addition to mobilising the DART, US government staff based in the region and Washington, DC, are monitoring the situation closely, including any potential impacts the flooding may have in the broader region," USAID said.
USAID on August 16 announced it was providing $100,000 in immediate assistance to support Pakistanis affected by severe flooding.
"The United States has been, and will continue to be, a strong supporter of the people of Pakistan, and is the single largest humanitarian donor to the country," USAID said.
The US Department of Defence (DoD) is also conducting a military aid mission to Pakistan, US armed forces' Central Command (CENTCOM) said Friday.
"CENTCOM is sending an assessment team to Islamabad to determine what potential support DoD can provide to USAID as part of the United States' assistance to the flooding crisis in Pakistan," spokesman Col. Joe Buccino said in a statement.
The decision followed a telephone conversation Thursday between CENTCOM commander Gen. Michael "Erik" Kurilla and Pakistan's chief of army staff, Gen. Qamar Javed Bajwa, the spokesman said.
Food security at risk
The floods in Pakistan are also placing huge strains on efforts to get food into neighbouring Afghanistan to relieve its catastrophic humanitarian crisis, the United Nations (UN) warned on Friday.
Authorities have blamed climate change, which is increasing the frequency and strength of extreme weather events.
The UN's World Food Programme (WFP) said much of the food aid transited through Pakistan by road -- a network that has been severely affected by the worst floods in the country's history.
"We're focused absolutely on the needs of the people in Pakistan right now, but the ramifications of what we're experiencing here go wider," said WFP's Pakistan country director, Chris Kaye.
"We're becoming very, very concerned about the overall food security, not only in Pakistan in the immediate and medium term but also for what it's going to imply for the operations in Afghanistan.
"Pakistan provides a vital supply route into Afghanistan," he said. Large amounts of Afghanistan's food enter via the port of Karachi.
"With roads that have been washed away, that presents us with a major logistical challenge," Kaye told reporters in Geneva, via video-link from Dubai.
"WFP has procured over 320,000 metric tonnes in the past year to support operations in Afghanistan. The floods in Pakistan are going to put a huge dent in that capability."
He said there was a "major problem" in restoring agricultural production in Pakistan to feed its own people and to continue supplying food to Afghanistan.
A further issue was that the wheat harvest was being stored in flooded areas of Pakistan and that "a large proportion of the wheat has been washed away".
The food security situation in Pakistan was "grave" even before the floods, with 43% of inhabitants food insecure and the country ranking at 92 out of 116 on the Global Hunger Index, he said.
Supporting farmers
The United States is also the largest donor of humanitarian assistance in Afghanistan, and to Afghan refugees in the region.
Since last August, the US government has donated more than $775 million in humanitarian assistance to the people of Afghanistan.
Last month, USAID announced a commitment of another $80 million to the UN Food and Agriculture Organisation (FAO).
This assistance "will help Afghan farmers increase the production of nutritious food using environmentally-sustainable practices, and increase the availability of quality seeds and other agricultural inputs", USAID announced August 12.
"This funding will also improve smallholder farmers' resilience to climate and economic shocks through crop diversification and promoting agricultural best practices, including through support to small-scale food producers, women, family farmers, pastoralists and fishers."
"This support will also benefit small-scale Afghan agribusinesses, helping to ensure sustainable food production systems, and improve the food security and nutrition of vulnerable Afghan families," it said.