HERAT, Afghanistan -- Too Young To Wed (TYTW), a US-based non-profit, is working to help prevent the sale of young girls into marriage in Afghanistan's western region.
Afghanistan has been in an economic crisis since last year, with poverty and hunger reaching unprecedented levels.
Desperation has forced many families to consider selling their young daughters into marriage in order to feed other family members.
Since the start of TYTW's efforts nine months ago, the organisation has provided support to some 300 vulnerable and poor families who were on the verge of being forced to sell or arrange an early marriage for their underage girls.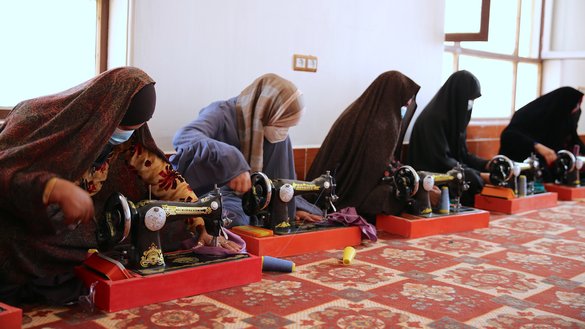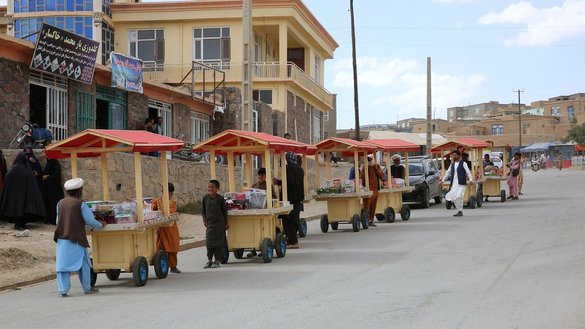 The group is operating in Herat, Badghis and Ghor provinces.
TYTW has so far helped about 100 families from each province, according to Mohammad Wali Akhundzada, a TYTW official in Ghor province.
"Some 20 women have started attending sewing courses in the first phase of the project in Ghor province. Additionally, 30 women have enrolled to attend carpet weaving courses, and more than 50 other women are expected to benefit from the project in the second phase," he said.
"These women are expected to attend a six-month training course and after completion will receive all the required tools to establish their own businesses," he said. "Furthermore, we have donated carts and food items to the male members of these families to sell in the market as a substitute for employment."
The project seeks to help Afghan families become self-sufficient so that they do not have to sell or marry off their young daughters because of poverty, Akhundzada said.
TYTW also provides a monthly food allowance to the families to help them fight hunger and starvation.
Helping whole families
Gul Afroz Siddiqui, a 28-year-old mother of four, recently started attending TYTW's sewing course in Firoz Koh, the provincial capital of Ghor.
She is one of the 19 women attending the course, which is offered from 9am to 4pm.
TYTW has also donated a cart and food items to Siddiqui's husband, a labourer who has been unemployed for the past several months.
Two months ago, the couple decided to marry off their 11-year-old daughter, Zarmina, for 100,000 AFN ($1,100) because of extreme poverty and hunger. They changed their mind after receiving support from TYTW.
Now that her husband has a job and they receive a monthly food allowance, the family no longer faces dire economic challenges, said Siddiqui.
"I did not have a job and was at home all day. But now I go to the sewing course every day. I have learned how to sew clothes to some extent. Now I can make clothes for my children," she said.
"This is the first time I have ever worked with a sewing machine," she said. "With guidance from my instructor, I have learned how to cut and sew clothes."
Siddiqui said she was very happy that they no longer have to marry off their daughter.
Mohammad Arif, 65, said he took back his decision to sell off his daughter after receiving the food and cart aid package from TYTW, which enabled him to earn an income.
"Working with the cart, scales and food items keeps me busy," he said. "Hopefully, this will help me find and put halal food on the table for my family. I have been jobless for several months, and we did not even have a piece of bread to eat."
"There are seven people in my family, and I am the only breadwinner. We own no land to cultivate, and I am a labourer," he said. "The entire labour market has come to a halt for the past year, and I was literally jobless all along."
"I am happy to be busy working again. I am sure I can earn enough to feed my family," he added.
Saving lives
The assistance provided by TYTW has played a key role in preventing the sale and early marriage of young girls.
Mohammad Israel, a 45-year-old resident of Firoz Koh and a beneficiary of the TYTW project, said the group's aid package saved him from having to sell his eight-year-old daughter.
"I have a family of eight to feed, and I did not have any income. I [almost] had to sell my young daughter to save other family members from starvation and death," he said. "We were just helpless, and nobody was out there to extend us support."
"My wife is now busy sewing clothes. I have food items and a cart to work on every day. I can now earn 200 to 300 AFN ($2.20 to $3.30) per day," Israel said.
If not for the assistance, "I would have had to sell my young daughter, and this would have been the hardest decision for me as a father," he said.
The relief provided by the international community and international organisations has saved thousands of Afghan lives over the past year, said Mohammad Salim Qazizada, a civil society activist in Firoz Koh.
"Poverty and destitution have reached the point where some parents are forced to sell their young children. Helping these vulnerable families is very important and valuable," he added.
"Preventing the sale of young girls means saving their lives," he said.