Strapped for cash amid harsh sanctions and isolation from the international community, Iran is making efforts to replace foreign currencies with cryptocurrencies to evade sanctions.
Alireza Peyman-Pak, an official at the Ministry of Industry, Mine and Trade, on August 9 announced that the government had placed its first official import order worth $10 million in cryptocurrency.
Peyman-Pak, who made the announcement on Twitter, did not mention the specific cryptocurrency used for the import order (placed to buy automobiles), but he said "anyone owning legal domestically mined cryptocurrency can use it for importing goods starting in mid-September".
He promised that more such transactions will be made, and that by the end of September the "use of cryptocurrencies would be widespread in foreign trade with targeted countries".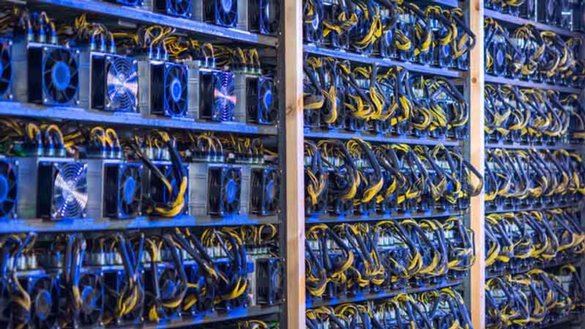 On August 13, Iran's Money Exchanging Network announced that it was prepared to use cryptocurrencies "to help the Central Bank of Iran [CBI] facilitate the country's imports".
Iranian officials have been touting the use of cryptocurrencies for imports in the past week, spinning the news to divert public attention from the country's near-bankrupt economy and describing the move to cryptocurrencies as a newly-found success and a "tool to develop trade".
Iran has used cryptocurrencies to evade sanctions in the past.
Cryptocurrency crackdown
The Islamic Republic is facing escalating consequences on the world stage for its attempts to evade international sanctions, engage in money laundering and support terrorist groups operating across the region.
The Iranian regime's shady dealings continue unabated with illicit oil smuggling and transfers, acts of piracy, and money-laundering operations using front companies to evade sanctions.
On August 8, the US Treasury Department sanctioned virtual currency mixer Tornado Cash, which it said has been used to launder more than $7 billion worth of virtual currency since its creation in 2019.
Virtual currency mixers who assist criminals are a threat to US national security, the US Treasury tweeted.
Under US sanctions, the Iranian regime has been making business deals using cryptocurrencies to launder money and evade sanctions, which will not go unpunished once exposed, say observers.
In light of the Tornado Cash sanctions, the US Treasury is stepping up crypto-related enforcement, according to the New York Times. The Treasury is investigating the crypto exchange Kraken for possible violations of Iran sanctions, with a fine likely.
Iran's announcement of its decision to use cryptocurrency for its imports is "the most direct, in-your-face flouting of US sanctions by a regime using cryptocurrency to date", Richard Goldberg, a senior advisor to the Washington think-tank Foundation for Defence of Democracies, told Politico.
Peter Piatetsky, a former US Treasury official who now heads the consultancy firm Castellum.AI, said he doubts that Iran really made a $10 million transaction this month.
Even if it did, it is unlikely it would be for the types of foreign technologies that Iran seeks, he told Radio Free Europe/Radio Liberty.
"If this is a government announcement," he said of Peyman-Pak's tweet, "is this something that the government wants? Are they buying a plane? Are they buying a ship? Is there a ship broker somewhere that's willing to accept crypto?"
"Who in their right mind is willing to be paid by Iran in crypto? Even in the criminal world people want to be paid with [a currency] that's valuable," he said. "And if you're being paid in crypto from a party that is sanctioned, you do have a high risk of losing your money."
'Money-laundering paradise'
Since 2019, the Iranian government, mostly through the CBI, has been attempting ways to circumvent US sanctions by using proxies for Iranian companies that were set up overseas.
Iran established a clandestine banking and finance system to handle tens of billions of dollars in annual trade banned under US-led sanctions, the Wall Street Journal reported in March.
The system comprises accounts in foreign commercial banks, proxy companies registered outside the country, firms that co-ordinate the banned trade and a transaction clearinghouse within Iran, the report said.
Government-controlled Iranian entities have opened bank accounts outside Iran and set up front companies that sell Iranian oil and oil products in any possible currency, Iran-based capital market analyst Hassan Zamani told Al-Mashareq.
The CBI has set up a foreign exchange chamber of commerce, whose sole purpose is collecting these payments and transferring the money to Iran, he said.
"Iran is currently a global money-laundering paradise, as it is not a member of the Financial Action Task Force," Zamani said.