ISLAMABAD -- The Zainabiyoun Brigade, an Iran-backed militant outfit that has been accused of recruiting Pakistani Shia youth to fight abroad, is also involved with terrorism, the Pakistani government formally acknowledged at the end of July.
A nationwide ban on the organisation could be coming soon.
From 2019-2021, Zainabiyoun was one of 23 active militant groups that were involved in terrorist activities in the country, Interior Minister Rana Sanaullah informed the Senate July 29.
The "Islamic State of Iraq and Syria" (ISIS), al-Qaeda, Tehreek-e-Taliban Pakistan (TTP) and the Balochistan Liberation Army were also among the 23 organisations, the ministry said.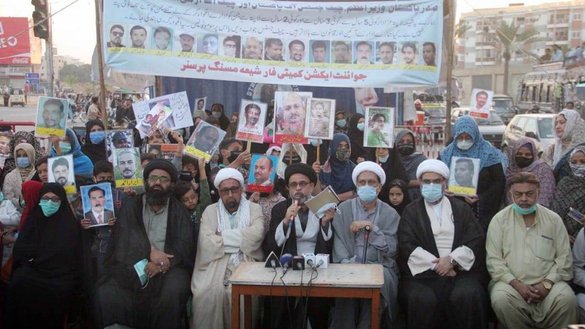 "The Interior Ministry has sought information from various law enforcement agencies about the Zainabiyoun Brigade and there are now reasonable grounds to believe that the group is engaged in terrorism," said a ministry official in Islamabad who requested anonymity because he is not authorised to speak to the media.
The ministry's designation likely means that the Pakistani government is preparing to ban Zainabiyoun under the country's Anti-Terrorism Act.
Iran's Islamic Revolutionary Guard Corps (IRGC) formed the Zainabiyoun Brigade to fight in Syria in support of the regime of Bashar al-Assad, a Tehran ally. It also founded the Fatemiyoun Division, comprised primarily of Afghan Shia, for similar purposes.
The US Treasury Department in January 2019 announced sanctions against Zainabiyoun and Fatemiyoun as part of efforts to "shut down the illicit networks the [Iranian] regime uses to export terrorism and unrest across the globe".
Though Zainabiyoun has yet to be banned in Pakistan, the government has proscribed two lesser-known Shia outfits, Ansar-ul-Hussain and its offshoot, Khatam-ul-Anbia, under the Anti-Terrorism Act 1997 in 2016 and 2020, for their links with Syrian war recruiting.
Threat to Pakistan
Pakistan's intelligence agencies have long raised concerns over Shia pilgrims falling victim to Iranian influence and recruitment into Tehran-backed mercenary groups fighting in Iraq and Syria.
IRGC recruiters promise hefty salaries and Iranian citizenship if the young men defend Shia shrines, but they do not always follow through on those promises.
"Most of their recruits were in their 20s and 30s, motivated by religious sentiment and a sense of youthful military adventurism," said a Karachi-based law enforcement official on the condition of anonymity.
Zainabiyoun has published a large number of publications online and offline to recruit new members, he added.
Many recruits have returned to Pakistan as the Syrian civil war winds down, and some have been arrested in alleged crimes linked to the organisation.
Last year, the Counter Terrorism Department (CTD) and other law enforcement agencies arrested several militants linked with Zainabiyoun for their involvement in terrorism and terror financing.
After police in Karachi arrested several members of Zainabiyoun in December 2020 and January 2021, Pakistani authorities also launched a probe into a money laundering network.
The latest edition of Sindh's CTD Red Book, a listing of wanted terrorist and militant suspects, includes the names of four militants of the Zainabiyoun Brigade.
Iranian interference
The recruitment of Pakistani Shia youth to fight in support of the Syrian regime is one sign of Tehran's growing interference in Pakistan's internal security, analysts say.
After attacks by separatist groups in Balochistan in early February, Pakistani authorities blamed Tehran for allowing the militant groups to operate from safe havens in Iran.
Then-Interior Minister Sheikh Rasheed Ahmad in a written reply submitted in response to questions from the National Assembly in March confirmed that banned separatist groups were regrouping via the Iranian province of Sistan and Baluchestan.
"Iran has expanded its soft power strategy in Pakistan, particularly in Balochistan, through its political, economic and proxy tools," said Jan Achakzai, a security analyst and former adviser to the Balochistan government.
"Tehran has started to exercise its [influence] at multiple levels... and this influence is definitely becoming a nuisance for Pakistan," he wrote in the Global Village Space website on February 7.
Baloch separatist groups, the Zainabiyoun Brigade, the Fatemiyoun Division and other militias founded by the late Iranian Maj. Gen. Qassem Soleimani have recently been activated and are highly likely to create a law-and-order situation in Pakistan, according to Achakzai.
Soleimani, former commander of the IRGC's Quds Force, masterminded a number of expansionist proxy wars throughout the region, including in Iraq, Syria, Lebanon, Yemen and Afghanistan.
He was killed in a US drone strike in Baghdad on January 3, 2020.