As the Iranian regime defies sanctions in order to finance its foreign agenda, ordinary Iranians continue to protest against harsh economic and social conditions and low pay.
Instead of receiving help from the regime to improve their living circumstances, however, demonstrators from all walks of life who have taken part in nationwide protests have been silenced and suppressed.
An increasing number of minors, known as "Children of Labour", are forced to work or panhandle on the streets in Tehran and other major cities of Iran. Some of them have nowhere to sleep but the street.
Teachers, farmers, retirees and workers in the oil, gas, petrochemical and power industries, among others, have faced a situation that a group of independent United Nations (UN) rights experts recently described as a "violent crackdown".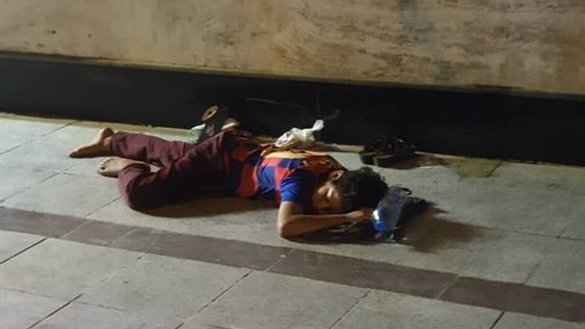 "We are alarmed at the recent escalation of arbitrary arrests of teachers, labour rights defenders and union leaders, lawyers, human rights defenders and other civil society actors," the 11 experts noted in a June 15 statement.
On July 21, media activist Vahid Ashtari, who broke the news of Majles Speaker Mohammad-Bagher Ghalibaf's family's extravagant shopping spree in Turkey, was sentenced to two years in prison.
With the arrival of warmer weather, the regime has also deployed a large number of forces, mostly women, to crack down on ordinary women who refuse to cover themselves fully. The forces attempt to arrest those who "are not fully covered according to the law", but many of those women resist arrest.
Clashes between the regime's forces and citizens who refuse to fully obey the dress code are on the rise in the streets and on public transportation.
Ghalibaf, who was close to the late Islamic Revolutionary Guard Corps' Quds Force (IRGC-QF) commander Qassem Soleimani, was accused of embezzling large amounts of money during his mayoral tenure in Tehran. He escaped unscathed in a trial that saw others convicted.
In April, his family made headlines for a bringing back 20 large suitcases of items they had purchased during a trip to Turkey, sparking public uproar at a time when many in Iran are suffering greatly.
This is while regime officials, including Ali Khamenei, constantly describe how simply they live and how little they have, despite all evidence to the contrary.
Filmmakers silenced
On July 19, Iran's judicial authority announced that award-winning dissident filmmaker Jafar Panahi, who was arrested last week in Tehran, must serve a six-year sentence previously handed to him in 2010, AFP reported.
Panahi has won a number of awards at international festivals for films that have critiqued modern Iran.
He is the third director to be detained this month, alongside Mostafa Aleahmad and Mohammad Rasoulof, who won the Golden Bear award in Berlin in 2020.
"Panahi had been sentenced in 2010 to a total of six years in prison" and was taken "to Evin detention centre to serve his sentence there", judiciary spokesman Massoud Setayeshi said.
Evin Prison in northern Tehran is the country's most notorious prison, where almost all high profile political prisoners are incarcerated.
Last August, the director of Iran's Correction Facilities Organisation acknowledged that hacked video footage showing human rights violations in Evin -- the beatings by guards of prisoners -- was authentic.
But he stopped short of apologising to the prisoners and their families.
Panahi was arrested in 2010 for his support of 2009 protests in response to widely disputed presidential elections. The elections returned incumbent Mahmoud Ahmadinejad to office for a second term; the subsequent demonstrations created the Green Movement in Iran.
Panahi was convicted of "spreading propaganda against the system", sentenced to six years in jail, banned from directing films or writing screenplays, and banned from leaving the country.
But he served only two months behind bars in 2010 and was subsequently living on conditional release, which could be revoked at any time.
Panahi was arrested again on July 11 after he went to the prosecutor's office to follow up on the situation of Rasoulof.
The arrests come after Panahi and Rasoulof decried in May the arrests of several colleagues in their homeland in an open letter.
International outrage
Reaction in the cultural world was swift and furious.
Cannes film festival organisers said they "strongly condemn" the arrests as well as "the wave of repression evidently under way in Iran against its artists".
The Venice film festival called for the "immediate release" of the directors, while the Berlin film festival said it was "dismayed and outraged".
The United States condemned Tehran's "continued efforts to prevent the exercise of freedom of expression".
"We urge the Iranian government to release all media workers, activists and peaceful protesters it has arbitrarily detained," a State Department spokesperson said.
France on Tuesday again called for Panahi's "immediate" release, decrying his "arbitrary arrest", a foreign ministry spokesperson said.
Last week the ministry had cited a "worrying deterioration in the situation of artists in Iran".
Iran has in recent weeks arrested several leading figures, including reformist politician Mostafa Tajzadeh, who was detained on July 8.
Tajzadeh "is currently in pre-trial detention in Evin" prison, accused of "gathering and collusion with the intention of acting against the country's security, and propaganda against the system", Setayeshi said on Tuesday.
The politician was initially arrested in 2009 during the Green Movement protests disputing the re-election of Ahmadinejad.
Tajzadeh, who has campaigned for democratic and "structural changes" in Iran, was convicted in 2010 on charges of harming national security and spreading propaganda against the state before being released in 2016 after serving his sentence.
He was deputy interior minister during the 1997-2005 tenure of reformist president Mohammad Khatami.
Shady dealings
Meanwhile, the Iranian regime has continued to engage in shady dealings that include illicit oil smuggling and transfers, acts of piracy and money laundering operations using front companies to evade international sanctions.
The United States on July 6 blacklisted more than a dozen petroleum and petrochemical producers, transporters and front companies for violating oil sanctions on Tehran.
The 15 designated individuals and entities used a web of Gulf-based front companies to facilitate the illicit sale and shipment of Iranian petroleum, petroleum products and petrochemical products to East Asia.
Previously, on June 16, the United States sanctioned three Iranian petrochemical producers for evading sanctions, along with front companies in China and the United Arab Emirates (UAE).
These intermediaries are regime-affiliated individuals, known as "sanctions profiteers", Kerman-based political analyst Faramarz Irani told Al-Mashareq.
In a June 22 report, the Wall Street Journal quoted Western and Iranian diplomats and officials as saying that Iran has evaded sanctions "through a network of proxy companies, foreign exchange houses and intermediaries".
Government-controlled Iranian entities have opened bank accounts outside Iran and set up front companies that sell Iranian oil and oil products in any possible currency, capital market analyst Hassan Zamani said.
"Iran is currently a global money laundering paradise, as it is not a member of the Financial Action Task Force (FATF)", Zamani said, referring to a global anti-money-laundering watchdog.
In circumventing sanctions and using profits to arm its proxies in Lebanon, Iraq, Syria and Yemen, the regime is impoverishing the majority of the Iranian public.