Iranian products and produce have been filling the shelves of shops and supermarkets across the region, with the market saturation driving out local goods and creating economic hardship for those who produce them.
This is especially true in countries such as Syria, Iraq and Yemen, where Iran is seeking to extend its political and economic reach, according to local economists.
In Syria, analysts have warned that the predatory actions of Iran and its proxies will have harmful consequences for Syria's economy.
Iran has been able to tighten its grip over all sectors of the Syrian economy through a raft of agreements it signed with the Syrian regime, according to Syrian economist and Damascus University lecturer Mahmoud Mustafa.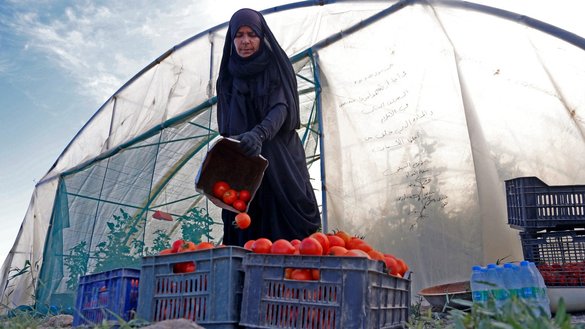 Many of these agreements are lopsided, he noted, with Iran standing to benefit the most. Iranian markets have been established in Syria, for example, and Iran has gained significant control over Syria's energy and infrastructure sectors.
Likewise, "Yemen has become an open market for Iranian products", Faris al-Najjar told Al-Mashareq.
"This poses a great threat to domestic products and other imported products that enter the country through official ports and are subject to inspection of standards and specifications," al-Najjar said.
The influx of fruits such as apples and kiwis and of some types of biscuits and cakes from Iran has lowered the demand for local produce and goods, he said.
This "leads to losses for producers and a drop in production, which in turn results in the layoff of some workers who support families, which consequently exacerbates the problem".
Yemeni farmers feel the impact
Produce imported from Iran "has a significant impact on local agricultural products", economist Abdul Aziz Thabet said.
He noted that the Yemeni Ministry of Agriculture banned the import of raisins and nuts, including those from Iran, "because they negatively impact similar Yemeni products".
"Imports are cheaper and their quality is lower, and Yemeni consumers prefer the lowest price as their purchasing power is constantly decreasing," he said.
This has hurt Yemeni farmers, he said, pointing out that the influx of Iranian raisins has "caused losses for farmers of between 50 and 70%".
As Yemenis struggled to make ends meet amid the war, suspension of government salaries and work stoppages, "Iranian raisins found demand due to their low prices, even though they are of much lower quality", he said.
"Yemenis under these circumstances do not care about quality but rather care about purchasing these items, especially on festive occasions," he said.
According to a report issued by the Houthi-controlled Ministry of Agriculture in Sanaa, the area cultivated with Yemeni grapes has shrunk to 1,869 hectares, from a former area of 13,000 hectares in 2013.
This is a result of Yemeni products being subjected to unfair competition amid the difficult circumstances consumers are experiencing, Thabet said.
"What applies to grapes and raisins also applies to other Iranian products that invaded the Yemeni markets, such as cooking oils and automobile oils, which impact local products because of their cheap prices," he said.
Some of these products also have a negative impact "on human health and the environment, because of their lower quality", Thabet said.
Late last year, several countries rejected imported Iranian produce, citing traces of lingering fertilisers and mold and inadequate quarantine time.
India, Russia, Uzbekistan, the United Arab Emirates (UAE), Oman and Turkmenistan all returned or banned imports of fruits and vegetables from Iran, including kiwis, bell peppers and potatoes.
'Serious damage to Iraqi economy'
Meanwhile, Iranian dairy products such as cheese, cream, milk and yoghurt are invading the Iraqi market, retailing at a lower cost than Iraqi dairy products.
The vast influx of Iranian tomatoes and tomato paste also had an adverse impact on Iraqi tomato farmers, who destroyed the crop in protest, prompting the Iraqi government to ban those imports.
Economist Salam Smeisem called on the Iraqi government to adopt an economic policy that favours domestic production over imports.
"The Iraqi market is currently overflowing with imported goods and products, from Iran and other countries," she told Al-Mashareq.
"The ongoing product dumping, which is taking place without effective controls or monitoring mechanisms, has caused serious damage to the national economy, as many factories and enterprises have stopped operations altogether," she said.
"Even the few locally produced goods are piling up in the market with no buyers for them because of the strong competition from imports," she added.
"Opening the door wide for imports basically means disruption of agricultural and industrial production in the country, and consequently a rise in unemployment and depletion of the state's hard currency reserves," Smeisem said.
"Meanwhile, the economies of the countries from which these goods are imported are revitalised," she added.
Measures to protect Iraqi goods
Two years ago, Smeisem noted, the Iraqi government lowered the official exchange rate of the dinar against the US dollar to tackle the economic crisis after the collapse of oil prices.
"The remaining domestic products are struggling mightily to survive in the face of competition from Iranian, Chinese and Turkish goods in the market," she said.
To protect Iraqi goods, she said, "the government must implement an economic policy based on a well thought-out and realistic vision and planning, and not reactions or temporary measures".
It is necessary, for example, to first provide adequate support and financing to industrial enterprises to get production lines operating again and develop them based on market needs, she said.
The private sector and local industry should be given incentives to participate in productive development efforts by being able to purchase raw materials and operating supplies at subsidised prices, she added.
The agricultural sector and food industries could be revitalised through the provision of financial support to farmers and livestock breeders, to help them meet their requirements for seeds, fertilisers, fodder and production machinery.
"The plan to revive domestic production requires putting into place measures and legislation to protect local products from harmful commercial practices and corrupt activities, with particular attention given to their marketing," she said.
This includes online efforts to promote domestic products over imported ones, she said, noting that "highlighting the moral support enjoyed by local products is necessary to promote domestic industry".