TAIPEI, Taiwan -- Russia's unprovoked invasion of Ukraine has emboldened China's aggression towards Taiwan, and spurred Taipei to prepare in earnest for the potential of a military conflict with Beijing.
Russia invaded Ukraine February 24.
Taipei on Tuesday (June 14) condemned China for saying the Taiwan Strait is not international waters, and accused Beijing of trying to endanger regional peace with its territorial claim over it.
The narrow waterway that separates Taiwan and mainland China is a flashpoint, with Beijing often reacting angrily to passages by foreign warships.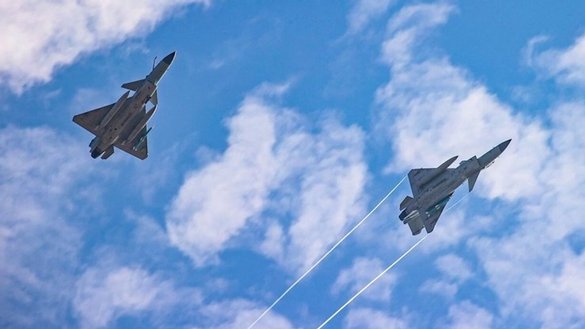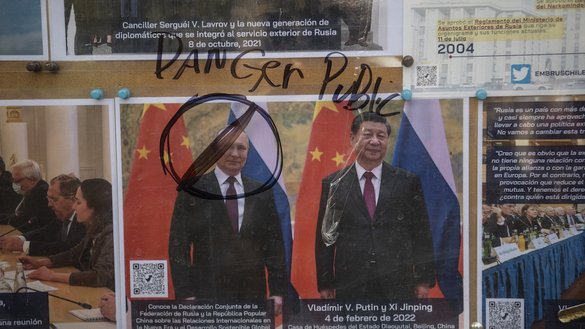 The United States and other countries view the strait as international waters open to all.
But on June 13, Wang Wenbin, a spokesman for China's Foreign Ministry, said "China has sovereignty, sovereign rights and jurisdiction over the Taiwan Strait."
"It is a false claim when certain countries call the Taiwan Strait 'international waters' in order to find a pretext for manipulating issues related to Taiwan and threatening China's sovereignty and security," he added.
Taipei on Tuesday hit back, criticising Beijing's remarks as "wrong" and "unacceptable".
"China... blatantly violates Taiwan's sovereignty and damages international maritime order to endanger regional peace and stability," the ruling Democratic Progressive Party said in a statement.
The Foreign Ministry condemned Beijing for "deliberately distorting international rules to belittle the Taiwan Strait as its own Exclusive Economic Zone".
"China's attempt to annex Taiwan is obvious," it said in a statement.
Taiwan has had its own government since 1949 but lives under the constant threat of invasion by China. Beijing views the island as its territory and has vowed to one day seize it, by force if necessary.
Independence under fire
The accusations came after a heated exchange June 10 between Chinese Defence Minister Wei Fenghe and US Defence Secretary Lloyd Austin in the pair's first face-to-face talks, in Singapore.
"If anyone dares to split Taiwan from China, the Chinese army will definitely not hesitate to start a war no matter the cost," Wu Qian, a spokesperson for China's Defence Ministry, quoted Wei as saying during the meeting with Austin.
Wei also vowed that Beijing would "smash to smithereens any 'Taiwan independence' plot and resolutely uphold the unification of the motherland", according to the ministry.
He "stressed that Taiwan is China's Taiwan... Using Taiwan to contain China will never prevail", the ministry said.
Austin told Wei that Beijing must "refrain from further destabilising actions toward Taiwan", the US Department of Defence said.
US National Security Adviser Jake Sullivan and top Chinese diplomat Yang Jiechi June 13 held lengthy and what both sides called "candid" talks in Luxembourg following days of acrimonious exchanges.
The talks were toned down compared to last week, but the two sides did not indicate any compromise on their core points of disagreement, especially Taiwan.
China-Russia axis
Chinese President Xi Jinping has long laid claim to Taiwan as part of the "rejuvenation" of China, much as Russian President Vladimir Putin has claimed the "special military operation" in Ukraine aims to reunify the "motherland".
Just weeks before Moscow's invasion of Ukraine, Xi and Putin -- alarmed by the common threat of countries with increasingly Western-style democracies on their borders -- vowed to stick together in a "new era" of global political and military order.
"Friendship between the two states has no limits," they said in a joint statement released after the February 4 meeting. "There are no 'forbidden' areas of co-operation."
Xi and Putin showed an "enhanced commitment to make the world safe for authoritarianism, in particular in former socialist countries", Steve Tsang, a political scientist at the SOAS University of London, said of the encounter.
For Xi, taking a public stand on Ukraine demonstrates "his shared interest with Putin to challenge the US-dominated world order", Tsang told AFP.
Russia, in turn, reaffirmed its support for Beijing's "One China" policy -- opposing "any forms of independence" in regards to Taiwan -- and supported Beijing's ruthless crackdown on Hong Kong's pro-democracy movement over the past two years.
On February 23, a day before Russia's full-scale invasion of Ukraine, Chinese authorities ominously reasserted that Taiwan is part of China.
"Taiwan has always been an inalienable part of China's territory. This is an irrefutable historical and legal fact," Foreign Ministry spokeswoman Hua Chunying said at a news conference.
Taiwanese President Tsai Ing-wen said "external forces" were "attempting to manipulate the situation in Ukraine and affect the morale in Taiwan's society", and urged the government to be "more vigilant against cognitive warfare".
Lessons from Ukraine
As the war in Ukraine continues, it has served as an ugly lesson for many in Taiwan on the tactics and weaponry needed to slow a more powerful invading force.
Taiwan spends billions on fighter jets and submarines, and the military is building a professional force, but it has struggled to recruit, train and retain highly skilled soldiers.
That may be changing.
Reservist Wu Chiuan-syun, 31, a computer engineer in Taipei, said that a training in March was longer and harder than anything that soldiers like him had undergone in recent years.
Nearly every day, he said, his commanders would remind the men that the threat from China was growing.
"Ukraine showed us that you need to first show to others that you have the resolve to defend yourself; only then will others come and help," he told The New York Times.
China has been sending fighter jets toward Taiwan almost daily, with 30 aircraft in one day last month alone.
Last year, Taiwan recorded 969 incursions by Chinese warplanes, according to a database compiled by AFP -- more than double the roughly 380 carried out in 2020.
On May 24, China and Russia held their first joint military exercise since the Kremlin's invasion of Ukraine, sending bombers over the seas in northeast Asia.
The exercise occurred during a meeting of the Quad bloc -- United States, India, Australia and Japan -- that discussed China's growing military threat.
The provocative sorties and military drills have authorities in Taiwan and international observers on edge.
"We cannot wait; we are competing with time," Michael Tsai, a former defence minister of Taiwan, told The New York Times.
"Russia's invasion of Ukraine happened in an instant -- who knows when the PLA might choose to invade Taiwan," he said, referring to China's People's Liberation Army.