ISLAMABAD -- Money launderers and terror financiers linked to Iranian intelligence funnelled funds to a former Iranian official in Pakistan, according to recently revealed court documents.
Pakistani authorities launched a probe into a money laundering network after police in Karachi arrested several members of the Zainabiyoun Brigade in December 2020 and January 2021.
Iran's Islamic Revolutionary Guard Corps (IRGC) formed the Zainabiyoun Brigade, a militia comprised of Pakistanis, to fight in Syria in support of Bashar al-Assad's regime.
As part of the investigation, authorities in January busted a racket of hawala and hundi businesses in Karachi, arresting 13 suspects and seizing amounts of foreign and local currencies equal to tens of millions of rupees.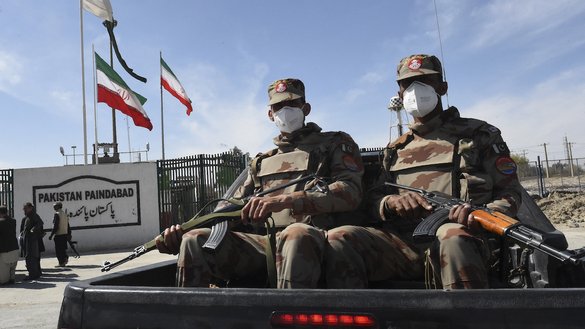 The Federal Investigation Agency (FIA) in February also arrested a senior Karachi-based official of the House Building Finance Corporation (HBFC), a Pakistani housing finance company that is a subsidiary of the State Bank of Pakistan, and an employee of the Balochistan government in Quetta for his alleged involvement in money laundering in the same investigation.
In a charge sheet dated February 10, the FIA alleged that Abolfazl Bahauddini, Iranian supreme leader Ali Khamenei's former representative to Pakistan, was among those who received the laundered funds, Arab News reported April 10.
Ali Raza, one of the 13 suspects arrested in January, revealed while being interrogated that he provided $200,000 each month to Bahauddini via his associate Syed Wisal Haider Naqvi, the HBFC official, the document said.
Khamenei appoints personal representatives to all provinces of Iran and to certain government agencies, as well as to countries like Pakistan, which has a sizeable Shia community.
Bahauddini left Pakistan most likely between August 2021 and February this year, a source in Iran told Arab News.
An FIA official who was involved in the crackdown said in February that the Iranian intelligence agency through illegal hawala and hundi networks was attempting to fund Tehran-linked militant groups such as the Zainabiyoun Brigade and Sipah-e-Muhammad Pakistan (SMP) in Pakistan.
"The people arrested were working for an Iranian intelligence agency and were involved in sending funds and remittances through a currency exchange firm to its networks operating in Pakistan and elsewhere," the official said on the condition of anonymity.
"Several Pakistani intelligence agencies have been sharing information about the growing influence of Tehran in Pakistan's internal security affairs," the official said.
Iranian interference
The involvement of an Iranian official with direct links to Khamenei is the latest sign of Tehran's growing interference in Pakistan's internal security, analysts say.
After attacks by separatist groups in Balochistan in early February, Pakistani authorities blamed Tehran for allowing the militant groups to operate from safe havens in Iran.
Interior Minister Sheikh Rasheed Ahmad in a written reply submitted in response to questions from the National Assembly on March 28 confirmed that banned separatist groups were regrouping via the Iranian province of Sistan and Baluchestan.
"Iran has expanded its soft power strategy in Pakistan, particularly in Balochistan, through its political, economic and proxy tools," said Jan Achakzai, a security analyst and former adviser to the Balochistan government.
"Tehran has started to exercise its [influence] at multiple levels... and this influence is definitely becoming a nuisance for Pakistan," he wrote in the Global Village Space magazine on February 7.
Baloch separatist groups, the Zainabiyoun Brigade, the Fatemiyoun Division -- a militia comprised of Afghans sent to fight in Syria in support of al-Assad -- and other militias founded by the late Iranian Maj. Gen. Qassem Soleimani have recently been activated and are highly likely to create a law-and-order situation in the country, according to Achakzai.
Soleimani, commander of the IRGC's Quds Force, masterminded a number of expansionist proxy wars throughout the region, including in Iraq, Syria, Lebanon, Yemen and Afghanistan.
He was killed in a US drone strike in Baghdad on January 3, 2020.
In January this year, the Iranian embassy in Islamabad and its consulates throughout Pakistan organised and funded various events in cities to mark the second anniversary of Soleimani's death, drawing criticism and anger from Pakistanis.