KABUL -- Recent attacks by the "Islamic State of Iraq and Syria"'s Khorasan branch (ISIS-K) amid the prevailing political and economic uncertainty in Afghanistan have raised concerns that the group is expanding its recruitment campaign in the country and poses a serious threat to the region.
Almost 400 civilians have been killed in attacks mostly carried out by ISIS since last August, according to a recent United Nations report.
"ISIS has now become a real threat to Afghanistan more than ever," said Abdul Basir Salangi, former governor of Parwan and Farah provinces and a military analyst based in Turkey.
"If the neighbouring regional countries and beyond continue to support ISIS, the group will ultimately pose a greater risk and it will become very difficult to defeat it," he said.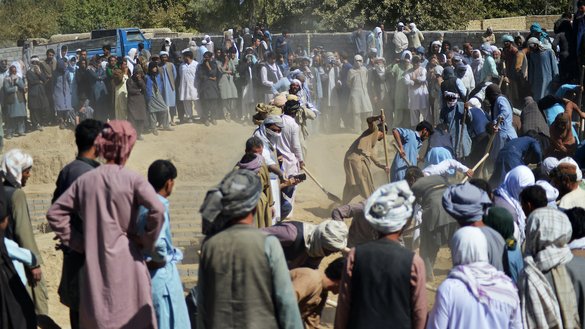 In addition to establishing a prominent presence and to killing Shia in Afghanistan, Salangi said, ISIS plans to launch attacks in Central Asian countries as well as in other countries in the region.
Increasing ISIS recruitment
ISIS-K on April 2 posted a video on social media showing small groups of militants in unidentified locations in Afghanistan pledging allegiance to the new global leader of the group, Abu Hasan al-Hashemi al-Qurashi.
Al-Qurashi was named the new ISIS leader just over a month after his immediate predecessor, Abu Ibrahim al-Qurashi, blew himself up, along with his family members, during a US raid in Syria.
The new leader is reportedly the older brother of ISIS founder Abu Bakr al-Baghdadi, who also died by suicide bombing, along with two children, during a US raid in Syria in 2019.
"Several foreign terrorist groups... have now joined ISIS," Salangi said. "ISIS has expanded its recruitment, and the group's Khorasan branch exists in a number of provinces including Kunar, Nangarhar and some parts in northern Afghanistan."
"If ISIS increases its recruitment, Afghanistan's security will be at a greater risk and the group's Khorasan branch will become even stronger in the country," he said.
"ISIS has accelerated its recruitment" over the past several months, said Kabul-based political analyst Fahim Chakari.
It has carried out "a number of terrorist attacks including the attacks on the Kabul airport and two mosques in Kunduz and Kandahar where dozens of civilians have been killed or injured", he said.
"The group's recent deadly attack in Herat is yet another example of ISIS's expanded network of capability in Afghanistan."
"Unfortunately, rising unemployment and poverty have paved the ground for the recruitment of ISIS forces in Afghanistan," Chakari said. "If the situation continues, we will soon witness significant destructive activities and ISIS will make Afghanistan as its permanent base."
"The current situation has made the ground more conducive for ISIS recruitment," said Noor Rahman, 34, a native of Panjshir province now residing in Kabul.
Poverty, unemployment and the country's political instability are key drivers pushing Afghans to join ISIS, he said.
Over the past eight months, "dozens of ISIS fighters have either been released or managed to escape from prisons, and this has strengthened the group in Afghanistan", Noor Rahman said.
ISIS-K was "reinvigorated" by the release of numerous ISIS fighters from Afghan prisons in mid-August, Gen. Kenneth "Frank" McKenzie, head of US Central Command, said December 9.
'ISIS is the enemy'
Afghans have never accepted and will never fight under the leadership of a foreign commander, said Salim Paigir, a Kabul-based political analyst.
However, he said, ISIS has been trying to strengthen its forces and could become a serious threat to the future of Afghanistan.
"ISIS is the enemy of our tribes and religion. The group has always targeted civilians and is a great threat to the stability, security and sovereignty of Afghanistan," Paigir said. "Therefore, Afghans should not be deceived by this terrorist group and pledge allegiance to such an enemy."
"ISIS has sympathisers among extremist groups like Salafis... and has financial resources to provide for those who have desperately been coping with poverty and unemployment," said Abdul Shakoor Salangi, a Kabul-based political analyst.
Salangi doubts that ISIS wants to take control of any province; "however, the group aims to become a physical and psychological threat that can be used to destroy Afghanistan".