ISLAMABAD -- An agreement between Pakistan and a foreign mining consortium to revive the Reko Diq copper and gold mine is being widely hailed as a positive development for the security situation in insurgency-hit Balochistan province.
Local residents welcome the lack of a Chinese company in the consortium, as past investment projects under Beijing's Belt and Road Initiative (BRI) have spurred protests and unrest.
The consortium Tethyan Copper Co. (TCC) -- of which Canadian firm Barrick Gold and Chile's Antofagasta Minerals control 37.5% each -- had found vast gold and copper deposits at Reko Diq.
But the hugely lucrative open-pit mine project came to a standstill in 2011 after the local government refused to renew TCC's lease, and in 2013 Pakistan's top court declared it invalid.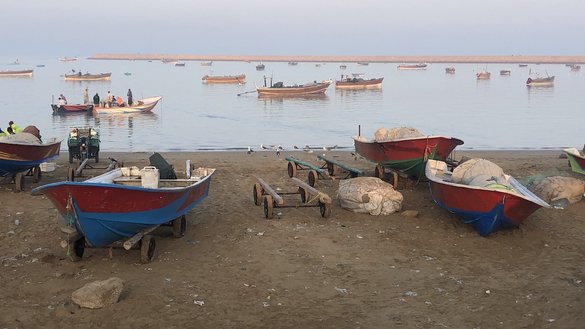 In 2019, the World Bank's arbitration tribunal committee imposed a $5.8 billion penalty on Pakistan for unlawful denial of mining.
After a decade-long legal battle, Pakistani officials announced the out-of-court settlement with Barrick Gold on Sunday (March 20).
With the reconstitution of the project, Barrick Gold will own 50%, Pakistani federal government enterprises 25% and the Balochistan government 25%.
Barrick will invest almost $10 billion in Balochistan and will create more than 8,000 jobs, Prime Minister Imran Khan's office said in a statement.
About $1 billion of the investment will go into building roads, schools and hospitals and creating technical training institutes for mining in the region, it added.
The project "will potentially be the largest gold & copper mine in the world", tweeted Khan, who attended the agreement-signing ceremony.
"It will liberate us from crippling debt & usher in a new era of development & prosperity," he said.
The landmark project will help Balochistan to progress and develop, and will contribute to eradicating insurgency, said Finance Minister Shaukat Tarin.
"Pakistan, particularly Balochistan, will benefit for over 100 years from this project and the total worth is estimated to be over $100 billion," he said at a news conference Sunday.
Balochistan -- which borders Afghanistan and Iran -- is the country's largest and least developed region, despite its abundance of natural resources.
Pakistan has been battling low-level insurgency in the province since 2003 waged by Islamist, separatist and sectarian groups.
The insurgent groups mainly target Pakistani security forces, but with the arrival of the BRI in the province in 2015, they have targeted Chinese investments as well.
Protesting Chinese companies' inhumane practices
Beijing in recent years has inked deals with Islamabad for several multibillion-dollar infrastructure projects.
But the deals have raised concerns among local residents about Chinese influence and resentment over the companies' labour practices, particularly paying Chinese nationals more than Pakistani workers.
For example, the Saindak Copper-Gold Mine has been leased to the Metallurgical Corporation of China Ltd. (MCC) since 2001.
Both Saindak and Reko Diq are situated in Chaghi district, Balochistan.
Over several days in late February, residents held a large protest, led by women, against MMC for its inhumane acts against local employees and the closure of roads, schools and shops.
"The Chinese company has made the lives of local residents and employees miserable," said Zulekha, a housewife, who took part in the protest.
Her husband, a Saindak miner, has not been allowed to go home for the past six months in the name of coronavirus pandemic-linked precautions.
Local residents may not even go to the Saindak hospital for treatment, she said.
In Gwadar, where a deepwater port project is a flagship of the BRI, frequent protests have demanded an end to the harassment of locals at security checkpoints and to illegal deep-sea fishing by local and Chinese trawlers, which deprives local fishermen of their livelihoods.
In January 2021, a provincial court stopped Pakistani authorities from building a barbed-wire fence around the port in Gwadar that locals said would have complicated the movements of more than 300,000 residents of the district and prevented fishermen from reaching sea access points.
Chinese investment spurring militancy
Political leaders and security analysts hailed Pakistan's agreement with TCC on the Reko Diq mining project and said that engaging with non-Chinese companies will help the government curb the insurgency that has been fuelled by Chinese investment.
"Instead of making the areas such as Chaghi and Gwadar hubs of trade and creating employment opportunities for local youth .... Chinese companies have been forcing Pakistani authorities to make the areas a security zone and to limit residents' movements," said Bashir Hout, a Gwadar-based civil society activist.
"Chinese companies have been exploiting local resources with no concern about the impact their actions have on the local population," he said.
Rather than turn towards Beijing, Hout said, Islamabad should ink agreements with European and North American companies that respect the local population, support labour rights and carry out development projects in the areas in which they work.
Chinese investment in Balochistan without the public's consent is further worsening the overall security situation in the province, he said.
Anger over growing Chinese influence in Balochistan has spurred Baloch and Sindhi militant organisations to ally with each other, fuelling concern that the combined group will step up violent activities in the region.
The Baloch Raji Aajoi Saangar (BRAS), an alliance of four Baloch separatist groups, and the Sindhudesh Revolutionary Army, are now working together "in light of the current scenario in the region as both [Balochs and Sindhis] have severe reservations over growing Chinese influence", BRAS said in a statement in July 2020.
"Formation of the BRAS to target Chinese investments and Pakistani security forces is the main reason behind the recent surge in the ethnic insurgency in the province," a Quetta-based law enforcement official said on condition of anonymity.
On February 2, militants from the Balochistan Liberation Army (BLA), a banned separatist group, staged twin assaults on army posts in Noshki and Panjgur districts, Balochistan.
"The February 2 attacks, hours before Prime Minister Imran Khan's China visit [at the opening of the Beijing Winter Olympics], were linked with the Baloch population's grievances with Beijing over its exploitation of [Balochistan's] natural resources," said Mujtaba Baloch, a Panjgur-based political activist.
In 2021, Balochistan witnessed a 93% increase in terrorist attacks, mainly from separatist groups, compared to the previous year, according to the Pak Institute for Peace Studies, an Islamabad-based think-tank.
On August 20, a BLA suicide bomber killed two children in an attack on Chinese nationals in Gwadar.