ISLAMABAD -- Unlawful and vulgar content remains on TikTok in Pakistan despite the platform's purported removal of more than six million unlawful and vulgar videos, say Pakistanis.
TikTok, which allows users to share short videos, is owned by ByteDance, a Beijing-based internet technology company.
The platform in its Community Guidelines Enforcement Report released on February 14 said that it removed 6,019,754 videos from Pakistan in the July-September quarter of 2021.
That figure put Pakistan at fourth in the world for most videos taken down, the report noted.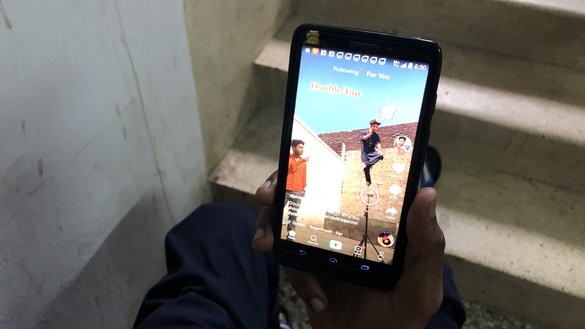 The removed content included adult nudity and sexual activities, harassment and bullying, hateful behavior, illegal activities and regulated goods, minor safety, suicide, self-harm and dangerous acts, violent and graphic content and violent extremists, it said.
Did content purge really happen?
Such efforts are not enough, say Pakistanis, and some media groups have accused TikTok of overstating the number of videos it took down.
"In response to people's criticism and government pressure, TikTok has lied to Pakistani authorities about the removal of more than six million 'objectionable' videos from the application," the Daily Ummat, an Urdu daily, reported last Thursday (February 17).
Thousands of immoral, violent, and obscene videos can still be found on the app, it said.
Pakistani authorities have banned TikTok four times in less than a year, with the latest instance last July after residents, activists and Islamist groups complained that the app allowed obscene, blasphemous and unethical content.
In November, the Pakistan Telecommunication Authority (PTA), the country's telecom regulator, lifted the latest ban after assurances by the platform it would control "immoral and unlawful" content.
TikTok's claim of removing six million objectionable videos is part of its efforts to keep the application functioning in Pakistan, said Shehzad Ali, a Karachi-based researcher who specialises in monitoring digital networks.
"Such objectionable videos are still found on TikTok," Ali said.
He urged the PTA to formulate its own mechanism to review the content of Chinese video platforms, instead of accepting TikTok's claims.
"It is important because Chinese companies do not respect religious or cultural values," he said.
TikTok controversy
TikTok remains one of the most controversial social networks around the world, particularly in Pakistan.
Several countries, including the United States, India and Bangladesh, at one point banned or considered banning TikTok, citing concerns about the app's privacy, security controls, and practices.
In Pakistan, several youth and rights bodies have organised protests and filed court petitions to outlaw TikTok after a number of young Pakistanis died while filming videos for it.
In late December, two adolescent students were arrested in the Malir area of Karachi, after allegedly shooting and killing an elderly man for a TikTok video.
A teenage boy was killed when his cousin accidentally shot him while making a TikTok video in Haripur district in September.
Indecent and vulgar language being used on TikTok will have a negative impact on society, according to Asim Asmat, a leader of the Pakistan Citizens Organisation, a Peshawar-based civil society group that organised protests and filed a petition at the Peshawar High Court in 2020 to outlaw TikTok.
"We demand the government ban TikTok permanently because it is not only negatively affecting Pakistan's society but mocking religion too," Asmat said.