The Islamic Revolutionary Guard Corps (IRGC) relies on a network of pirates and duped seafarers in the Gulf region to smuggle weapons, fuel and drugs, media reports and experts say.
A large number of Indian seafarers have been tricked by Iranian shipping companies into working in dangerous conditions involving transporting drugs and cargo that is under international sanctions -- often with little or no pay.
Thousands are lured to Iran each year by recruiters guaranteeing salaries and experience aboard reputable ships and often promising assignments in other Middle Eastern countries, The Washington Post reported in January.
Instead, they are sent to Iran and put to sea, where they are overworked, denied enough food and at times forced to transport drugs and sanctioned cargo, according to more than two dozen men interviewed for the report.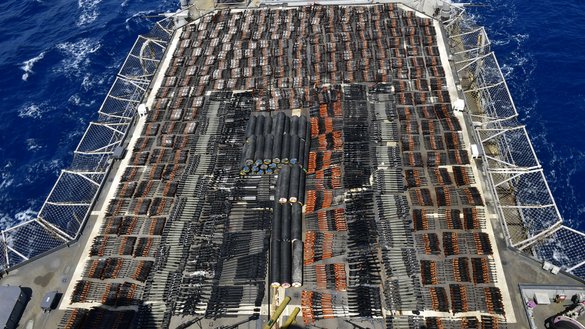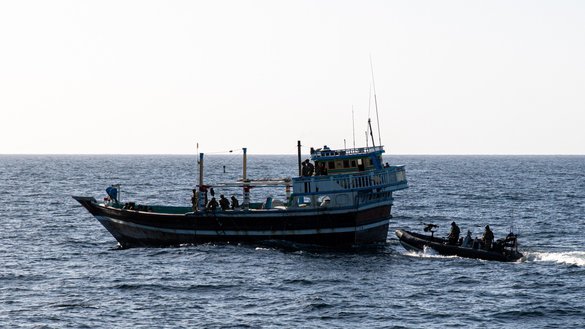 "They target seafarers for work without salary. It's all a big trap," said Ashkay Kumar, a 24-year-old deck cadet from Delhi. "They forced us to work like slaves."
A 28-year-old Indian seafarer, who said he worked for two companies involved in smuggling Iranian diesel between 2016 and 2020, said tankers carrying fuel always anchor in the international waters that separate Iran and the United Arab Emirates (UAE).
"UAE territorial waters end after 12 miles, so Iranian ships come as close as 14 to 20 miles to the UAE," he said. "They switch off their AIS [automatic identification system] so that they can't be tracked. If they see the UAE coast guard, they stop the operation and run away."
The secret transfers usually take place at night to evade detection. The ships anchor just outside the territorial limits of the UAE, and then, one by one, small boats carrying smuggled Iranian diesel shift their loads to the waiting vessels.
"It takes four to five days because boats come one by one," said a 27-year-old Indian seafarer, who had been employed by a Dubai-based shipping company that smuggled Iranian fuel to Somalia.
In addition to the nighttime transfers at sea, Iranian diesel bound for international markets is exported on tankers setting sail from Iran with the origin of the shipment forged to make it look as though it came from Iraq or the UAE, according to the report.
The smuggling involves elements of the Iranian state, notably the IRGC, and private shipping companies based in Gulf countries, according to energy and regional security analysts.
The US Treasury has accused Iran of illegally selling its oil and imposed sanctions on its petroleum industry in recent years.
Co-operating with pirates
Meanwhile, pirates and smugglers who were hurt by the security crackdown on the region's waterways are turning more and more to Iran to make up their losses.
"The Arabian Gulf region and the Arabian Sea, like all global waterways, are rife with smuggling and piracy operations because of the large number of transiting ships and the number of countries that can be reached by crossing common regional waters," said Rashid Mohammed al-Marri, a former officer with the Dubai police anti-narcotics department.
"However, security tensions have prompted the international community to co-operate with regional countries to secure the region and stop those illegal operations."
"This hurt the profits made by pirates and smugglers and left them looking for any alternative source of money," he said.
The IRGC has since taken advantage of the situation, according to al-Marri.
"Pirates and smugglers have now become tools in its hands, and are used to transfer weapons to its affiliates throughout the region," he said. "The IRGC was able to recruit pirates and smugglers to work for it by lavishing money on them to carry out these operations."
The pirates' "only concern is profit, regardless of the consequences of the operations they carry out", he added.
The continued smuggling of arms and illegal goods by the IRGC and its affiliates enflames tensions in the region and enables terrorist operations, al-Marri said.
He pointed to the transfer of weapons to terrorist groups in Somalia.
"The al-Shabab terrorist movement was supplied with Iranian weapons through Yemen, which underscores the gravity of [the threat posed by] these [smuggling] operations and the necessity of stopping them."
Smuggling routes
The smuggling is usually carried out "by small wooden fishing boats that often have no official documents and [operate] without GPS devices", according to Saudi military expert Mansour al-Shehri.
As the vessels approach the coast, "the weapons and smuggled materials are transferred to smaller boats to carry them to the shore, and sometimes these boats dock in small ports", he said.
The smugglers may also use relatively large sailboats known as jalboots, he noted.
The weapons often "are hidden in concealed compartments, and the boats carry various goods for camouflage", he added.
The smuggled goods include "military rifles of various types, bombs, missiles, rocket-propelled grenade launchers, anti-tank rocket launchers, technology for booby-trapped drones and parts for medium-range missiles, in addition to... all types of ammunition", said al-Shehri.
The operations conducted to stop these shipments and tips submitted by various sources, especially civilians, have helped uncover smuggling methods and tactics and prevent terrorist attacks, he said.
The smugglers and pirates use many routes, including off the coasts of Oman and Yemen, said Cairo-based Yemeni journalist Mona Mohammed.
"The coasts of Somalia are also exploited [by way of] the common [maritime] borders between Yemen and Somalia," she added.
Another route begins at the southeastern Iranian port of Jask and runs through the Bab al-Mandeb strait, according to Mohammed.
"[The weapons] are often shipped to the southern coast of Yemen and the ports of al-Hodeidah, Ras Issa, Salif and Nishtun in Al-Mahra and Hadramaut, and are often unloaded onto small boats in Somali waters, especially off the shores of the Bosaso area and Omani waters," she said.