LAHORE -- Security was beefed up across Pakistan's capital Friday (January 21), police said, a day after three people were killed and 22 wounded by a bomb in the eastern megacity of Lahore.
The country has suffered a string of blasts and attacks since December, when a truce between the government and the Tehreek-e-Taliban Pakistan (TTP) lapsed.
But Thursday's bomb blast -- in a busy shopping district of Lahore -- was claimed by the Baloch Nationalist Army (BNA), the newest of several separatist groups to emerge from Pakistan's biggest but poorest province, Balochistan.
Ethnic separatist groups have been waging an insurgency for years in the province, complaining they do not receive a fair share of its gas and mineral wealth.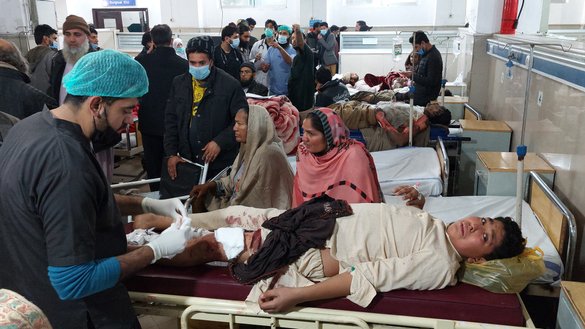 Police spokesman Naeem Iqbal told AFP that security would be tightened in Islamabad, the seat of the government and home to dozens of embassies and other international institutions.
He said uniformed and plain-clothes officers would fan across the city, particularly in crowded areas such as markets.
Threat of more attacks
In Lahore, officials raised the death toll from Thursday's blast to three after another victim succumbed to injuries.
A nine-year-old child was among the dead.
"Initial investigations show that it was a time-controlled device on a motorbike which was the cause of the blast," Lahore police spokesperson Rana Arif told AFP.
The blast happened in old Lahore's busy Anarkali shopping district, damaging several motorbikes and upturning market stalls.
Prime Minister Imran Khan expressed regret over the "loss of precious human lives", a spokesman for his office said.
"The main targets of the blast were the personnel of police including the workers of the bank who were either killed or injured in the blast," a statement posted by the BNA's media arm said.
"We will carry out more attacks and will further extend it to all commercial cities of Pakistan," the statement warned.
Mineral-rich Balochistan, bordering Afghanistan and Iran, is geographically the largest of Pakistan's four provinces, but its roughly seven million inhabitants have long complained they do not receive a fair share of its gas and mineral wealth.
China is investing in the area under a $54-billion project known as the China-Pakistan Economic Corridor (CPEC), upgrading infrastructure, power and transport links between the far-western Xinjiang region and Pakistan's Gwadar port.
Baloch separatists previously claimed several attacks on CPEC projects -- taking advantage of local sentiment against Chinese influence.
Beijing has been exploiting local resources with no concern about the impact its actions have on the local population, critics say.
Protesters in Gwadar late last year demanded an end to illegal deep-sea fishing by local and Chinese trawlers and the harassment of locals at security checkpoints leading to CPEC projects.
The protesters, led by local Jamaat-e-Islami Pakistan leader Maulana Hidayatur Rehman, also demanded an end to water and electricity shortages and expressed opposition to potential fencing in Gwadar aimed at protecting Chinese-funded projects from Baloch separatists who oppose the CPEC.
TTP violence
Meanwhile, Pakistan has suffered a string of blasts and attacks on police since December, when a truce between the government and the TTP lapsed.
The TTP has claimed responsibility for most recent attacks.
Earlier this week, the TTP said it was responsible for a deadly shootout in Islamabad on Monday -- a rare attack by the militants in the heavily guarded capital.
A police officer was killed and two others injured when two TTP gunmen opened fire from a motorbike on a police checkpoint.
Police said both attackers were killed, and the interior minister warned afterwards of the potential for further violence.
Pakistan's government announced late last year it had entered a month-long truce with the TTP, but it expired on December 9 after peace talks failed to make progress.
The TTP has been blamed for hundreds of suicide bombings and kidnappings across the country. For a while it held sway over vast tracts of the nation's rugged tribal belt, imposing a radical version of Islamic law.
But after the 2014 massacre of more than 150 children and teachers at a Peshawar school, the Pakistan military sent huge numbers of troops into TTP strongholds and crushed the movement, forcing its fighters to retreat to Afghanistan.