KABUL -- Unemployment, poverty and uncertain circumstances are forcing educated and professional Afghans -- the backbone of economic growth and social development -- to leave the country.
The United Nations (UN) on Tuesday (January 4) warned that a harsh winter in Afghanistan is aggravating already severe conditions faced by millions across the country.
Humanitarian partners are racing against time to deliver aid and supplies, the UN said in a statement.
"During December, our humanitarian partners have reached seven million people with relief food supplies across the country," said UN spokesman Stéphane Dujarric.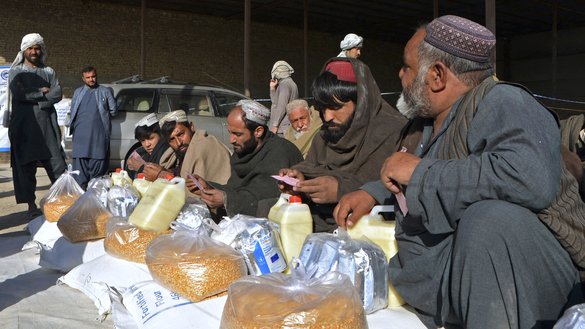 "Provision of winterisation support, including cash and non-food items, is also under way in various parts of the country", he said.
Even before the start of winter, UN officials had warned of 23 million people facing hunger in Afghanistan, more than half the population.
"According to the World Food Programme (WFP), 98% of Afghans do not have enough food to eat and are in dire need of humanitarian assistance," Dr. Fahim Chakari, a university professor and political analyst in Kabul, told Salaam Times.
"Different UN agencies and donor countries have distributed humanitarian assistance to people in different provinces, which is good but not sufficient and provides only a short-term solution."
"Our plea to the UN and other donor agencies and countries is to increase humanitarian assistance ... as an immediate measure, and then try to seek long-term solutions to unemployment and poverty," Chakari said.
In search of livelihood
Such hardships mean that educated Afghans are looking to leave the country.
Murad Noori, 45, lost his job in August after working for the government for several years.
"I am the only breadwinner of my family of eight. But unfortunately, I have lost my job -- my only source of income -- and cannot even buy a loaf of bread for my family today," he told Salaam Times.
"I spent 18 years studying. I have decades of work experience in public institutions. I had never imagined that one day I would face such poverty and economic hardship or intend to flee the country," said Noori, who has a master's in business administration.
"Unemployment, poverty, hunger and economic problems have now forced me to leave the country. I plan to go to Pakistan, Iran or another country in search of livelihood for my family," he said.
"I know that my country needs people like me, but I must leave in order to escape poverty and hunger," Noori added.
Nasir Omar, 33, is a journalist by profession. He recently lost his job and is now a street salesman in Kabul.
"I have a bachelor's degree in political science and worked as a reporter for different news agencies in Afghanistan from 2009 until a few months ago," Omar told Salaam Times. "Now I don't have a job and have to sell stuff on the streets of Kabul to earn a living for my family."
"About 85% of journalists have lost their jobs and are suffering from economic hardship," he said.
"Based on some reports, 5,000 to 6,000 Afghan journalists and media workers have lost their jobs and are left with no income."
If the international community does not help Afghanistan, it will witness a humanitarian crisis of unparalleled magnitude, he added.
Brain drain
"Countless Afghans have lost their jobs because of the recent developments in the country, pushing millions into poverty and hunger," said Muhammad Shabir Bashiri, an economic analyst in Kabul.
Migration and brain drain are among the dangerous, negative consequences of unemployment in the country, Bashiri said.
"Afghanistan is, unfortunately, losing its intellectual assets. Unless the trend of poverty and brain drain is reversed quickly, we will witness a human resource crisis and further economic meltdown."
"According to some sources, the rate of poverty in Afghanistan has reached 97%, which highlights the depth of the humanitarian crisis."
"Many Afghans will starve to death unless the international community provides urgent humanitarian assistance," he added.
"Developed countries owe their success to the hard work and efforts of their elite," Javid Sangdel, an Afghan university professor based in Switzerland, told Salaam Times.
"The prosperity and economic success that those countries and people have achieved today are the outcome of the hard work of their educated class and other professionals."
"But unfortunately, the prevailing circumstances in Afghanistan have forced educated youth and elites to flee the country, which will have negative consequences for Afghanistan," Sangdel said.
Educated individuals, especially the youth, are the intellectual assets, the backbone of social development and the main drivers of economic growth. Their continued departure from Afghanistan will damage irreparably the economy and development of the country, he said.
"Perpetual unemployment and poverty will force jobless and impoverished youth to join terrorist and criminal groups, which will be a threat to the future security and stability of Afghanistan," Sangdel added.