Pakistani law enforcement agencies are continuing to crack down on the Khorasan branch of the "Islamic State of Iraq and Syria" (ISIS-K) as part of an effort to stave off potential security threats following the collapse of the previous government in neighbouring Afghanistan in August last year.
Pakistani authorities on December 29 announced that law enforcement agencies had broken up five major ISIS-K groups in Khyber Pakhtunkhwa (KP) in 2021.
Law enforcement personnel in KP broke up three groups in the Peshawar region and two in Bannu division, said Javed Iqbal Wazir, a senior Counter-Terrorism Department (CTD) official in Peshawar.
Pakistani authorities have conducted numerous operations against ISIS-K in recent months.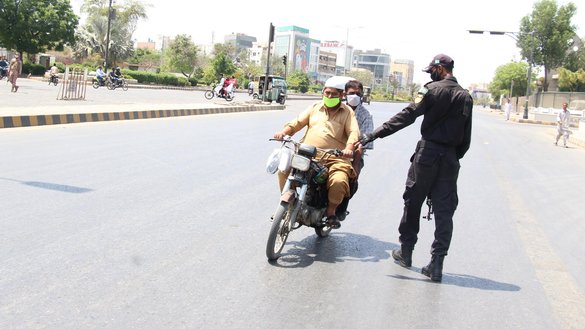 Peshawar police on December 20 killed three ISIS-K militants, including a senior commander, in an intelligence-based operation in the Faqirabad area.
The militants were involved in the October 3 killing of a Sikh herbal medicine practitioner and attacks on police officers in Peshawar, according to Capital City Police Officer (CCPO) Peshawar Abbas Ahsan.
The CTD on October 21 also killed three ISIS-K militants in a raid in Peshawar's Shahpur area. Three other militants fled the scene, Geo TV reported. Authorities recovered weapons and ammunition from those killed.
Meanwhile, on October 22, the CTD in Mastung district, Balochistan province, killed nine ISIS-K members after they received a tip from a source.
In another operation in Mastung in September, security forces killed ISIS-K commander Mumtaz Ahmed, also known as Pehalwan, who masterminded the 2018 election rally bombing that killed more than 150 people and injured hundreds in the district.
ISIS-K in its Urdu publication, Yalgaar, eulogised Ahmed, on whom Pakistani authorities had placed a bounty of 1.5 million PKR ($8,500).
Rise in ISIS-K attacks
ISIS-K has carried out at least 19 attacks in 2021 in Pakistan, said a senior law enforcement official on the condition of anonymity.
Those include the murder of a local leader of Jamiat Ulema-e-Islam (Fazl) in Bajaur district on November 22 and the killing of two police officers who were protecting a dam in Bajaur on November 13.
"Most of the ISIS-K attacks, which mainly targeted police personnel and polio vaccinators, were carried out in Khyber Pakhtunkhwa," the official said.
ISIS-K has a large number of former members of Tehreek-e-Taliban Pakistan (TTP) and Lashkar-e-Jhangvi (LeJ), two banned terror outfits, he noted.
"Although many TTP militants have ended their affiliation with ISIS-K, a large number ... from Bajaur and Orakzai districts and LeJ factions are still associated with the transnational terror group," the official said.
In June, 18 alleged ISIS-K members were among the militants included in the latest edition of CTD Sindh's Red Book, a listing of wanted terrorist and militant suspects.
ISIS's top leadership formed its Khorasan chapter for Pakistan and Afghanistan in July 2014.
In Pakistan, ISIS-K has sought to instigate sectarian strife by targeting Muslim minorities, such as Shia and Sufis.
However, ISIS lost momentum in both Afghanistan and Pakistan after its territorial defeat in the Middle East and the death of Abu Bakr al-Baghdadi in 2019.
ISIS has largely failed to establish a lasting presence in Pakistan because of the swift security response and society's rejection of the group's ideology, analysts have noted.
This is not to say that the group did not make a serious attempt.
Over a span of several years, ISIS-linked or -inspired militants carried out a series of grisly attacks in Pakistan that targeted minority groups, security forces and others.
But Pakistan's diverse cultural, religious and ethnic landscape has proven to be inhospitable to such violent extremism.