ISLAMABAD -- Pakistani authorities have cleared a large area of Taliban militancy-hit tribal districts of the unexploded ordnance and land mines that were threatening the lives of civilians and military personnel.
Although official statistics are not available, residents and civil society activists said that hundreds of residents have so far been killed and several dozen have lost their limbs in land mine explosions in the districts that border Afghanistan and served as a stronghold of the Tehreek-e-Taliban Pakistan (TTP), al-Qaeda and other transnational militant groups in the past.
In a continuing "clearance operation" in search of unexploded ordnance, Pakistani authorities have cleared large swathes of land in parts of militancy-hit districts, most of which have been recently merged into Khyber Pakhtunkhwa, according to a military official who has been involved in the operation. The mine clearing began in 2018.
According to documents shared by the military official, more than 80 teams are operating throughout the tribal districts to remove unexploded ordnance, including improvised explosive devices and toy bombs. At least 37 security personnel have been killed and 17 injured during the defusing of land mines since 2018.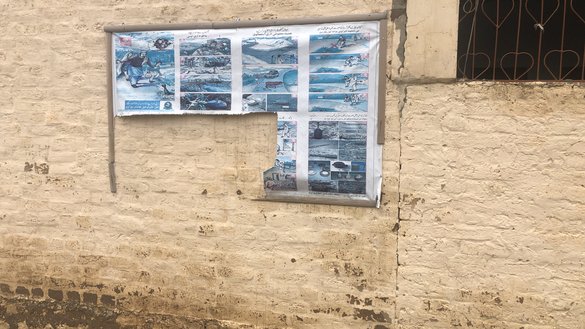 Workers have cleared Bajaur fully of unexploded ordnance, according to the military, while workers have cleared 13 out of 14 square kilometres in Mohmand district.
Workers have cleared 8 out of 12 square kilometres in Khyber district, 5 of 6 square kilometres in Orakzai district, and 4 of 6 square kilometres in Kurram district.
Mine clearance is proceeding more slowly in South and North Waziristan, which suffered most of the casualties from land mines during the worst years of terrorism, because of a recent resurgence of TTP militants in the areas, according to military officials and security analysts.
Authorities have cleared 15 out of 62 square kilometres in South Waziristan and 4 out of 37 square kilometres in North Waziristan.
Mounting toll
The land mines are taking a toll on civilians, especially children, and on law enforcement personnel, according to the residents and international aid bodies.
In June, the United Nations Children's Fund (UNICEF) expressed its concerns over a rise in frequency of land mine explosions in various parts of Pakistan, resulting in the deaths of and injuries to children.
"No child should fall victim to land mines or explosive remnants of war," said Aida Girma, UNICEF representative in Pakistan, in a statement. "Children are particularly at risk from unexploded ordnance and land mines, which they can mistake for toys."
She said that UNICEF will continue to support the government of Pakistan in mine risk education to raise awareness on the risks posed by land mines and explosives among children and families living in crisis-affected areas.
Hayat Preghal, a South Waziristan-based activist campaigning for the removal of land mines, said that women and teenage children in the tribal areas graze cattle in hilly and uninhabited areas and collect firewood to bring home and therefore are exposed to land mines.
"We demand that the government launch a mine-clearing operation along proper scientific lines in tribal districts and compensate the families of those killed and injured in land mine explosions," Preghal said.
Parliamentarians from the districts have raised the problem in their assemblies while rights activists have run campaigns to pressure the government to remove the land mines from the region.
"Hundreds of residents of the tribal areas have lost their lives and scores became physically handicapped from the failure to clear the land mines," said Dost Muhammad Khan, a senator from South Waziristan, who has recently sought the attention of the defence minister on land-mine issues.
"I demanded in parliament a compensation package [of 5 million PKR, about $27,865] for the families of victims who lost their lives in land mine explosions and 2 million PKR [about $11,146] to those who sustained injuries and became disabled," he said.
He urged the government to hire relatives of those killed by land mines.
In neighbouring Afghanistan, about 41,000 Afghan civilians have been killed or wounded by land mines and unexploded ordnance since 1988, according to the UN Mine Action Service (UNMAS).
More than two-thirds of the victims were children, many of whom spotted the deadly devices while playing and picked them up.
Soviets introduced land mines to area
Residents of the area said that land mines have posed a serious problem in the tribal areas since the Soviet-Afghan War broke out in 1979.
"Russian warplanes in the 1980s dropped hundreds of land mines in bordering districts, including North Waziristan, to prevent anti-Soviet fighters from crossing the border," said Sher Alam Mehsud, an elderly political activist from South Waziristan.
"Later, starting in 2004, al-Qaeda and its ally the TTP and other transnational groups in the tribal districts used land mines to target security personnel," he said.
The military official said that the TTP militants had planted land mines in some areas of the tribal areas and left behind unexploded ordnance when the security forces launched Operation Zarb-e-Azb against them in 2014, which forced the militants to flee Afghanistan.
"Now floods and erosion may have moved many of the mines from where they were originally laid," he said. "And the residents, partially children, and women cannot identify land mines."