NEW DELHI, India -- Massive seizures of heroin in multiple countries in recent weeks have put the spotlight on the Taliban and the Iranian regime and their inability -- or unwillingness -- to stop the harmful illegal drug trade.
India's largest port operator on Monday (October 11) decided to halt all cargo from Afghanistan, Iran and Pakistan starting November 15.
Adani Ports, part of the Adani Group conglomerate, said the decision would apply to all the terminals it operates including third-party terminals.
It did not give a reason for the "trade advisory", but it follows the seizure of almost three tonnes of heroin at Mundra port in Gujarat state last month.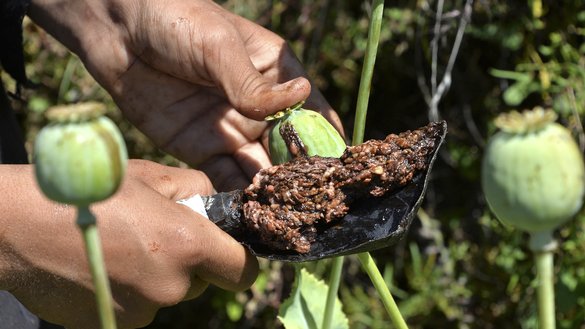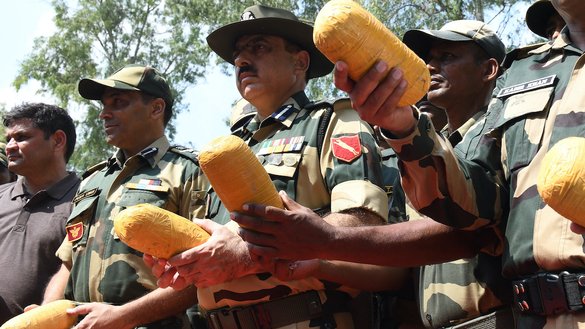 Officials seized the drugs from two containers, estimating their value as at least $2.65 billion, one of the biggest such hauls ever in the country.
It originated from Afghanistan and was shipped from a port in Iran to Gujarat, according to the Directorate of Revenue Intelligence (DRI).
Authorities arrested two Indians and the investigation allegedly uncovered the involvement of Afghan nationals, the DRI said, although no one else has been arrested so far.
Earlier in September, Indian authorities seized heroin worth more than $20 million and detained six Iranian men in a deep-sea drug bust off the Gujarat coast.
Drugs funding the Taliban
India is not alone in its fight to stop the smuggling of drugs from Afghanistan and Iran.
Authorities in Azerbaijan in late September impounded more than half a tonne of heroin, one of the biggest ever seizures in the country situated on a major smuggling route to Europe.
The 527.6kg of heroin was found in a car travelling from Iran to European Union member Latvia.
Azerbaijan has in the past reported numerous incidents involving drug traffickers attempting to cross over from Iran, with hundreds of kilogrammes of heroin seized annually.
Afghanistan is the world's biggest producer of heroin, supplying 80–90% of global output.
Russia, Iran, Pakistan and China are major smuggling routes and huge markets for Afghan drugs.
Heroin production has boomed in Afghanistan in recent years, helping fund the Taliban, which returned to power in August.
During their insurgency, the Taliban's main source of revenue was criminal activities, according to a United Nations (UN) Security Council report issued in June.
Those activities included "drug trafficking and opium poppy production, extortion, kidnapping for ransom, mineral exploitation and revenues from tax collection in areas under Taliban control or influence", according to the UN.
"Estimates of annual income generated by the Taliban range from $300 million to $1.6 billion."
Ties with Iranian regime
The Iranian regime has been documented as helping drug mafias exploit Pakistani territory to traffic heroin and other illegal drugs to destinations around the world, officials and observers say.
The aim of this scheme is to generate money to prop up Iran's failing economy and fund the regime's proxy wars in the region, they say.
"Drug smuggling in Iran is a lucrative source of foreign exchange, and in some parts of Iran, local authorities are allegedly providing support to those groups involved in drug production and trafficking," Mir Irfan Baramzai, a tribal leader based in Mirjaveh, Iran, said in 2020.
"Iran's long and porous eastern border with Pakistan and Afghanistan is known as the main route of drug trafficking in the region. Iranian authorities are supervising several drug factories in the border areas," he said.
In 2019, a report emerged saying that Iran's Islamic Revolutionary Guard Corps (IRGC) was providing "massive support" for drug trafficking in Pakistan.
Opium markets booming
With the Taliban back in power, the Afghan economy is teetering on the brink of collapse, but drugs on the black market are hauling in premium prices.
Vendors at an opium market in southern Afghanistan say prices for their goods have skyrocketed since the Taliban takeover.
Plunging his knife into a large plastic bag filled with 4kg of what looks like brown mud, Amanullah, who asked to use an alias, extracted a lump and placed it in a small cup suspended over a primus flame.
The poppy resin quickly began to boil and liquefy, enabling him and his partner Mohammad Masoom to display to buyers that their opium is pure.
"It is haram in Islam, but we don't have any other choice," Masoom said September 24 at the market on the arid plains of Howz-e-Madad, in Kandahar province.
Since the Taliban overran Kabul on August 15, the price of opium -- which is transformed into heroin either in Afghanistan, Pakistan or Iran before flooding the European market -- has more than tripled.
Masoom said smugglers are now paying him the equivalent of about $100 per kilogramme. In Europe, it has a street value of more than $50 per gramme.
As he sat beneath a canvas suspended from four stakes to protect the precious wares from the burning sun, he said the price prior to the Taliban takeover stood at just a third of what he can make today.
Speaking to AFP in his field a few kilometres away, poppy farmer Zekria, who also used a pseudonym to avoid retribution, confirmed that prices have skyrocketed.
His opium is more concentrated -- and therefore better -- than Masoom and Amanullah's because the flowers were picked at the start of the harvesting season, he said.
He now gets more than $146/kg, up from $44/kg before the Taliban's takeover, he said.