HERAT -- Afghans are responding to photographs and videos on social media that show the transfer of Afghan military equipment to Iran with shock and outrage, denouncing the audacity of the Iranian regime.
Some photographs, purportedly taken September 1, show a convey of Afghan army and police equipment, pickup trucks and Humvees roaming around in Semnan, Iran.
The Iranian regime's seizure and transfer of Afghan military equipment are a clear violation of international regulations, said Herat city resident Parwaiz Alizada.
"This act of the Iranian regime reveals its enmity towards the Afghan people," he said.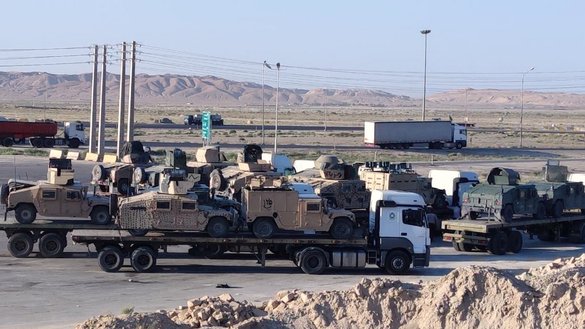 While Afghanistan is embroiled in crisis and political upheaval, the Iranian regime has opted to steal the property of the Afghan people instead of helping them, he said.
Alizada said Iran has never been an honest neighbour, as evidenced by its theft of the property of the Afghan forces.
"The Iranian regime has taken advantage of the ongoing crisis in Afghanistan to steal our military vehicles and smuggle them to its country," said Abdul Hamid Watandost, who resides in Zaranj, the Nimroz provincial capital.
"We strongly condemn the looting of Afghan military equipment by the Iranian regime," he said, stressing that Iran, as a neighbour of Afghanistan, should not do so much harm to the Afghan people.
Watandost said the Islamic Republic must understand that the military equipment it has confiscated is the property of the Afghan people, and should immediately be returned to them.
#badneighbour
After Afghan military equipment began to surface in Iran, former Afghan defence minister Bismillah Mohammadi responded with a Twitter hashtag denouncing the Islamic Republic as a #badneighbour.
Addressing the Iranians, he said Afghanistan's difficult days are not permanent.
Political analyst Hamza Baloch of Zaranj said he is concerned that military equipment stolen from Afghanistan will fall into the hands of Iran-backed militias and terror groups -- a state of affairs he described as "very likely".
Baloch urged the international community to put pressure on Iran to return any stolen equipment to Afghanistan.
There is no doubt the Iranian regime has been interfering in Afghanistan's internal affairs over the past decades, said activist Saddiq Atayee of the Badghis provincial capital of Qala-e-Naw.
This interference weakened previous governments and destroyed infrastructure, he said.
Iran never wants to see a stable and strong government in Afghanistan, Atayee said, so it attempts to destabilise its neighbour and prolong its crisis using all means at its disposal.
The Iranian regime's continued interference in Afghanistan's internal affairs is aimed at achieving its ultimate goals of destroying dams and preventing the construction of hydropower stations, he added.
"Afghans are worried about the Iranian regime's hostile policy in Afghanistan," he said, noting that there are indications that Iran might use terror groups or its proxy militias to secure its interests in Afghanistan.
'Return military equipment'
Residents of Afghanistan's western provinces are calling on the authorities to hold the Iranian regime accountable and demand the return of Afghanistan's military equipment.
Iran should not have plundered Afghanistan's assets while Afghanistan faces daunting challenges and crises, said Sultan Ahmad Samadi of the Ghor provincial capital of Firoz Koh, calling for the immediate return Afghan military equipment.
He called on the international community, which provided the equipment and weapons to the Afghan security forces, to use its leverage and force Iran to return the stolen equipment to Afghanistan.
As Afghanistan's neighbour, Herat city resident Abdul Ghani Wahidi said, Iran should not have looted military vehicles and facilities in this critical situation.
"Stealing the property and equipment of a neighbouring country is a cowardly act and is against prevailing international norms," Wahidi said.
The Islamic Republic must realise it may not not seize Afghan military equipment and transfer it to Iran, said Qala-e-Naw resident Niamatullah Azimi.
It must return it to Afghanistan, because it is the property of the Afghan people, he said.
Criticising the Iranian government's actions during the current situation in Afghanistan, Azimi said that if Iran does not aid Afghans in these difficult days, at least it should refrain from escalating the crisis.
"The Iranian regime cannot hide the Afghan army equipment, including Humvees and pickup trucks; they must immediately return them to Afghanistan," he said.