CAIRO -- Wu Huan, a 26-year-old Chinese woman, told the Associated Press (AP) she was abducted from a hotel in Dubai in late May and detained by Chinese officials at a villa converted into a detention facility.
If true, this may be the first evidence that China is operating a so-called "black site" beyond its borders.
Black sites are clandestine jails where prisoners generally are not charged with a crime and have no legal recourse, with no bail or court order, according to the AP.
Wu said she was questioned and threatened in Chinese and forced to sign legal documents accusing her fiancé, Wang Jingyu -- a dissident -- of harassing her, before her abductors finally released her June 8, according to the investigative report published August 16.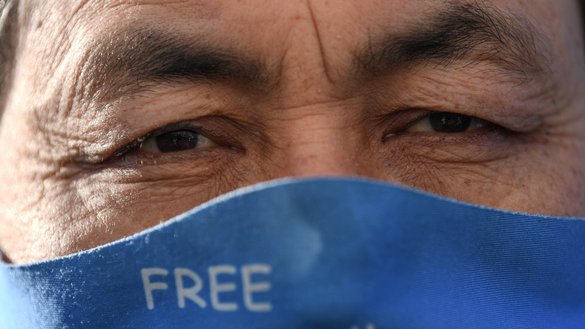 While at the black site, Wu saw or heard two other prisoners, both Uighurs, she said. She identified the women as Uighurs based on their appearance and accent.
Wu is now seeking asylum in the Netherlands.
The AP was unable to verify Wu's account independently, and she could not pinpoint the location of the black site, noted the report.
However, the AP saw and heard corroborating evidence including stamps in her passport, a phone recording of a Chinese official questioning her and text messages that she sent from jail to a pastor aiding her and Wang.
A violation of human rights conventions
While black sites are common within China's borders, the presence of one abroad could be a sign of Beijing's growing international clout.
This would provide further proof of China's crackdown on dissidents and ethnic minorities like the Uighurs, even if they are present overseas.
China's Foreign Ministry has denied Wu's story.
The Dubai Police stated August 16 that any claims of a Chinese woman detained by local authorities on behalf of a foreign country are false, and that Wu freely exited the country with her friend three months ago.
If Wu's account is proven true, the existence of the black site could be designated a crime against humanity and a violation of the International Convention for the Protection of All Persons from Enforced Disappearance, said international criminal law professor Wael al-Sharimi.
Since such sites hold people who were most probably arrested outside internationally recognised jurisdictions, they may not be subjected to legal standards and procedures regarding arrests and fair trials, he said.
Arrests made for political, ethnic and religious reasons violate the International Covenant on Civil and Political Rights of 1966, which has been enforced since 1976, he added.
Criminal responsibility for such arrests "starts with those who detained these individuals and those who directed the operations, up to and including the top leaders who gave the order", al-Sharimi said.
China hunts down, intimidates opponents
Beijing has unleashed a slew of draconian policies in recent years aimed at subduing and surveilling Xinjiang's majority Muslim population, including imprisoning more than one million Uighurs and other Turkic Muslims in as many as 400 facilities that include "political education" camps, pretrial detention centres and prisons.
Such policies have also involved the extradition of Uighurs back to China.
China is taking advantage of its economic influence around the world to carry out secret operations and hunt down its opponents, including Uighurs, said Abdullah al-Dakhil, a politics lecturer at King Saud University in Riyadh.
The unlawful nature of these arrests and prisons outside Chinese territory necessitates complete secrecy, he said.
Verifying the secret Chinese black site in Dubai is difficult, as it is possible to move it from one location to another within a few hours to keep it concealed, political researcher Abdul Nabi Bakkar said.
In Wu's case, she might have been arrested so the Chinese could intimidate her and Wang and persuade him to cease his dissident activities, Bakkar said.
China will take every step to cover up its wrongdoings in a host country and to prevent any effects on its political and economic relations, he added.