A network of fake social media accounts is working to distort international perceptions on a variety of important issues, push pro-China narratives and discredit claims critical of Chinese leadership, a recent investigation reveals.
"The co-ordinated influence operation on Twitter, Facebook and YouTube uses a mix of artificial and repurposed accounts," the UK-based Centre for Information Resilience (CIR) reported August 5.
"The narratives amplified by the accounts are similar to those promoted by Chinese government officials and China state-linked media," it said.
The network focuses on distorting hot topics like COVID-19; human rights abuses in Xinjiang; political discord in Hong Kong; overseas conflicts, such as in Afghanistan; and US gun laws, among others.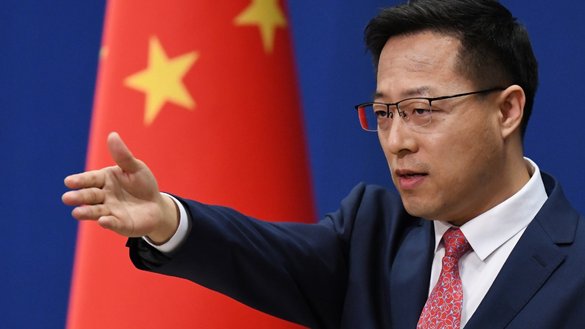 "Our research shows evidence of a deliberate effort to distort international perceptions on significant issues -- in this case, in favour of China," said Benjamin Strick, the author of the report and the CIR's director of investigations.
The content was posted in English and Chinese, he said.
The narratives promoted by the network have strong similarities to content seen on the accounts of Chinese Communist Party (CCP) representatives and Chinese state media, he said.
"The aim of the network appears to be to delegitimise the West by amplifying pro-Chinese narratives," said Strick.
In total, the CIR estimates there are between 300-500 accounts on Twitter, 40-55 accounts and pages on Facebook, and 12 accounts on YouTube.
Denying human rights abuses in Xinjiang
Some accounts repeatedly deny human rights abuses in Xinjiang region, China, where the international community says Beijing is committing genocide.
Beijing has imprisoned more than one million Uighurs and other Turkic Muslims -- including ethnic Kazakhs and Kyrgyz -- in as many as 400 detention facilities that include "political education" camps, pretrial detention centres and prisons.
Millions more live under a harsh system of surveillance and controls.
After initially denying the camps existed, Beijing now defends them as "vocational training centres" aimed at stamping out terrorism and improving employment opportunities.
These facilities, however, are widely reported to be involuntary detention centres that some have likened to "concentration camps".
A panel of nine UK-based lawyers and human rights analysts dubbed the "Uyghur Tribunal" is hearing evidence from witnesses as part of an independent investigation into whether China is guilty of genocide in its treatment of Uighurs and other Muslim minorities in the Xinjiang region.
The allegations against China include "killings, serious bodily or mental harm including torture, rape and other sexual violence, enslavement, forced separation of children from their parents, forced sterilisation, forcible transfer or deportation, apartheid, forced labour, forced organ harvesting, enforced disappearances, destruction of cultural or religious heritage, persecution, forced marriages and the imposition of Han Chinese men into Uighur households", according to the Tribunal.
The fake social media accounts that CIR uncovered call such allegations "lies fabricated by the United States and the West".
China's treatment of ethnic minorities in Xinjiang is a "shining example" of its human rights progress, Foreign Minister Wang Yi said in February.
But clear evidence of slavery and of forced labour inside Xinjiang's cotton industry continues to draw global protest, and investigations of the systematic rape, sterilisation and abuse of Muslim women have aroused international outrage.
Fake people spreading disinformation
The network also has strong similarities to the so-called "Spamouflage Dragon" propaganda network identified by social analytics firm Graphika.
Graphika first exposed the network's activities on YouTube, Twitter and Facebook in September 2019. It noted a change in focus to spreading COVID-19 disinformation in February 2020. The phony network launched English-language videos in June 2020.
In the second half of 2020, the three social media platforms took down "swathes of Spamouflage assets, often within hours of posting", according to Graphika.
"Nevertheless, the network has persisted and evolved," it said in a report published in February.
The CIR mapped hashtags and techniques favoured by previously identified networks, such as Spamouflage, and unearthed more accounts that showed signs of being part of an influence operation.
For example, many of the fake accounts use profile photos created by artificial intelligence. Unlike stolen images, the realistic-looking computer-generated images cannot be traced using a reverse image search.
This tactic is becoming more common in disinformation campaigns, as social media users and platforms become more discerning of suspicious accounts.
"The accounts identified in this influence operation on Twitter used a mix of StyleGAN machine-learning generated images as profile pictures and relied on a much larger network of accounts using more authentic appearing images, anime images and repurposed accounts," said Ross Burley, CIR's executive director.
"On Facebook and YouTube, many of the accounts also appeared to be repurposed," he said.
The use of repurposed accounts indicates that at some point ownership of the accounts changed -- either through a takeover from password dumps or through a purchase from a seller of stolen accounts, the report said.
Breaking out of the 'Great Firewall'
With most of the major social media networks blocked in China by the so-called "Great Firewall", Beijing has been stepping up its diplomatic presence on social media and taking a more confrontational approach to shape perceptions online of China.
About two years ago, Chinese diplomats had very little presence on Twitter, which -- along with YouTube, Google and Facebook -- is banned in China.
Now almost 200 Chinese embassies or consulates are using the social media platform, according to independent researchers.
These so-called "wolf warrior" diplomats -- a name derived from a jingoistic Chinese film franchise -- propagate conflicting conspiracy theories that are designed to sow chaos and deflect blame on both internal and international issues.
Beijing's efforts began as anti-China protests swelled in Hong Kong in March 2019, increased ahead of Taiwan's presidential elections in January 2020 and shifted into high gear in the following months when it became clear the COVID-19 epidemic was sweeping the world.
While Beijing's "wolf warriors" primarily promote content from regime-backed websites and news outlets, they also use Iranian and Russian state media, as well as Western "influencers", as external or "independent" validators, the Brookings Institution, a think-tank in Washington, reported last October.
"In the absence of its own established network of proxy influencers, China has piggybacked off the state media outlets and official government accounts of Russia, Venezuela and Iran in order to push anti-Western messaging that is broadly aligned with China's geopolitical interests while removing a layer of responsibility and adding a veneer of legitimacy," it said.