The coronavirus pandemic has taken a grave turn in southeastern Iran's Sistan and Baluchestan province, a beautiful yet impoverished part of the country that borders Pakistan and whose population has been plagued by unrest and violence.
Despite its wealth of natural resources, Iran's second-largest province is the country's poorest, and the Delta variant of COVID-19 is rampant there.
Reports this week describe medical care as severely lacking and hospitals operating at full capacity, and local officials have described the conditions a "coronavirus tsunami".
Hospital directors across the province have warned that in addition to overflowing intensive care units, all their wards -- even the hallways -- are overflowing with patients, most of whom are sick with COVID-19.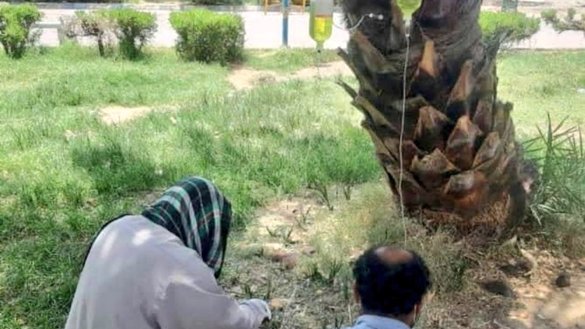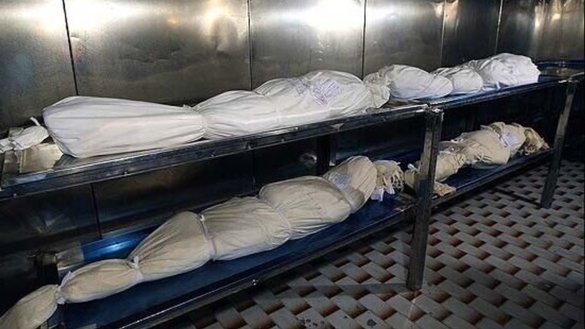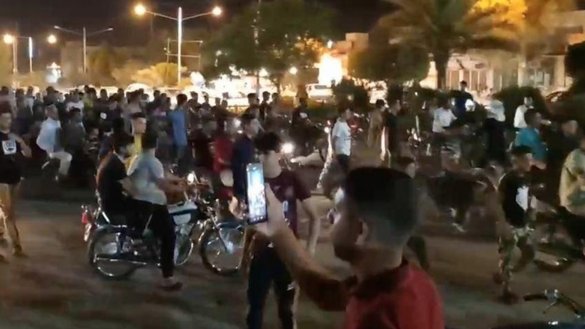 Observers reported seeing patients who had been admitted into a hospital in the province being led out of the building in temperatures nearing 50 degrees Celsius.
Orderlies or nurses were seen hanging the patients' IVs from palm trees near the hospital, where they sat while they received treatment in the scorching heat.
Meanwhile, Sistan and Baluchestan's hospital morgues are completely full.
In mid July, the province's prosecutor-general said 30 people die of COVID-19 each day in Sistan and Baluchestan, on average.
Yet complaints made by the province's representatives in parliament (Majles) to Iran's health minister have been met with indifference, sources said.
Spike in COVID-19 cases
Over two-thirds of the province's population live below the poverty line, according to several media outlets and Sistan and Baluchestan's Majles representatives.
Severe drought, dangerous levels of air pollution, a shortage of potable water and recent lengthy blackouts have added to the grievances of a population already suffering from unemployment and lack of resources.
This is largely due to government neglect, observers said, noting that the main reason for this is that more than half of the population are minorities.
Close to 65% of Sistan and Baluchestan residents belong to the Baluch ethnic minority, which also populates the neighbouring regions of Pakistan and Afghanistan. The majority of the Baluch population is Sunni.
In mid-June, health ministry officials announced a spike in the number of positive coronavirus tests in Sistan and Baluchestan. Shortly after, they said the number of positive cases in the province had quadrupled.
On July 10, local officials said 574 new cases had been reported in the province within the past 24 hours, boasting that the number was "much lower than the previous day", when 1,176 new cases were reported.
Two days later, Health Ministry spokeswoman Sima Sadat-Lari said Sistan and Baluchestan is "among the few provinces" suffering the most from COVID-19 and its variants, all of which have been detected among the population.
The number of hospital admissions had risen by 40%, she said, noting that some 17% of these were long-term stays.
Neglect and unrest
COVID-19 entered Iran through Qom, home to the country's largest and most significant Shia seminary. Qom is home to a large number of Chinese seminary students and labourers who have emigrated to Iran over the past few years.
The virus initially spread to Iran from China, as the Iranian regime actively denied the outbreak and refused to pause air travel between Iran and China.
Yet today, Qom is not worse off than other provinces; it is not even among the top five in terms of coronavirus transmission and infection.
Regime officials, who constantly refer to Sunni Muslims as equals, have in fact long neglected Sunni-majority provinces.
Sistan and Baluchestan has witnessed new unrest this year after security forces and members of the Islamic Revolutionary Guard Corps (IRGC) shot and killed a number of fuel carriers near the town of Saravan on the Iran-Pakistan border.
Pakistani politicians, rights groups, and residents took to the streets following the incident to condemn the mass shooting.
The lack of employment opportunities in Sistan and Baluchestan has left its ethnic Baluch population few alternatives to black market trading with fellow Baluch across the border, Human Rights Watch said in February.
In Iran's southern provinces, including Khuzestan, where most locals are ethnic Arabs, unrest has been growing too.
On Thursday night (July 15) through the early hours of Friday, widespread protests broke out due to the regime's broken promises of helping the province get water amid the severe drought.
A number of protestors torched tires and closed roads in the province, and anti-riot and police forces cracked down on the civilians by daybreak.
The protests come following months of protests in the province due to low wages and back pay amid sky-high inflation.