HERAT -- The Taliban have begun extorting money from farmers again this year with the start of the growing season, say officials and farmers in Afghanistan's western region.
"The Taliban extort money from farmers twice a year, first during growing season and then during the harvest season," said Bashir Ahmad Ahmadi, deputy director of the Herat Department of Agriculture, Irrigation and Livestock.
With the start of this year's growing season, he said, the Taliban have already collected huge sums of money.
"Farmers have repeatedly complained about the Taliban's extortion to the provincial department of agriculture, saying that the militants have threatened to kill them unless they pay," Ahmadi said.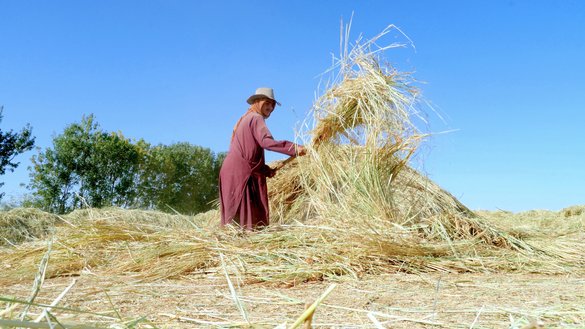 The Taliban have imposed a demanding taxation regime on farmers in several districts of Herat province, said Ghulam Habib Hashimi, chairperson of the Herat provincial council's defence committee.
If any farmer fails to comply, they will demand a penalty, which is multiple times more than the actual tax amount, according to Hashimi.
"The Taliban purchase weapons and other explosive ordnance with the extorted money and use them to kill civilians and security forces," he said.
The Taliban extort 3,000 AFN ($39) per year from farmers for every water well and every jerib (0.2 hectare) of land in villages and some districts of Farah province, said Dadullah Qani, chairman of the Farah provincial council.
They also force farmers to cultivate poppy in the province, he added.
"While farmers and other locals are facing extreme poverty and struggling to make a living by farming, the Taliban continue to ruthlessly extort money from them," Qani said.
"We have seen many farmers abandoning their villages and fleeing to Farah city because they cannot afford the Taliban's extortion or tolerate their oppression."
Threatening farmers with death
Farmers have confirmed to Salaam Times that the Taliban threaten them and extort money under the pretext of zakat.
The Taliban come to the village twice a year and "shake down" every farmer, said Shamsuddin, a farmer in Ab Kamari district in Badghis province who goes by one name.
Under illegal Taliban taxation, farmers must annually pay 3,000 AFN ($39) for growing wheat on 1 jerib of land or for owning an orchard, Shamsuddin said, quoting the same tax rate cited by Qani of Farah province.
Anyone who refuses to pay faces severe punishment, including fines, beatings and imprisonment, he said.
The Taliban consider their so-called extortion a legitimate right of their so-called Islamic emirate and even go as far as threatening death to those who do not obey, Shamsuddin said.
"The Taliban tell us that we are required to pay zakat based on Islamic principles," said Shamsul-Haq, a farmer in Shahrak district of Ghor province. "They have made paying zakat compulsory and are forcing us to obey them."
Farmers make very little income from what they grow, he added. "We have no choice but to borrow money to pay the Taliban."
"Even though the impact of an imminent drought [this solar year] poses a major threat and might severely reduce farmers' yields, the Taliban have already collected large sums of money from them" in some districts of Ghor province, said Mohammad Mahdawi, a member of the Ghor provincial council.
Extortion is prohibited in Islam
Extortion is strictly forbidden in Islam and represents a major sin, say religious scholars.
"Extortion has no place in Islam," said Mawlavi Jahan Shah, a religious scholar in Qala-e-Naw city, the capital of Badghis province.
"Taking money from someone against their will is an un-Islamic and inhuman act," he said, adding that the Taliban's temptation to extort money in the name of zakat is inappropriate and unforgivable behaviour.
"Based on Islamic rules, only legitimate governments have the right to collect money in the form of zakat or tax," he added. "The Taliban are not a government but a rebel group that has no legal standing."
This view was echoed by Mawlavi Raafi Matiyee, another religious scholar in Qala-e-Naw city.
"In Islam, the people's ... lives and wealth should be secure," said Matiyee. Extortion "is not allowed, and those who commit it will be severely punished by Allah".
"The Taliban are threatening farmers to pay, and this is a clear violation of the privacy and property of Muslims," he said, urging the Taliban to seek forgiveness and to return the money they extorted to the farmers.