KUNDUZ -- About 100 Afghans in Kunduz city gathered last week to urge the Taliban to respect the holy month of Ramadan, lay down their weapons and stop spilling innocent Afghans' blood.
Ramadan is set to begin Tuesday in Afghanistan.
Afghanistan has seen a surge in violence despite peace talks launched between the Taliban and government last year, with a wave of assassinations targeting high profile Afghans, including journalists, activists and civil servants.
Officials have blamed the Taliban for much of the bloodshed.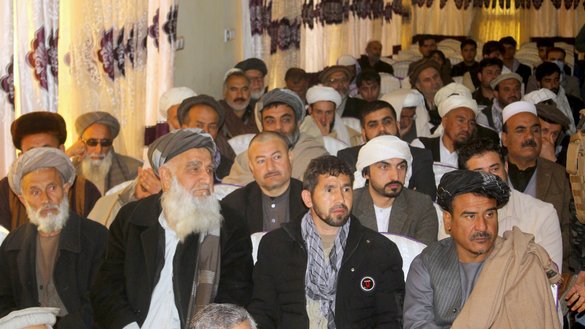 A ceasefire should be declared during Ramadan as intra-Afghan talks continue, said Mirza Muhammad Laghmani, a tribal elder who attended the gathering.
"Muslims are obliged to fast, and our people fast, pray and go for taraweeh prayers," he added. "If the fighting is under way, no one can go to taraweeh prayers. The public should not be disturbed during Ramadan."
"It is true that we can fast, but in the presence of war, killing and fratricide, neither our fasting nor prayers will be acceptable to God, nor will we be able to worship in a peaceful environment," Laghmani said.
Similar appeals for a ceasefire last year fell on deaf ears, with the Taliban escalating its attacks during the holy month. This year, residents told Salaam Times, they hope it will be different.
"All Afghans want peace and an end to war and violence. The Taliban must at least stop fighting in the holy month of Ramadan," said Kunduz University law student Fatima Majidi.
Maulawi Azimullah Ahadi, a religious scholar who attended the gathering, called on the warring sides to stop violence in honour of the holy month.
"Ramadan is the month of God's hospitality -- we must properly welcome this month," Ahadi said, adding that Islam prohibits the killing of Muslims in all months but especially during Ramadan.
"The Taliban should abandon violence and make their demands through negotiations, not by killing Muslims," he added.
Calls for a ceasefire
"I call on the Taliban and other extremist groups to stop violence and bloodshed in the month of Ramadan and declare a ceasefire," said Kunduz city resident Mohammad Arif Muradi.
"Opponents of peace and the enemies of Afghanistan should at least stop terrorist attacks and let Afghans spend the month of Ramadan in peace," he said.
"If war could build this country, it would have been very prosperous by now, but the country will not develop through war and fratricide," said Kunduz provincial council chairman Mohammad Yusuf Ayubi.
"We call on the Taliban to agree to a ceasefire with the police, the army and the government and to not continue the war," he added.
"We want the Taliban to resolve their problems with the government through dialogue," said Kunduz city resident Mohammad Ismail Kaliwal.
"Our graveyards are filled with martyred security personnel and civilians," Kaliwal said. "We have orphans and widows in every home. Thousands of families have no one to look after them with no clear future."