KUNDUZ -- The Taliban have shut down 52 health centres in Samangan and Takhar provinces, depriving tens of thousands of Afghans access to health services, local officials and residents say.
In Samangan, 26 centres have been closed since November 9, Dr. Abdul Khalil Musadeq, provincial public health director, said March 13.
The shuttered clinics are situated in the districts of Dara-e-Sof Bala, Dara-e-Sof Payan, Roi-do-Ab, Hazrat-e-Sultan, Firoz Nakhchir and Khuram wa Sarbagh, he said.
The Taliban have thus deprived almost half of Samangan's population of 600,000 of public health services, Musadeq said.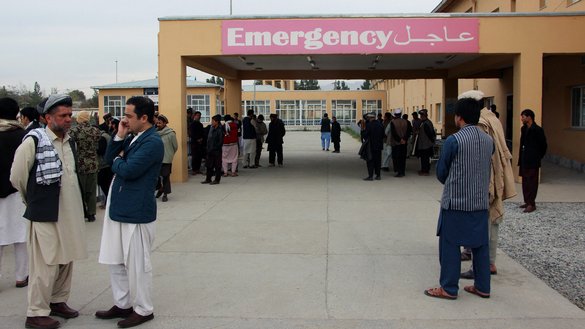 The closure of clinics in remote areas of Samangan has forced patients to travel to the provincial capital of Aibak and other district centres to get care, he said.
"No group involved in the conflict has the right to block the provision of health services," he said. "But against all legal norms and human rights principles, the Taliban have closed all these clinics in areas under their control."
Taliban demand money
Said Asadullah Fayaz, director general and founder of Assistance for Health, Education and Development (AHEAD), said his organisation has been providing health services in Samangan and Takhar through the Sehatmandi project, but the Taliban have shut down dozens of its health centres.
"Unfortunately, 26 centres in Samangan and another 26 in Takhar have been closed," he said.
The Taliban told the staff at these clinics that unless they pay ushr and zakat to the group, the health centres will not be allowed to operate, Fayaz said.
"Doctors provide free health services to patients, and the Taliban should not deprive [them] of their right to access health care," he said.
Closed centres in Takhar are situated in the districts of Rustaq, Dasht-e-Qala, Yangi Qala, Khwaja Ghar, Darqad, Khwaja Bahauddin and other parts of the province, said Abdul Marof Fayeq, the provincial director of AHEAD in Takhar.
The Taliban have been demanding money from health officials and from AHEAD in return for reopening the health centres, he confirmed.
"By closing health centres, the Taliban want to pressure AHEAD and force it into paying money to them," said Mohammad Hashim Sarwari, deputy chairman of the Samangan provincial council.
"We call on the Taliban to reopen the health centres, allow doctors to continue treating patients and to cease making civilians the victims of their own personal interests," he said.
Women and children suffer
Residents of remote areas have been particularly hard hit with the Taliban's decision to shut down the health centres in their area.
Pregnant women are now forced to give birth in local pharmacies that do not have maternity wards, said Abdul Fahim Safari, a tribal elder in Dara-e-Sof Payan district of Samangan.
He gave the example of a 27-year-old woman from Baba Nazar village who had been transferred to the district's clinic when she went into labour. Because the clinic was closed, she died during childbirth on January 13 at the clinic's compound, Safari said.
"Six clinics and one hospital have been closed for more than four months in Dara-e-Sof Payan, causing many problems for about 120,000 of the district's residents," he said, blaming the Taliban for putting thousands of lives at risk.
Women and children bear the brunt of the closures, said Mohammad Hashim Modaqiq, district governor of Hazrat-e-Sultan, Samangan.
Additionally, not everyone can afford to travel to city centres to receive care, he said.
"The Taliban think that if they shutter health centres, civilians will join them, but that is impossible," said Ayesha Sediqi, a women's rights activist in Samangan.
Efforts to reopen clinics
The closures clearly indicate that the Taliban are waging war on the general public after they have lost their ability to fight the Afghan National Defence and Security Forces face to face, said Takhar Police spokesperson Abdul Khalil Aseer.
"In addition to the security threats, the closure of health centres has turned life for residents of Mawrai Kokcha districts into hell," said Muhammad Azam Afzali, a member of the Takhar provincial council.
Mawrai Kokcha is the cluster of Khwaja Bahauddin, Yangi Qala, Dasht-e-Qala, Rustaq, Darqad and Chah Aab districts on the border with Tajikistan.
The government is trying to resolve the issue through talks with the Taliban, said Musadeq, the Samangan public health director.
"We have reached the conclusion that we need to resolve this issue through dialogue," he said. "A team from our side and people from AHEAD are assigned to go to Dara-e-Sof Payan, the Taliban's centre of power, to hold talks with them and resolve the issue."
They plan to send the delegation to talk with the Taliban in the first month of the new year, which begins Sunday (March 21).
Meanwhile, "tribal elders, religious scholars and local residents have launched efforts to reopen these centres," said Najibullah Danish, a civil society activist in Samangan. "We are hopeful they will be fruitful."