HERAT -- Afghan military authorities in the country's western provinces claim al-Qaeda militants are active alongside the Taliban in several key districts, where they are teaching Taliban fighters how to manufacture mines.
Al-Qaeda is present in Bala Murghab district of Badghis, Ghormach district of Faryab, and Zer-e-Koh and Shindand districts of Herat province, they said.
There are about 25 al-Qaeda elements in the ranks of the Taliban in Bala Murghab, said Maj. Gen. Abdul Raof Arghandiwal, commander of the 207th Zafar Corps of the Afghan National Army (ANA).
"These al-Qaeda militants play an active role in financing, equipping and training the Taliban in making bombs," he said.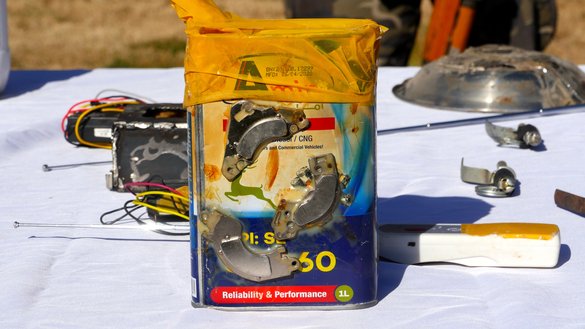 "Based on our intelligence reports, a number of al-Qaeda operatives are present in Zer-e-Koh district of Herat," he said. "Besides financial support, they train Taliban militants in making mines and carrying out terrorist attacks."
Al-Qaeda operatives live in Taliban-controlled areas under the militant group's cover and support, jointly fighting against the Afghan forces, Arghandiwal said.
In a February 17 address, former vice president Abdul Rashid Dostum said al-Qaeda is active in Badghis and Faryab, where it has close ties to the Taliban.
Osama Bin Laden's grandson Nasruddin, Sirajuddin Haqqani's son Saifuddin Haqqani, and Takhir Yuldashev's daughter Bibi Mokarama operate in Ghormach district, Faryab; and in Bala Murghab district, Badghis, Dostum said.
Maintaining ties with al-Qaeda
The Taliban have not cut their ties to al-Qaeda and to other foreign terror groups in the province, say Badghis authorities, noting that these elements have joined the Taliban in carrying out terrorist acts, including those targeting security forces.
Some families of foreign elements live in Taliban-held areas in Bala Murghab district. They take part in most attacks on security forces in Badghis province and fight alongside the Taliban, said Badghis governor Hesamuddin Shams.
"Among these foreign militants are members of al-Qaeda and citizens of [...] other countries," he said.
"The umbrella group the Taliban have created hosts all terrorist groups," he added. "The Taliban enjoyed strong ties with al-Qaeda in the past, and they have maintained those ties vigorously up to now."
Fifty families of foreign militants live in Bala Murghab, said Badghis provincial council member Mohammad Naser Nazari.
The Taliban kicked civilians out of their houses in the district and turned those houses over to foreign militants, he added.
"Besides al-Qaeda members, [some] fighters live in Bala Murghab along with their families and join the Taliban in their attacks on Afghan forces," Nazari said.
"The driver of the car bomb that struck the 3rd Battalion of the [ANA] in Bala Murghab a few months ago was one of the foreign militants whose family now lives in the district," he added, referring to a bombing last June that killed three soldiers.
International terrorist groups, including al-Qaeda, operate with Taliban support, causing insecurity and instability, said Badghis provincial council member Abdullah Afzali.
"These international terrorists are behind most security issues and violence in Badghis province, operating in Taliban-controlled areas in Bala Murghab," he added. "Al-Qaeda works openly with the Taliban in that district."
If the activities of these international terrorist groups are not stopped, they will pose serious threats to Afghanistan and the region, he warned.
Violating the Doha agreement
Although under the Doha agreement of February 2020, the Taliban pledged to the United States to cut their ties with al-Qaeda and other terror groups, Afghan authorities, the United Nations (UN) and the United States have claimed that the Taliban have violated the terms of the agreement.
The UN said the Taliban have maintained their ties with al-Qaeda, the UN said in a February 3 report.
Al-Qaeda has between 200 and 500 active members in 11 provinces including Nangarhar, Badakhshan, Khost, Ghazni, Helmand, Kunar, Kunduz, Logar, Nuristan, Paktia and Zabul, operating under the support of the Taliban, it said.
These militants fight alongside the Taliban and teach them how to make bombs and lay mines, said the report.
The Taliban have not fulfilled any of their commitments made to the United States under the Doha agreement, said Junaidullah Ashkani, a civil society activist in Qala-e-Naw.
"The Taliban are still in touch with terrorist groups and international terrorist organisations," he said. "These foreign terrorists are behind the increased violence across the country and complex attacks by the Taliban."
"Increased Taliban attacks on cities, district centres, and highways are a clear violation of the Doha agreement," he added.
Not only the Taliban have not reduced their assaults, but they have increased violence and targeted attacks in most cities, Ashkani added.
Any kind of Taliban ties to al-Qaeda is a violation of the group's commitments to a lasting peace, said Khair Muhammad Lutf, a civil society activist in Qala-e-Naw.
"Our demand of the Taliban is to fulfill their commitments and cut their ties with international terrorists to pave the way for peace and stability in the country," he said.
"When the Taliban do not fulfill their commitments, they can no longer be trusted," he added.